Still, no luck finding a good ScraperAPI review after all that internet searching?
Fret not, as I am going to share my experience with ScraperAPI.
ScraperAPI has turned out to be a promising tool for scraping any site with JS rendering, geotargeting or residential proxies.
Let's explore the versatile functionality of ScraperAPI and how can it be a game-changer for your company.
What is ScraperAPI?

ScraperAPI is a web scraping API that helps simplify the data extraction process from websites without encountering blocking issues.
It offers access to over 40 million residential and datacenter IP addresses in 50+ countries, rotating IPs to prevent blocking during scraping.
The API automatically handles proxies, browsers, and CAPTCHAs for developers to concentrate on extracting the necessary data.
It also has built-in features like auto IP rotation, auto CAPTCHA solving, JavaScript rendering, and geolocation targeting.
ScraperAPI can be seamlessly integrated with multiple programming languages, such as Python, Node.js, Ruby, PHP, and others, using code samples provided in the documentation.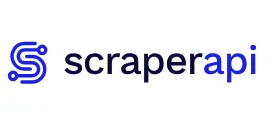 Verified
exclusive
10% OFF Verified ScraperAPI Coupon
Avail a discount of 10% on your ScraperAPI subscription with our exclusive coupon code "affnico10."
85147 People Used
1374 Only Left
Key Pointers of ScraperAPI
AI Products by ScraperAPI

Async Scraper Service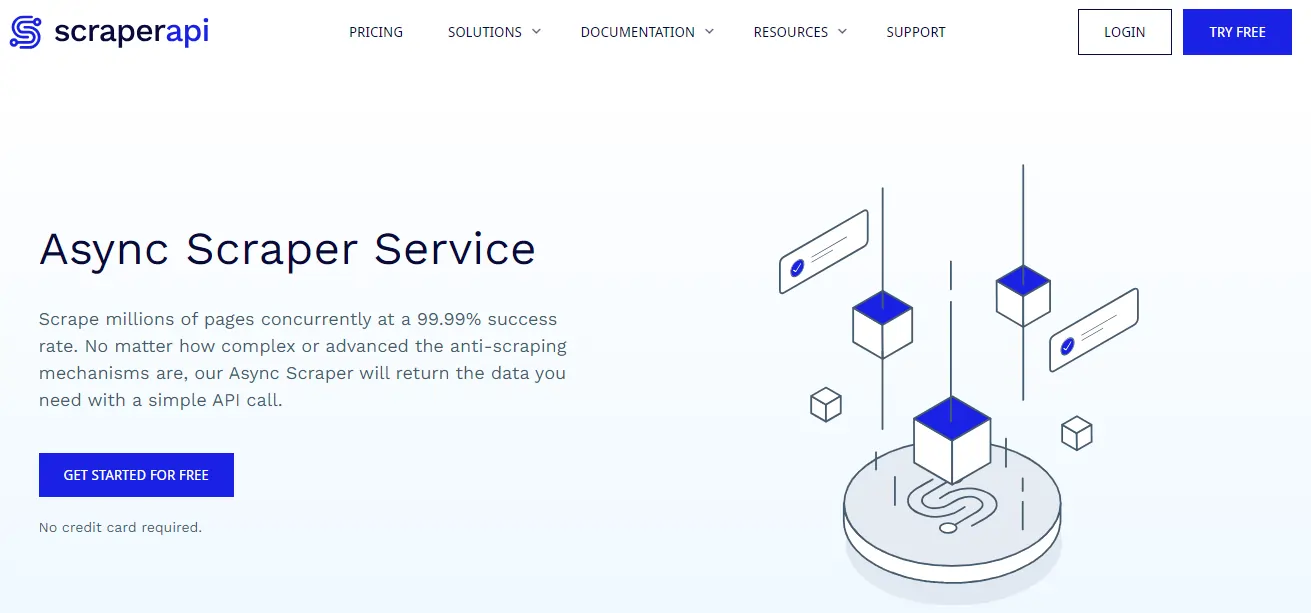 The Async Scraper Service can scrape numerous pages simultaneously, with a high success rate of 99.99%, regardless of the complexity or sophistication of the anti-scraping measures in place.
Async Scraper uses machine learning and extensive statistical analysis to effectively manage a variety of IP addresses, headers, CAPCHAs, and other anti-scraping systems, eliminating the requirement for additional configurations.
The tool efficiently scrapes millions of URLs, manages timeouts and retries autonomously, and promptly returns the HTML data.
The Async Scraper gives a status URL for data retrieval. Using a Webhook is recommended as it sends HTML data once the scraping task is complete.
The Async Scraper Service uses ScraperAPI for rendering JavaScript, retrieving localized data, using the right IP address, and collecting structured JSON data from popular domains.
Additionally, it circumvents CAPTCHAs and anti-scraping mechanisms and provides a straightforward implementation.
Structured Data Endpoints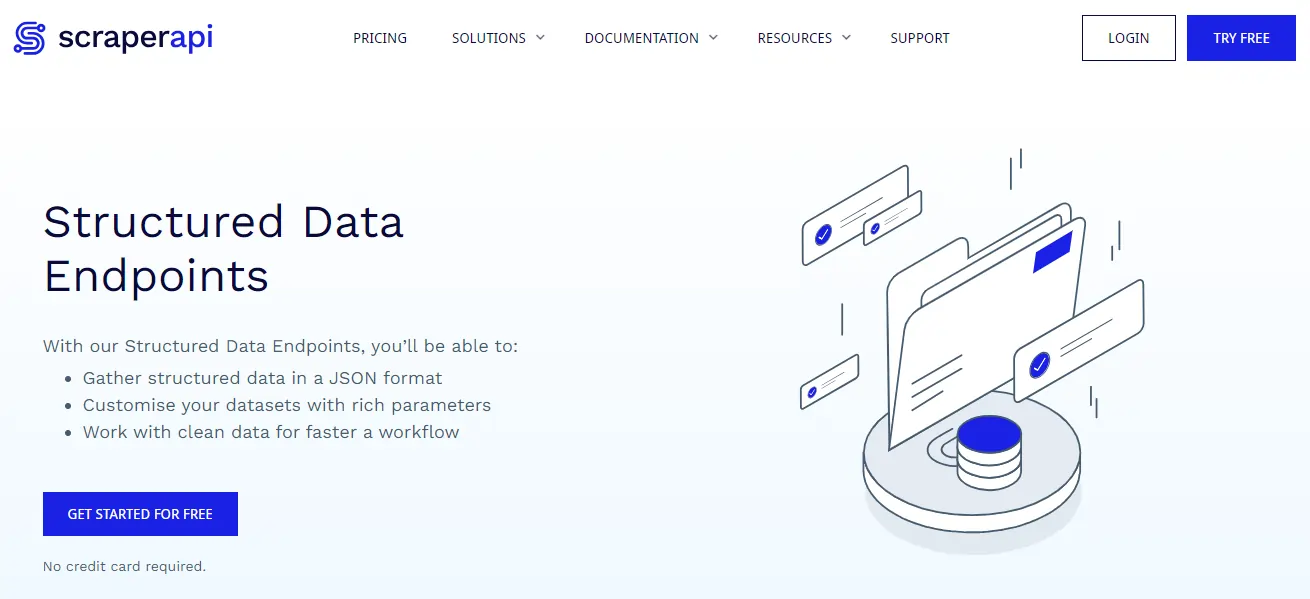 Structured Data Endpoints collect structured data in a JSON format to enhance workflow efficiency and flexibility. This solution creates clean data, saving time on data collection and processing.
Structured Data Endpoints customize datasets by incorporating different parameters. This customization adapts the collected data to their specific needs, ultimately improving the relevance and usability of the data.
Structured Data Endpoints reduce development and maintenance costs and time by automating the data collection process and providing structured data. This eliminates the need for building and maintaining parsers, saving resources.
The solution gathers data from major websites like Amazon and Google for businesses to obtain precise and practical insights to guide their decisions and strategies.
DataPipeline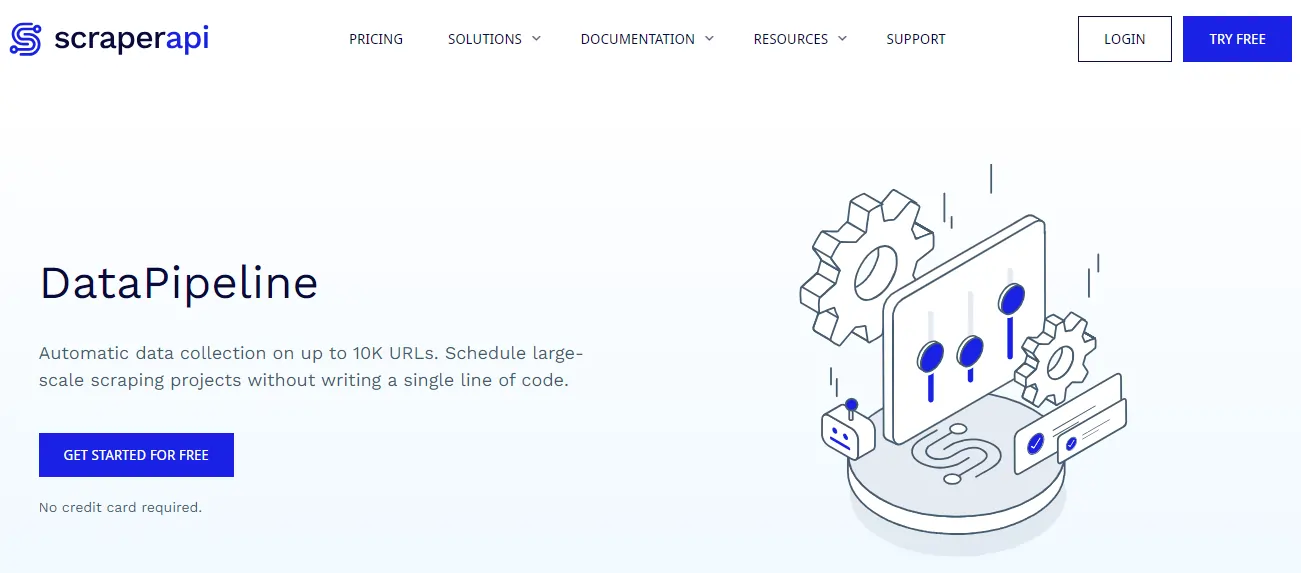 DataPipeline is a solution offered by ScraperAPI that allows users to automate data collection on a significant number of URLs, up to 10,000. It provides the convenience of scheduling extensive scraping projects without the need for coding.
It can easily scale data collection efforts, eliminating the requirement for intricate scraping infrastructures. This helps to concentrate on data analysis without being concerned about the technical aspects of data collection.
Moreover, DataPipeline offers templates and structured data endpoints for collecting product descriptions, monitoring competitors' pricing strategies, and gathering job market data.
What is the Pricing Structure of ScraperAPI?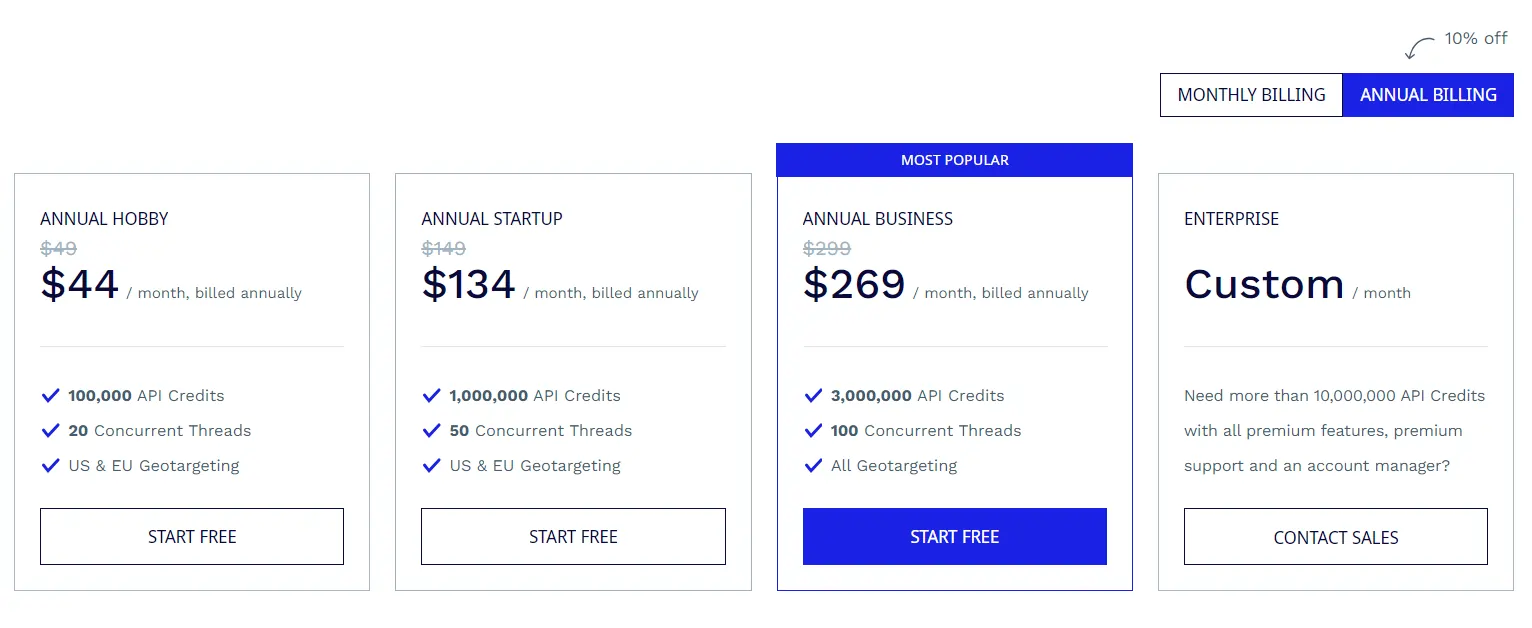 | Plan | Price per Month | API Credits | Concurrent Threads | Geotargeting |
| --- | --- | --- | --- | --- |
| Hobby | $49 | 100,000 | 20 | US & EU |
| Startup | $149 | 1,000,000 | 50 | US & EU |
| Business | $299 | 3,000,000 | 100 | All |
| Enterprise | Custom | More than 10,000,000 | Custom | All |
What are the advantages of using ScraperAPI?
ScraperAPI has high uptime and unlimited bandwidth, ensuring fast and efficient web crawling.
It can be customized with various parameters for JavaScript rendering, IP geolocation, proxies, and more.
It offers a variety of cost-effective services.
It manages proxy rotation and CAPTCHA for web scraping.
It helps businesses target specific markets or regions.
The API has anti-bot detection and bypassing to prevent blocking.
It provides quick and efficient user support.
The auto-retry feature will attempt again if the initial try is unsuccessful.
Integration is simple with detailed documentation and technical notes.
Concluding the ScraperAPI Review
From the ScraperAPI review, it would be right to say that ScraperAP is an easy-to-use and intuitive tool, with a robust backend that does all the heavy lifting.
The auto proxy rotation, auto CAPTCHA handling, JS rendering, and geo-location targeting features were particularly impressive.
The ability to scrape data from premium sites like Amazon and Google without any extra charge was a significant advantage over competitors.
Moreover, the pricing model of Scraper API was also pocket-friendly.
The customer support has been responsive and helpful. They were quick to resolve any billing issues and were open to feedback, constantly working to improve their infrastructure based on client feedback.
All-in-all, I would recommend ScraperAPI for web-scraping. It has efficiently fetched HTML from webpages with just one API call.
Quick Links: