Are you curious about the world of German proxies? Have you ever wondered how they can enhance your online experience, or why they are becoming increasingly important in today's digital landscape? If so, you're in the right place.
The proxy industry is a rapidly growing sector, with a significant impact on various fields such as web scraping, marketing research, and web testing. Proxies, particularly those from Germany, are becoming a crucial tool for individuals and businesses alike. They provide a unique IP address originating in Germany, allowing users to access the internet as a German user and view content intended for a German audience.
In this blog post, we will explore the 11 best German proxies, their features, and how they can benefit you. Whether you're a web scraper, a digital marketer, or just an individual looking to access geo-restricted content, this post will provide you with the information you need to make an informed decision
What is a Germany Proxy?
A Germany proxy server is a server located in Germany that acts as an intermediary between your device and the internet. It offers several benefits and serves various purposes, including accessing local German internet, ensuring increased privacy and security, data scraping, content administration, social media management, and accessing unrestricted content.
Germany proxies provide a great way to access German websites, services, and content from other countries. By connecting to a German proxy server, you can easily mask your IP address and access websites like Amazon Prime Video Germany, Sky Go Germany, ZDF live streaming, and more.
Benefits of Using a Germany Proxy
Accessing Local German Internet
With a Germany proxy, you can view web content as Germans do from anywhere. This allows you to access German-restricted content and research the German market
Ensuring Increased Privacy and Security
Germany is part of the "14-Eyes" intelligence program, a group of nations that monitor all internet activity. By using a proxy, you can conceal your real IP address.
Data scraping involves obtaining data from various websites, which can then be used for various purposes such as market research, price comparison, product matching, brand protection, and lead generation.
Content Administration and Social Media Management
Using a Germany proxy allows better control of the administration of social accounts. It also allows more effective surfing of social media and more maintained content management.
Accessing Unrestricted Content
If you're living in Germany and trying to access geo-blocked content, you can circumvent these geo-blocks by using a proxy, allowing you to view the content you want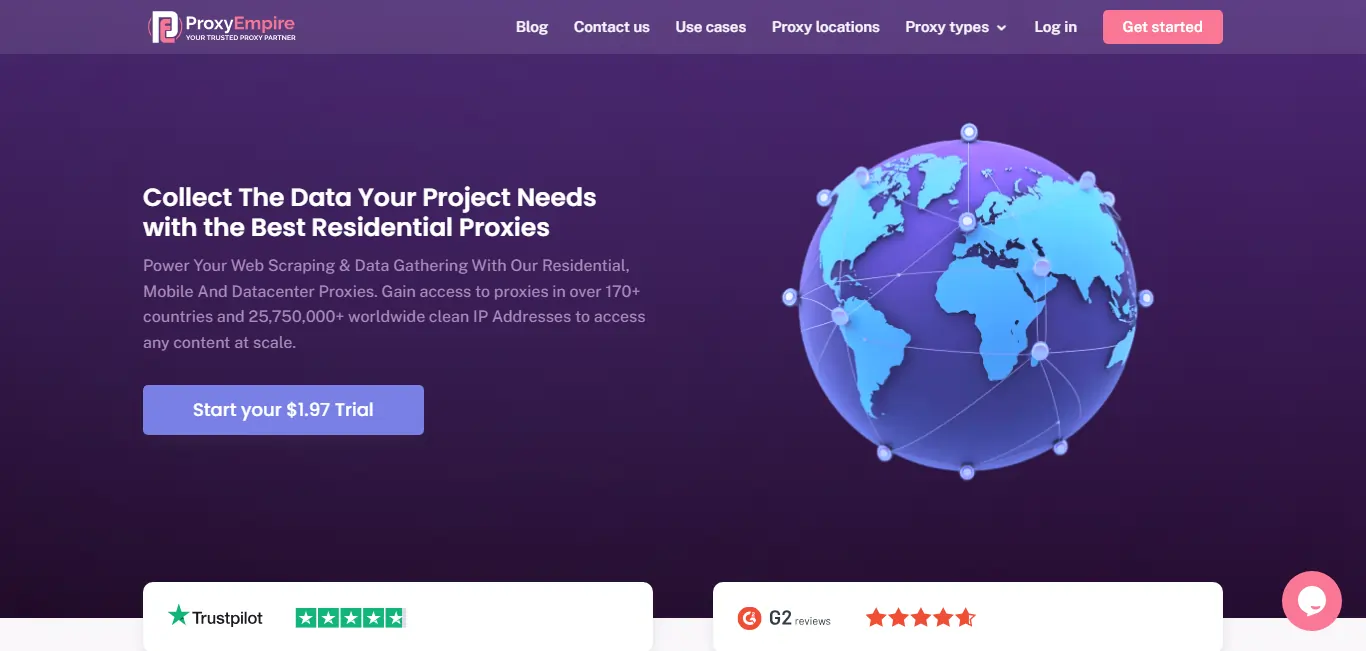 ProxyEmpire is a premium proxy service provider that offers a comprehensive suite of proxy solutions, including residential, mobile, and datacenter proxies. The platform is designed to power web scraping and data gathering activities, providing access to over 25,750,000 clean IP addresses across more than 170 countries.
ProxyEmpire is known for its ability to break through geo-barriers, CAPTCHAs, and IP blocks, offering a vast pool of IPs, expansive location choices, high success rate, and versatile pricing.
Key highlights
Pricing
ProxyEmpire offers a flexible pricing plan, with options to suit a variety of needs and budgets. The platform provides a $1.97 trial for users to test the service.However, the specific pricing details for each plan are not provided in the search results.
Pros and cons
Pros
High-speed and reliable proxies
Provides access to a large number of IP addresses across multiple countries
Cons
Free static residential proxies may come with certain limitations
---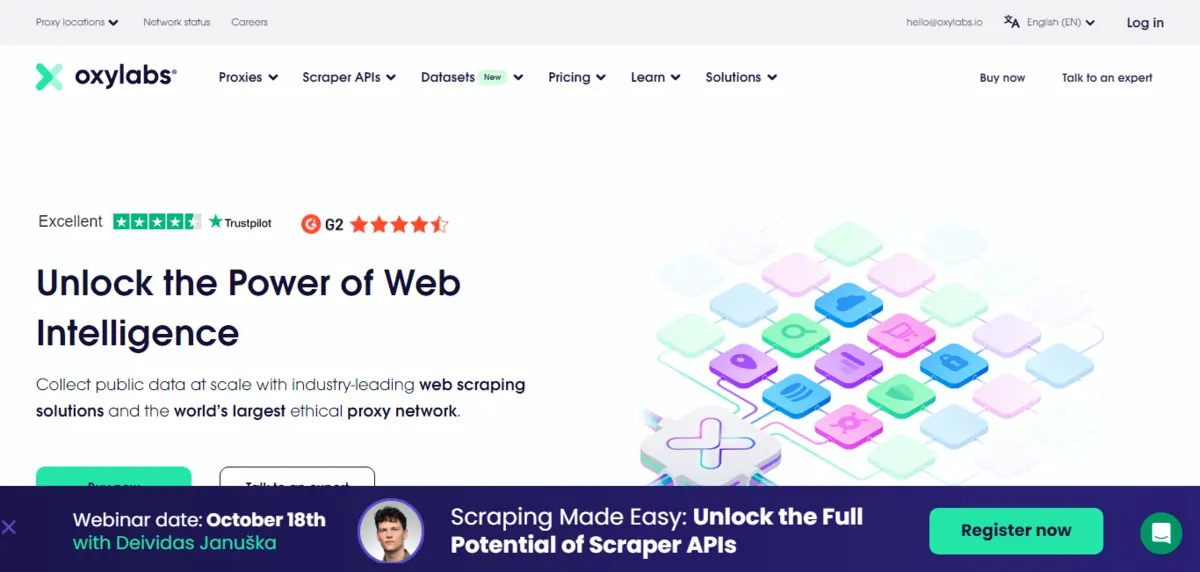 Oxylabs is a premium proxy service platform that provides solutions for large-scale web data extraction. With a vast network of over 100 million residential and 2 million datacenter IP proxies, Oxylabs enables businesses to collect public data from any website with ease.
The platform is trusted by startups to large companies worldwide for its reliable and efficient data scraping solutions. Oxylabs' products are designed to integrate seamlessly into your scraping infrastructure, supporting multiple languages and providing ready-to-use code examples for a quick start to your web scraping project
Key Highlights
Pricing
Oxylabs offers a Pay-as-you-go plan for its Residential Proxies. The pricing starts at $15 per GB with a minimum top-up amount of 1 GB.
Pros and Cons
Pros
Gigantic proxy pool
Proxies from all over the world
High success rates
Cons
Not accessible to small companies
---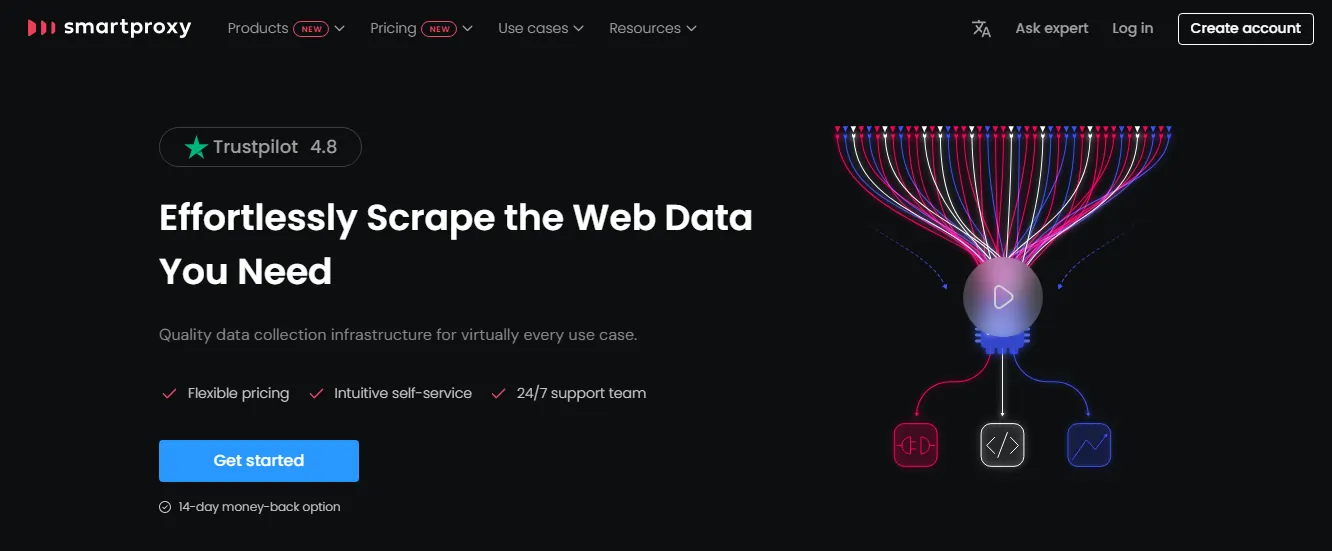 Smartproxy is a leading proxy provider that offers a comprehensive suite of data access solutions and proxy management tools. Established in 2018, Smartproxy has been committed to providing easy-to-use data access solutions for individuals, universities, and Fortune 500 companies alike.
With access to over 65 million unique IP addresses every month across 195+ locations worldwide, Smartproxy ensures that users can access data from any location around the globe. The platform is designed to level the playing field against large data hoarding companies, making public data gathering as simple and accessible as possible
Key Highlights
Pricing
Smartproxy offers flexible pricing plans to cater to different user needs. Residential proxies start as low as $4/GB. For one-time projects, users can opt for the Pay As You Go option and pay for the GBs used.
Pros and Cons
Pros
Huge proxy pool
Useful apps and browser extensions
Available mobile proxies
---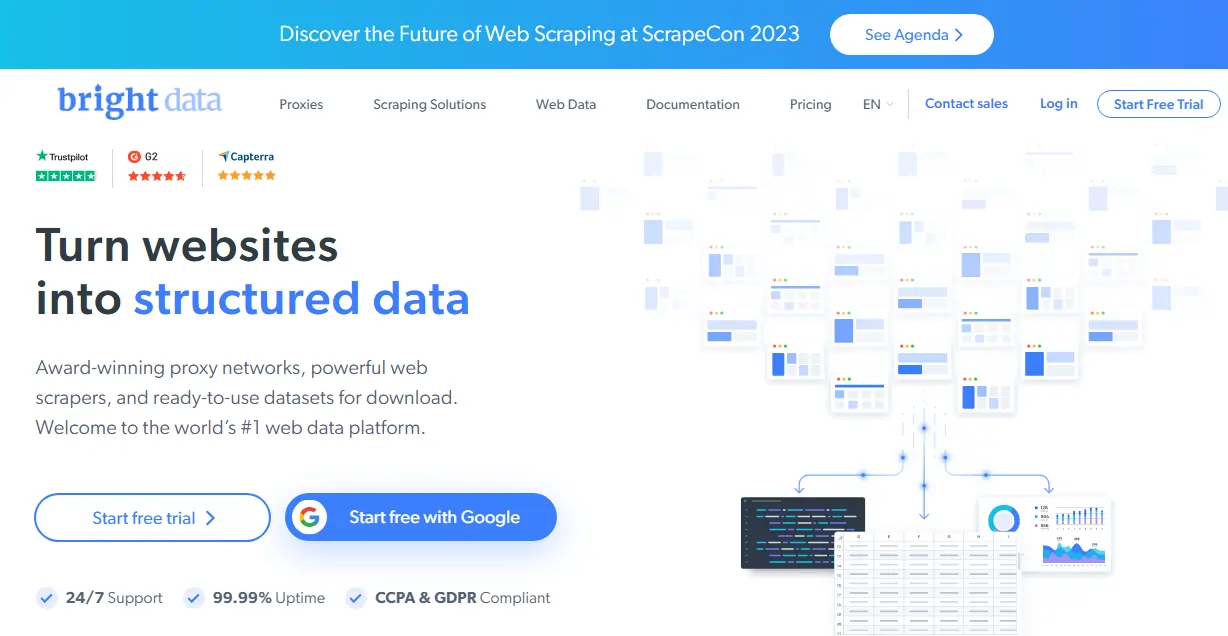 Bright Data, formerly known as Luminati Networks, is a leading provider of data collection and web scraping solutions. The platform is trusted by a diverse range of organizations, from small startups to Fortune 500 companies, across various industries including e-commerce, finance, market research, and cybersecurity.
Bright Data's platform is designed to provide users with access to a large amount of data, whether that's by shopping the already existing data sets through the data set marketplace, having Bright Data set up a custom data set for you, or using the web scraper IDE to generate your own
Key Highlights
Pricing
Bright Data offers a variety of pricing plans to cater to different needs. For proxy networks, the pricing starts from $4.00/month and is based on a subscription model. There are also Growth and Business plans that offer lower rates per GB and IP for higher traffic volumes.
Pros and cons
Pros
Easy to use and flexible setup
Large pools of different proxies across many network types
Efficient in collecting large volumes of data
Cons
Documentation can be confusing for complex tasks
---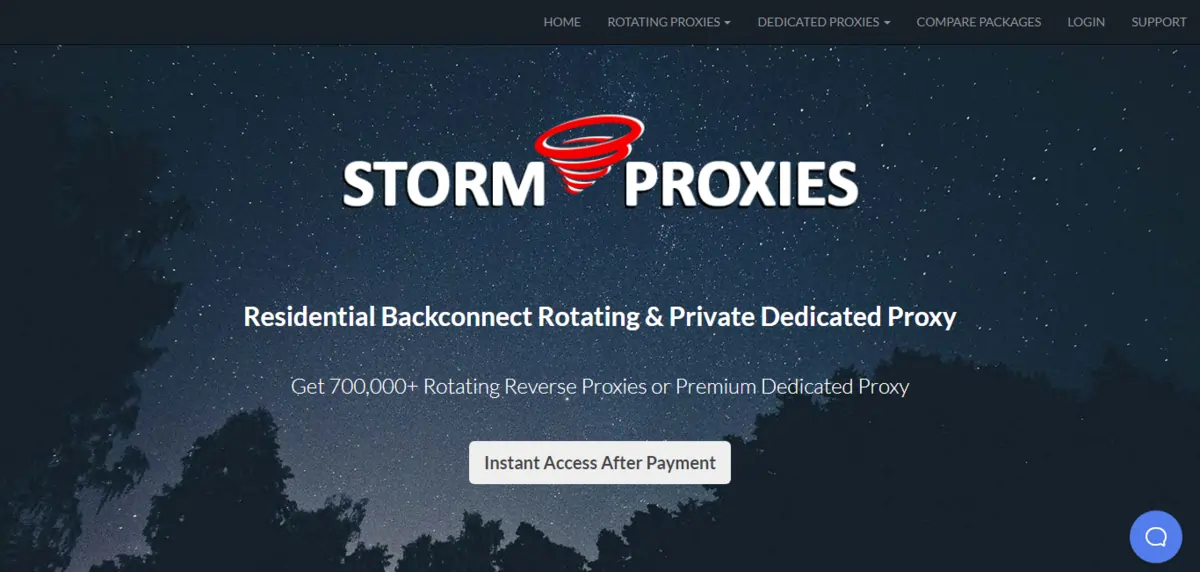 Storm Proxies is a versatile german proxy provider that offers a range of products to cater to various needs. Founded in 2016 by a group of SEO experts, the company has quickly established itself as a reliable provider in the proxy market. Despite being relatively new, Storm Proxies has managed to carve a niche for itself by offering affordable and efficient proxy solutions.
The company offers three types of proxies: rotating, residential, and dedicated, each designed to cater to specific needs. With a pool of over 70,000 IP addresses, Storm Proxies may not have the largest IP pool in the market, but it makes up for it with its competitive pricing and variety of packages
Key Highlights
Pricing
Storm Proxies' pricing is based on the number of access ports you buy to access your proxies, rather than bandwidth. The pricing for dedicated proxies starts at $30 per month for 10 proxies.
Pros and cons
Pros
Affordable and competitive pricing
Unlimited bandwidth
Cons
Limited geographical coverage
---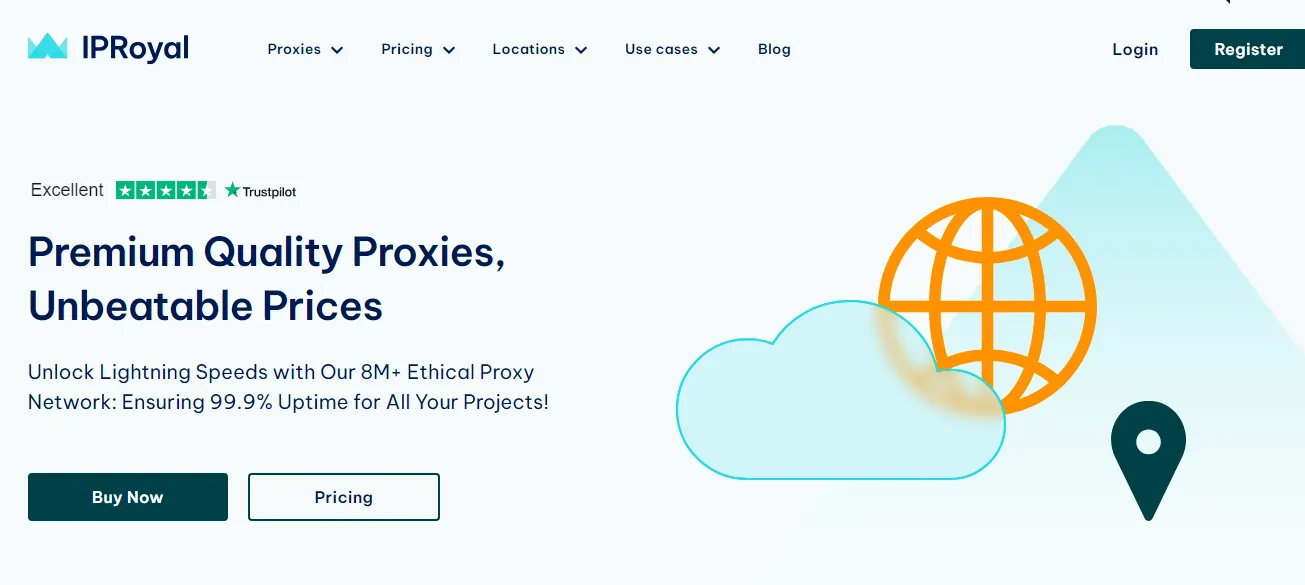 IPRoyal is a one of the best German proxy provider that offers a comprehensive suite of proxy solutions to cater to diverse needs. Launched in 2020, IPRoyal has quickly established itself as a reliable and transparent proxy service, boasting a global proxy network of over 8 million IPs, all of which are 100% ethically sourced. The platform is committed to innovation and constantly introduces new features to enhance its services.
IPRoyal's offerings include residential, sneaker, mobile, and data center proxies, each designed to meet specific requirement. The platform is known for its high performance, 99.9% uptime, and affordable pricing. With a strong focus on customer service, IPRoyal offers 24*7/365 support to ensure seamless user experience.
Key Features
Pricing
IPRoyal offers various pricing plans depending on the type of proxy service chosen. The pricing for private proxies starts from $1.56 per proxy, offering features like unlimited traffic, 99.9% uptime, premium ISP providers, and SOCKS5 support.
Pros and Cons
Pros
24*7/365 support
Unlimited bandwidth
Cons
Limited self-help documents on its website
Fewer residential IP addresses compared to some other providers
---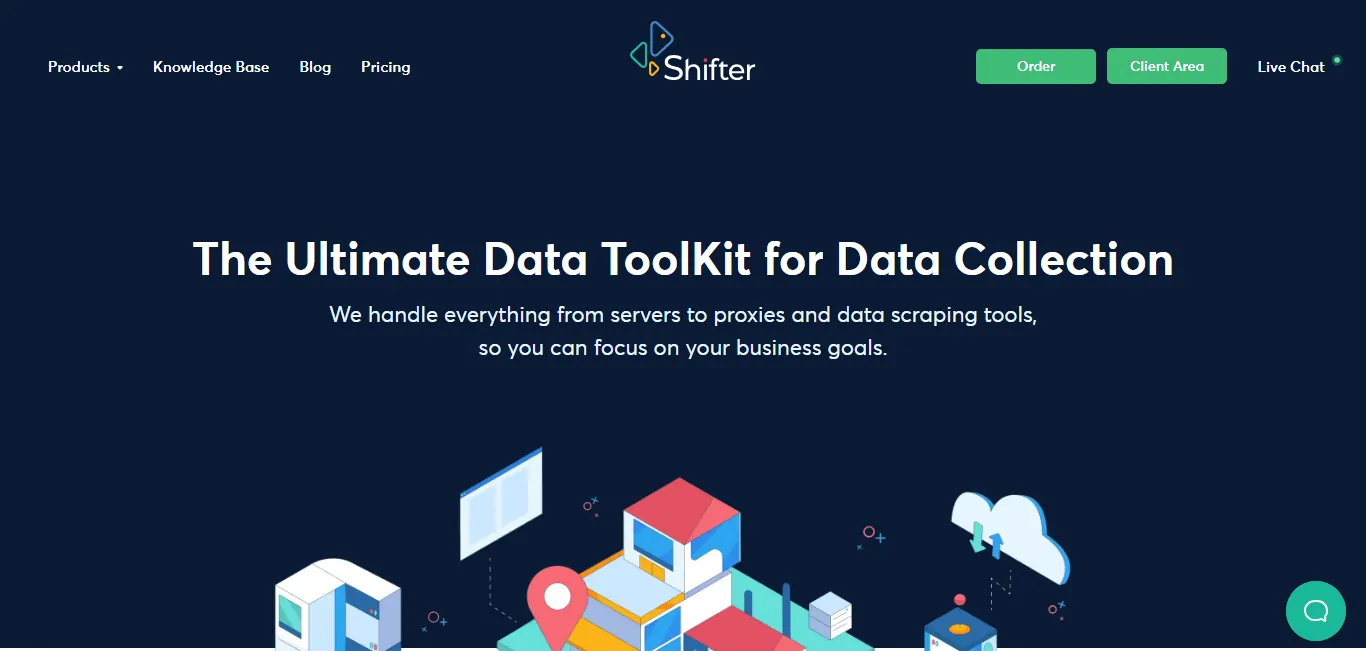 Shifter, founded in 2012, is a leading proxy platform that provides a comprehensive toolkit for data collection. It offers access to residential German proxy networks and data scraping APIs, making it a one-stop solution for data gathering needs. Shifter's residential proxies provide global coverage and advanced configuration options such as GEO targeting, custom IP rotation, and low latencies optimized for data extraction.
The platform is used by over 25,000 clients, including Fortune 500 companies, and offers a high degree of privacy and security
Key Highlights
Pricing Details
Shifter offers flexible pricing plans for proxies and APIs. The platform provides four professional solutions for all online needs: Rotating Residential Proxies, Static Residential Proxies, Scraping API, and Cloud Hosting.
Pros and Cons
Pros
Provides both Residential Rotating Proxies and Dedicated Proxies
Offers worldwide geo-targeting
Provides excellent customer support
Cons
Single location for Dedicated and Shared Proxies
---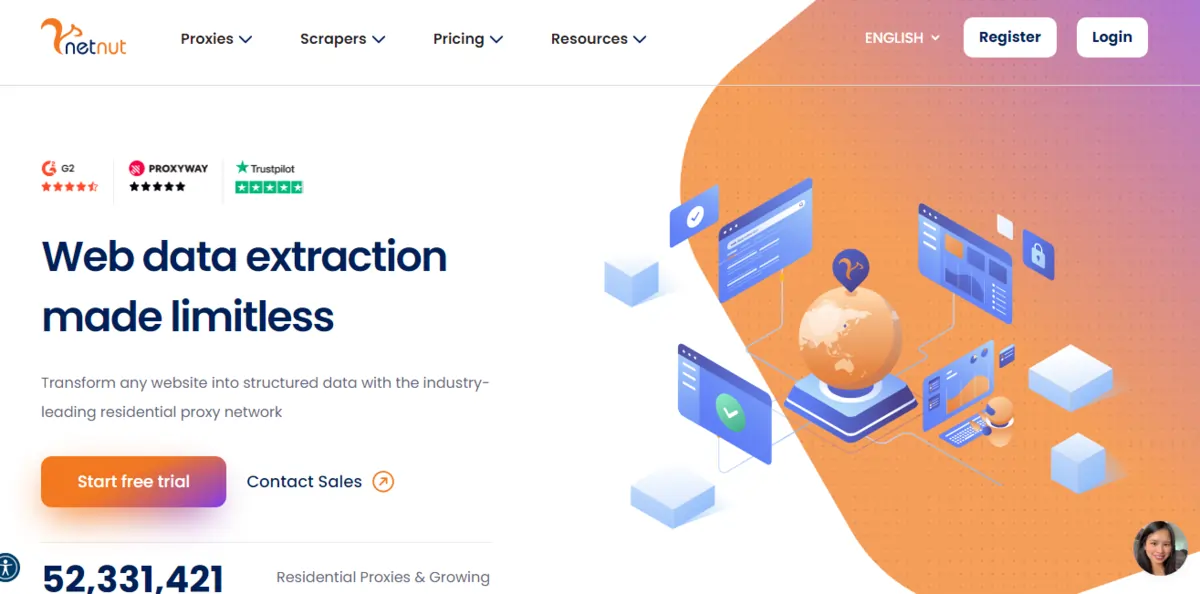 NetNut.io is a another top leading fast, reliable, and scalable proxy provider that empower businesses to gather, analyze, and extract data from the web anonymously. The platform offers a unique hybrid network of direct ISP IPs and a dynamic residential proxy network, making it an ideal solution for various data collection use cases.
NetNut's residential IPs are connected to real residential addresses, making them difficult to ban, distinguishing them from datacenter proxies that are easily identified and blocked by target websites. The platform provides customers with the fastest, most reliable, and cost-effective residential proxies in the market, with one-hop connectivity, dedicated account manager support, auto IP rotation, and access to all web content, including search engines.
Key Features
Pricing
NetNut offers competitive pricing with a variety of plans to suit different needs. The rotating residential proxy comes in six tiers, with the cheapest offering 20GB for $300 monthly, or $15/GB.
pros and Cons
Pros
Fast static proxies sourced directly from ISPs
Fair value for high bandwidth/request volumes
Free trial available on all proxy services.
Cons
Cheapest plans don't include live support.
---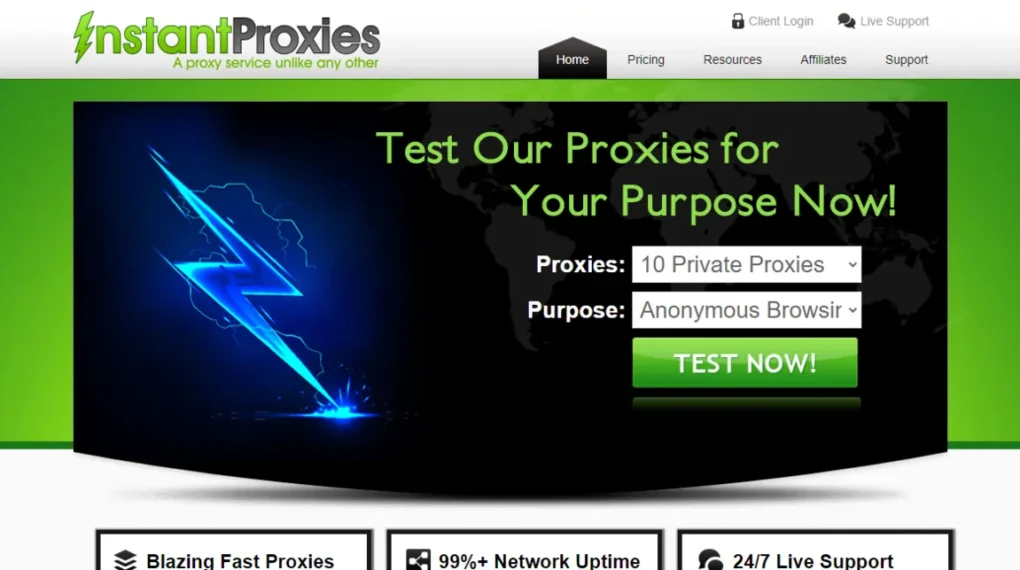 InstantProxies is another major Premium Proxy Proviers that has dozens of ethical germany serves and IPs. The company specializes in offering dedicated datacenter proxies that are efficient and versatile for a wide range of applications. These proxies can be used for general browsing, social media marketing, and scraping sites such as Amazon. However, it's important to note that these proxies are not compatible with sneaker bots.
Instantproxies Key Features
Pricing
InstantProxies offers one of the most affordable pricing models in the market, with each proxy costing just $1. The company offers several packages, starting from 10 proxies for $10 to 500 proxies for $500.
Pros and cons
Pros
Unlimited bandwidth
7-day refund policy
Dedicated proxies
Cons
No SOCKS5 support
Only supports IP authentication
---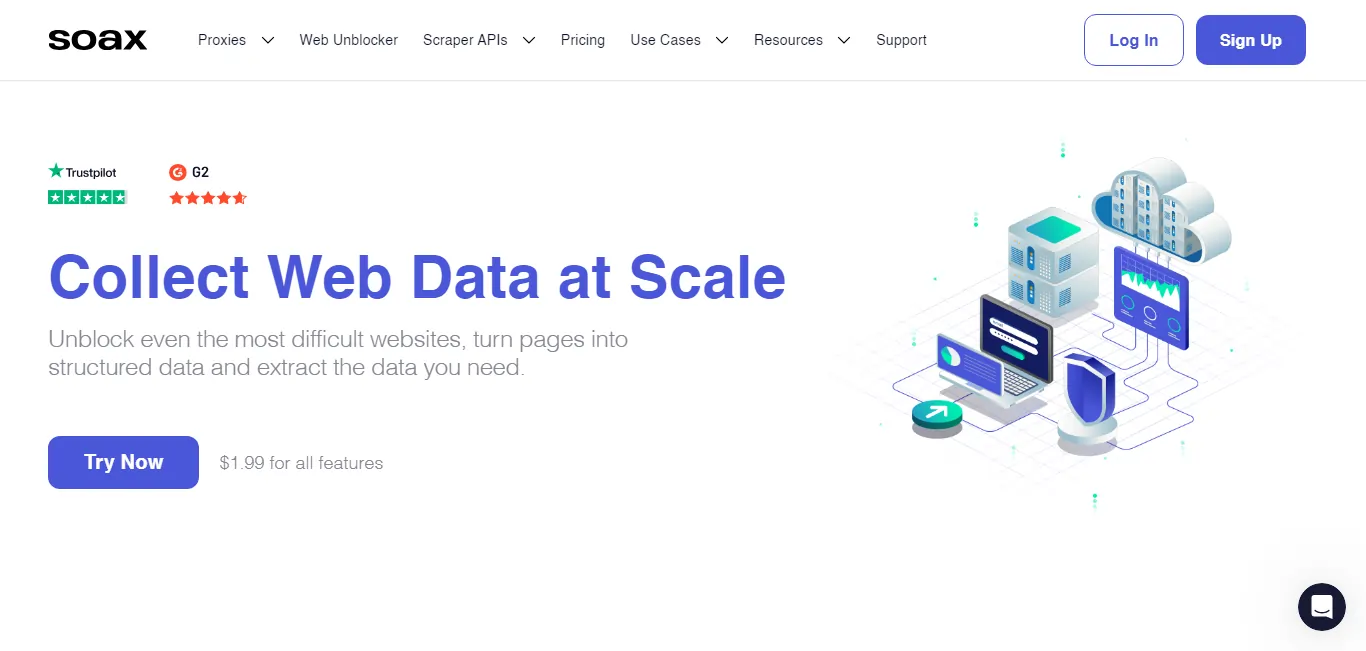 SOAX is a leading data extraction platform that offers a comprehensive suite of proxy services, including residential, mobile, and ISP proxy servers.
With a focus on reliability and speed, SOAX is trusted by companies worldwide to collect and leverage public data efficiently and ethically.
Soax is designed to scrape even the most challenging websites without requiring any extra steps from the user. SOAX's proxies are an integral part of many businesses' operations, enhancing their ability to deliver value to their clients and fostering a healthier remote work culture by eliminating geographical constraints.
Key Features
Pricing
SOAX offers a subscription-based pricing model, with plans starting from $99.00/month. The platform provides a variety of proxy plans, each with different features and benefits. For instance, the Residential 15 plan costs $99 and offers $6.60 per GB, while the Residential 250 plan costs $739 and offers $4.93 per GB.
---
Pros and cons
Pros
Excellent location coverage
Large proxy network
Good scraping performance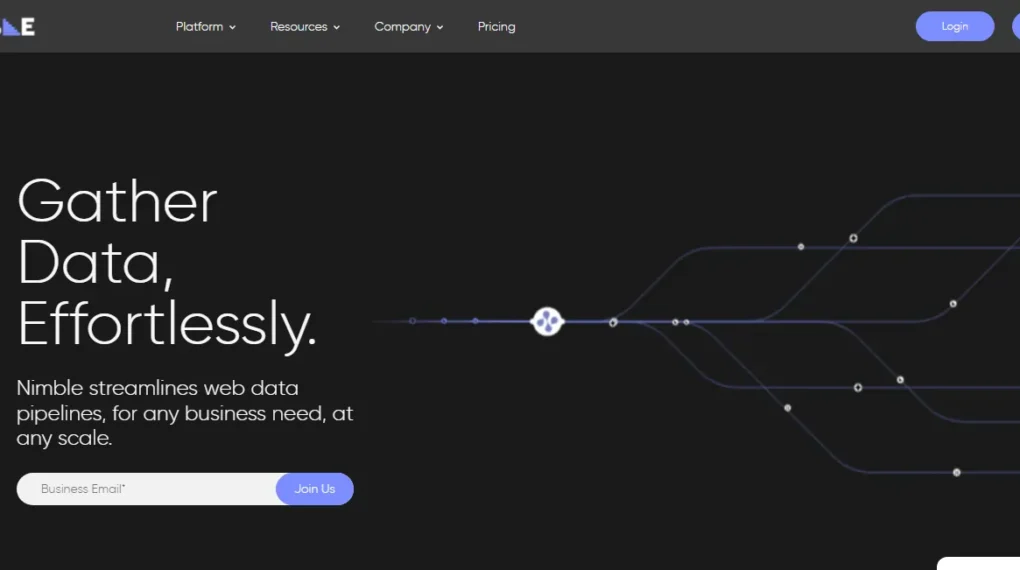 Nimble is a comprehensive proxy platform designed to facilitate effortless web data gathering. It is built on a robust infrastructure that ensures a stable and continuous flow of data for your business. Nimble's IP infrastructure includes all proxy types, offering high-end performance, premium quality, and easy-to-use proxy services for any use case.
The platform hosts a premium pool of peers with the best reputation, fastest performance, and highest availability in the world to ensure requests always get through and are never rate limited
Key Features
Pricing
Nimble's pricing is based on an API credit system. The pricing for the service starts from $300 (300 credits) for the essential plan. The advanced plan is sold for $700 and comes with 700 credits.
Pros
World-Class Proxy Infrastructure
Excellent Session Support
Premium Ips
Cons
No free test proxies available
---
FAQ's Regarding German Proxies Providers in 2023
Is it legal to use German Proxies?
Yes, it is generally legal to buy and use German proxies. Proxies are legitimate tools used for various purposes, including improving privacy, security, and accessing geo-restricted content. However, the legality can change when proxies are used for illicit activities such as hacking, illegal file sharing, or bypassing network restrictions in violation of terms of service.
What are the types of German proxies?
There are four main types of German proxies: Residential, Mobile, ISP, and Datacenter. Each type has its unique features and uses. Residential proxies are ideal for accessing sophisticated websites, Datacenter proxies provide quick access to non-complex websites, ISP proxies are best for logging into multiple accounts, and Mobile proxies are used to verify mobile ads and crawl mobile sites
What are the risks of using a German proxy?
While German proxies offer numerous benefits, they also come with potential risks. These include unreliable connections due to dependence on the local ISP, bandwidth issues if many users are connected to the same proxy, and latency issues.
How can I use a German proxy?
To use a German proxy, you need to sign up and select the appropriate plan that fits your needs. After making your purchase, verify your email address and then log into your proxy dashboard. You'll then be able to download your proxies and use them for your intended purpose
Can a German proxy slow down my internet?
Yes, using a German proxy can potentially slow down your internet, especially if you are browsing with multiple connections.
Can I use a German proxy for social media management?
Yes, German proxies can be used for social media management. They can help you manage multiple accounts simultaneously, which can be beneficial for expanding your online presence
Can a German proxy protect me from malware?
Yes, some German proxies include malware protection that scans websites for viruses and malware. If a website contains malware, a proxy will prevent you from accessing that site
Can I use a German proxy to access geo-restricted content?
Yes, when you use proxies, you can bypass certain geographic restrictions.
Conclusion
Overall, a Germany proxy server offers numerous benefits, including increased privacy and security, the ability to access local German internet and unrestricted content, and the ability to perform data scraping and content administration. To set up and use a Germany proxy, you need to sign up with a reputable proxy service provider, choose the appropriate plan, and configure your device to use the proxy.