Castmagic offers a 7-day Free Trial for the users to access 30 minutes of transcription in a week. The goal of the free trial is to give you a taste of what Castmagic can do. If you find the platform useful and want to continue using it after the trial period, you can choose from one of their paid plans starting from Hobby Plan at $23 per month, Starter Plan at $59/month, and Rising Star Plan at $179/month.
Core Insights
How do I Start Castmagic Free Trial?
Follow the step-by-step guide below to start Castmagic Free Trial:
Step 1: Visit the Castmagic Website
On the official website of Castmagic, click on "Try for Free" button.
To access the Castmagic Free Trial, you'll need to sign up by providing your email address and creating a password for your account.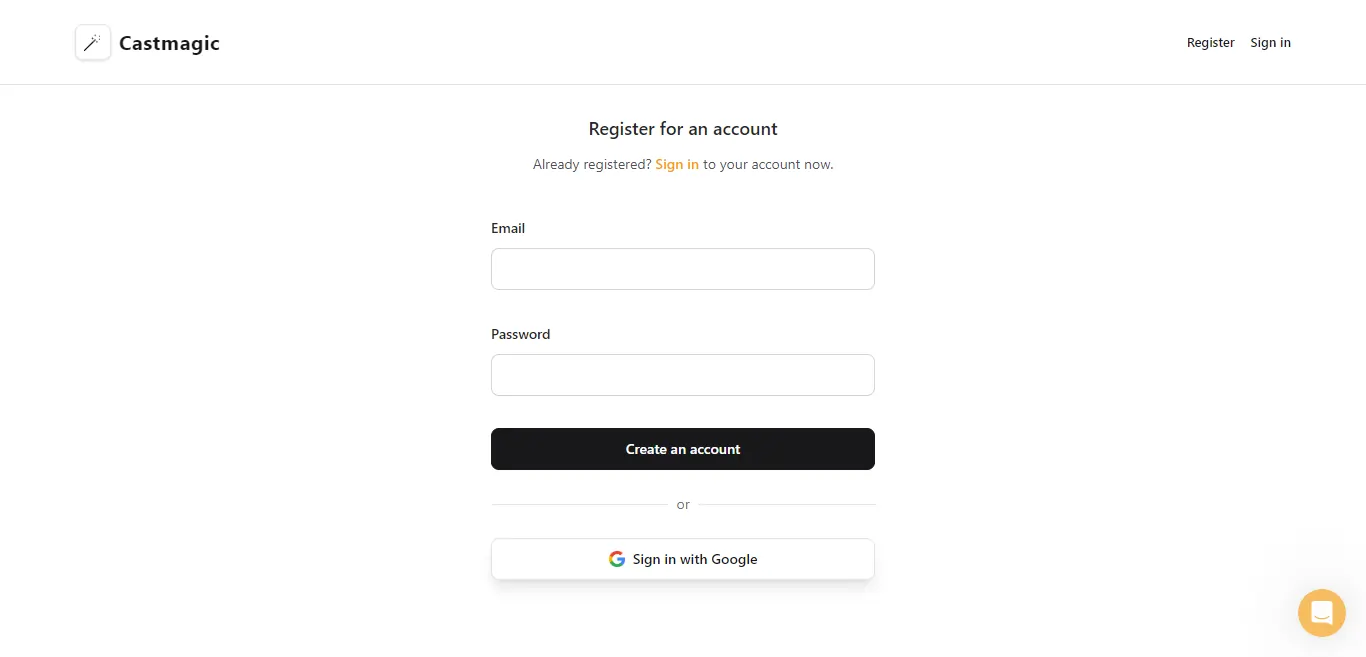 Once you've signed up and chosen a plan, you can start exploring what Castmagic has to offer.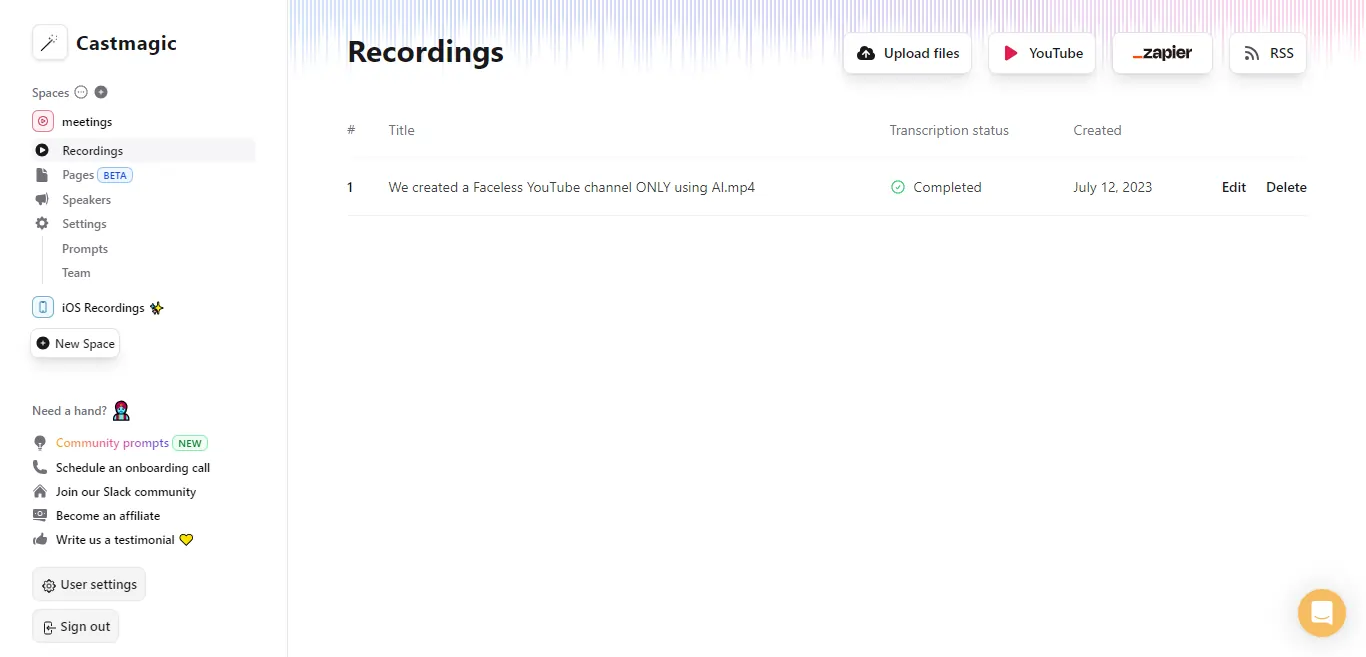 What features can I access in the Castmagic Free Trial?
The Castmagic free trial offers a variety of features that allow users to explore the platform's capabilities. Here are some of the key features you can access:
Accurate Transcription: Castmagic uses advanced AI to convert your audio recordings into written format. This feature is particularly beneficial for making your content accessible to a wider audience.
Content Management: The platform allows you to manage your content effectively. It streamlines the content creation process, making it easy and efficient.
Personalized Recommendations: Castmagic provides personalized content recommendations, enhancing your user experience.
Social Media Posts: With Castmagic, you can create engaging social media posts right out of the box. It enables creators to craft tweet threads, LinkedIn posts, and Instagram captions, amplifying their reach.
Show Notes: Castmagic generates comprehensive show notes, including timestamps and topics, ensuring listeners can navigate episodes with ease.
Summaries: The platform provides concise breakdowns of discussions, allowing readers to grasp the essence of the content quickly.
Automated Workflow: Castmagic streamlines the content creation process, from transcription to content generation, making it seamless and efficient.
Customer Support: Castmagic offers agency support for its users. This ensures that any queries, issues, or assistance required by users are promptly addressed.
Upgrading from the Castmagic Free Trial to a Paid Subscription
the Starter plan at $59 per month for 500 minutes, and the Rising Star plan at $179 per month for 1500 minutes.
| | | | |
| --- | --- | --- | --- |
| Castmagic Pricing Plans | Castmagic Hobby Plan | Castmagic Starter Plan | Castmagic Rising Star |
| Monthly Plan Price | $39/month | $99/month | $299/month |
| Annual Plan Price | $23/month | $59/month | $179/month |
| Discount available | $192 OFF | $480 OFF | $1440 OFF |
To upgrade to a Castmagic paid subscription after the free trial, first, log into your Castmagic account. Then, navigate to the subscription section and select your desired plan to proceed with the payment.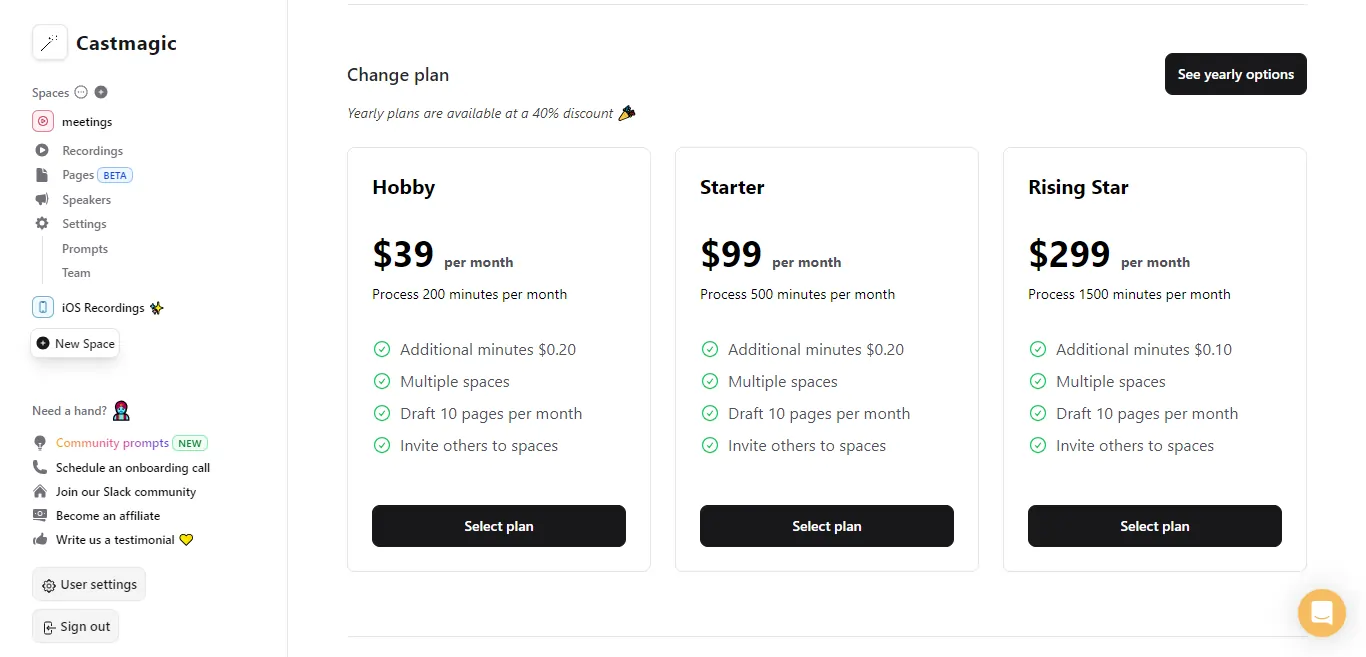 How to make the most of Castmagic Free Trial?
Maximize your Castmagic Free Trial by exploring all the key features accessible in the platform. Upload your audio and let Castmagic generate transcripts, summaries, hooks, and SEO keywords. Review and edit the results to ensure accuracy and relevance. Finally, share your content across various platforms to reach a wider audience. This trial period is a golden opportunity to understand how Castmagic can streamline your content creation process and enhance your productivity.
Top FAQs about Castmagic Free Trial
Who is the Castmagic Free Trial for?
The Castmagic Free Trial is designed for podcasters, content creators, and anyone looking to transform their audio recordings into a variety of content assets.
What happens after the Castmagic Free Trial?
After the free trial, if you like the platform, there are several plans to choose from. Castmagic offers usage-based pricing, meaning there's a plan for everyone depending on how much transcription and content you work with.
Do I need a credit card to sign up for the Castmagic Free Trial?
No there is no credit card required to sign up for the Castmagic Free Trial.
Final Words
For all the podcasters and content creators who want to try their hands on Castmagic, the 7-day Free Trial period is the chance to access it absolutely free of cost. It offers a hands-on experience with key features like accurate transcription, content management, and personalized recommendations.
The trial allows users to explore how Castmagic can ease your content creation and production process, making it more efficient and effective. From generating comprehensive notes to creating engaging social media posts, Castmagic offers a suite of tools designed to enhance your content creation journey.
Hence it is highly recommended to give Castmagic Free Trial a shot in order to upgrade and scale up podcast or stream production.