Artificial intelligence (AI) has revolutionized content creation, but it has also raised concerns about authenticity. As AI tools like ChatGPT become more advanced at generating human-like text, it's increasingly difficult to differentiate machine-written content from human-authored work.
This article will provide an overview of the top 17 AI detection tools in 2023 that can analyze text and confidently determine whether it was written by a human or an AI. These AI detectors use natural language processing and machine learning to scan content for patterns and anomalies indicative of AI-generated text. 
We'll explore both free and paid detection tools suitable for writers, educators, SEO experts, and businesses looking to maintain content integrity. The list includes accurate detectors like GPTZero, Winston, and Originality that can catch advanced AI like GPT-3 and even GPT-4.
Why Should You Go for AI Detection Tools?
AI Content Detectors are not just a novelty; they are a necessity in today's content-driven world. With AI content generators becoming increasingly sophisticated, it's becoming harder to distinguish between content written by a human and that generated by an AI.
This is where AI Content Detectors come into play. They are designed to analyze text and determine whether it has been written by a human or an AI, ensuring the authenticity of the content.
But what exactly are AI Content Detectors? At their core, these tools use advanced algorithms and machine learning techniques to analyze text and determine its origin. They look for patterns, structures, and other elements that are characteristic of AI-generated content. For instance, AI-generated text often has certain 'tells' such as repetitive phrases, unusual word choices, or a lack of coherence in the narrative.
What Makes AI Detection Tools So Unique?
AI Detection Tools are designed to spot plagiarism or AI texts and flag the content as AI-generated. They can be used to check a piece of text for AI-generated content, providing a score or probability that the content was created by an AI. This can be particularly useful in fields such as academic, journalism, and content marketing, where the authenticity and originality of content are paramount.
However, it's important to note that while AI Detection Tools are powerful , they are not infallible. The accuracy of these detectors can vary, and they can sometimes produce false positives or negatives.
For instance, a well-written piece of AI-generated content might pass undetected, while poorly written human-generated text might be flagged as AI-generated. Therefore, while AI Content Detectors can be a useful tool in the fight against AI-generated content, they should be used as part of a broader strategy for ensuring content authenticity.
All in all, AI Detection Tools are an essential tools in the digital age. As AI content generators become more sophisticated, the need for effective detection tools will only grow.
By understanding what AI Content Detectors are and how they work, we can better navigate the digital landscape and ensure the authenticity and quality of the content we consume.
17 Best AI Detection Tools with Overpowered Features
Amongst the vast range of AI Content Detectors, there are several tools that have gained prominence for their unique features and capabilities. Here, we will take a look into a detailed comparison of these tools, analyzing their accuracy, features, and limitations.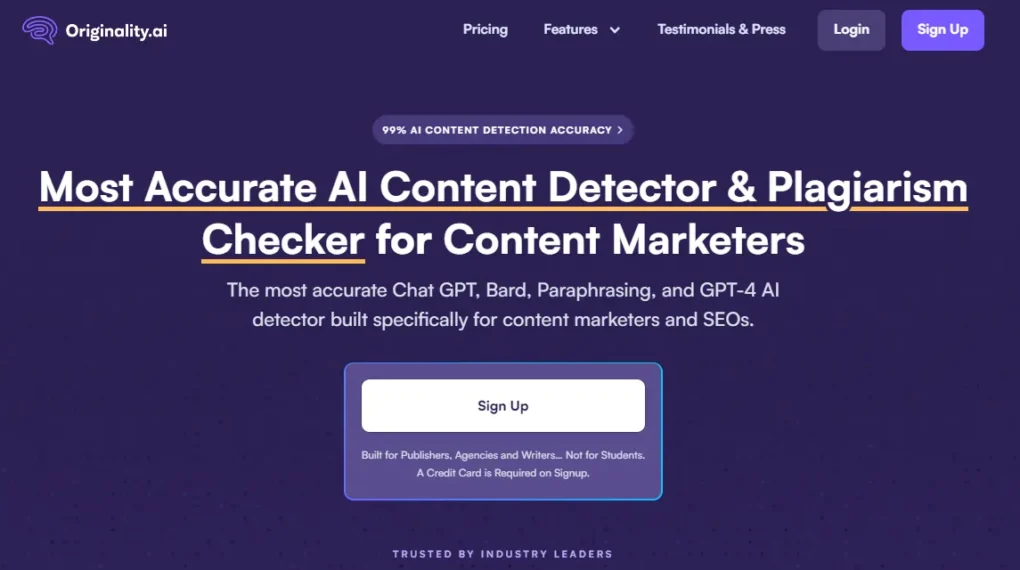 Originality.AI is a cutting-edge AI detection tool that offers multiple features. One of which is Plagiarism Checking. Originality AI is designed to help users detect plagiarism and AI-generated content. This tool is best at ensuring the originality as well as the authenticity of any content.
It's a must-have tool for content creators, educators, and businesses alike. Its ability to detect content generated by ChatGPT and GPT 4 AI has been proven to be the most accurate among all the other existing detection tools.
The tool has been built for serious web publishers and for the team of content marketing and AI experts. It is great at protecting a site, detecting if the content was AI-generated or if it's plagiarised. It can do bulk site scanning and make your website rank on Google.
Key feature of Originality.AI
When it comes to pricing, Originality.AI offers a flexible plan it is available for $0.01 per 100 words checked.

Verified
Exclusive
25% Originality.AI Coupon Code
➡ Use the exclusive Originality.AI coupon code "AFFTWEAKS25" and get a 25% discount on your subscription.
45864 People Used
Only 6787 Left
---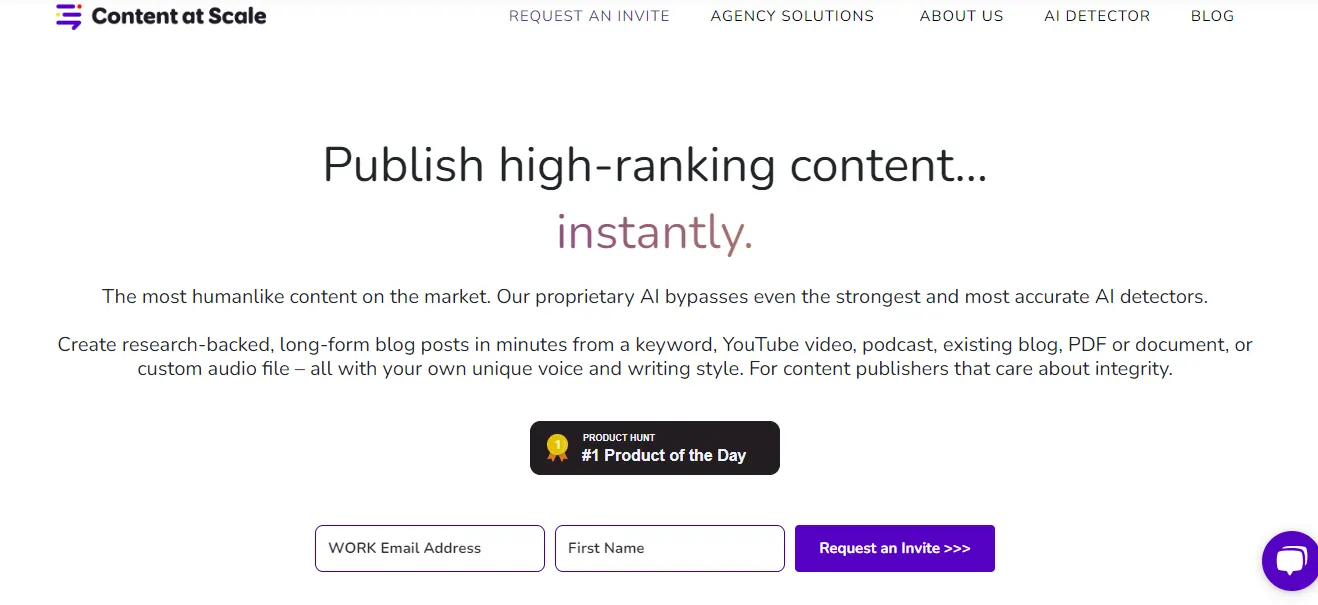 The Content at Scale AI Detector tool has been designed to scale your SEO content instantly. With its help, you can automate your content marketing by detecting your content.
All you have to do is simply Paste or write your content and click on check for AI content. That's it, you'll know within seconds if any of the provided content is written by AI.
This tool's Chat GPT detector works at a deeper level than a generic AI classifier and also detects robotic-sounding content. The extensive training allows the Content at Scale tool to detect subtle patterns and nuances in content. It then even provides a more accurate and comprehensive analysis. In terms of pricing, the plans for Content at Scale AI Detector start at $250 but the AI detector tool is free to use.
Standout features of Content at Scale
---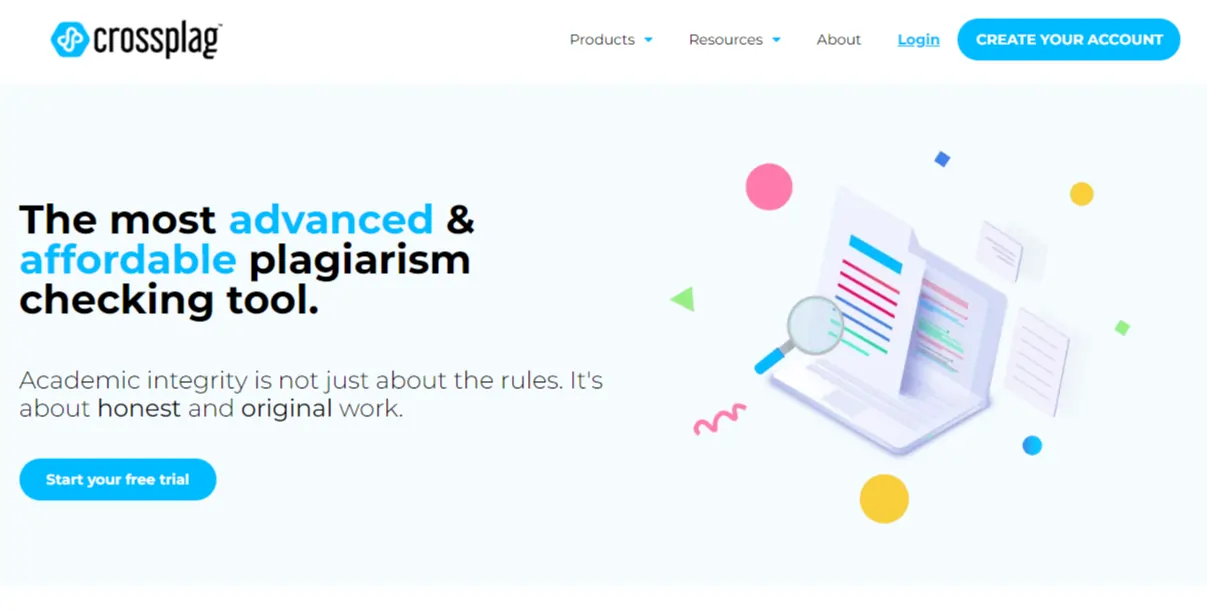 Crossplag's AI Detector is also the most advanced and affordable plagiarism-checking tool that stands out for its ease of use and speed. It allows users to check up to 3,000 words at a time, providing an accuracy rating score bar that gives users a clear understanding of the originality of their content.
This tool is definitely a reliable choice for educators, students, content creators, and businesses who need to ensure the originality of their content.
It gives you lightning-fast authenticity verification from an AI content detector. With this feature, users can check long-form content such as essays, articles, and reports quickly and efficiently.
This saves users time and effort, making the tool a convenient choice for checking content. It is great at upholding academic integrity.
Standout features of Crossplag's AI Detector
In terms of pricing, Crossplag's AI Detector offers a free plan. On the other hand, the pay-as-you-go plan is for $9.99 which gets you up to 5,000 words to begin with. Then the Bundle plan is for $149.99 with which you can get up to 100,000 words.
---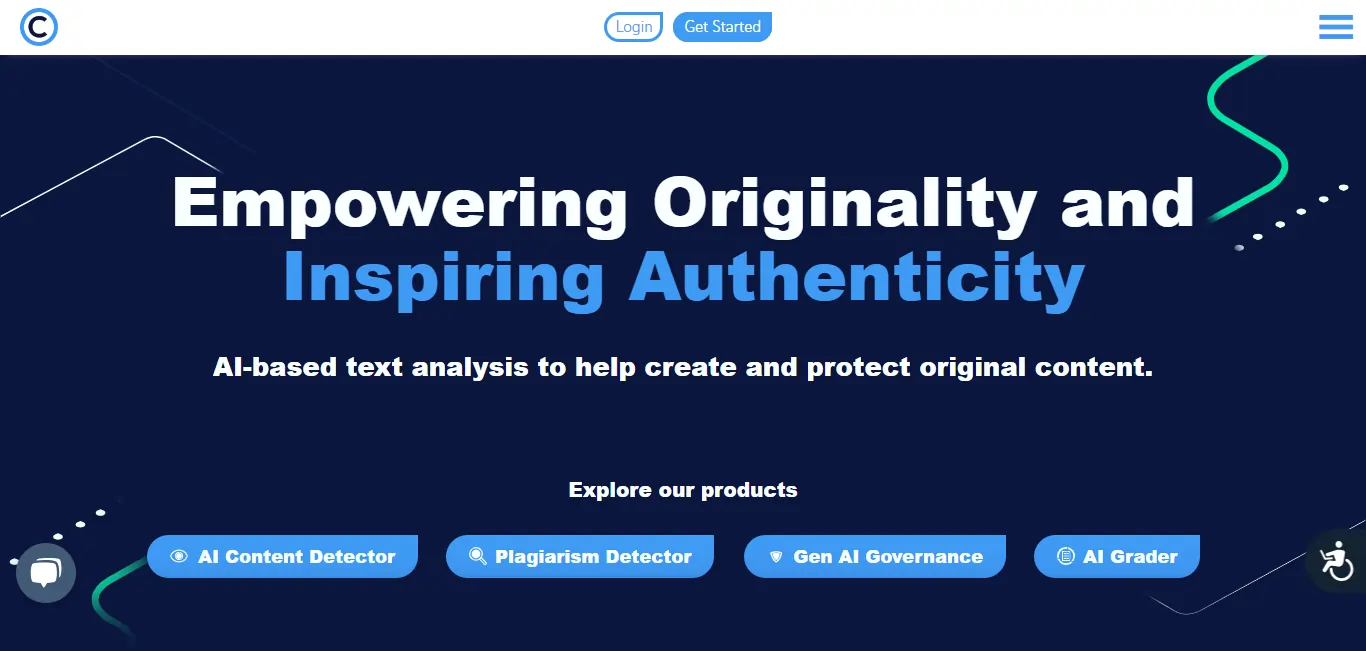 Copyleaks AI Content Detector is a sophisticated tool designed to detect AI-generated content with an impressive accuracy rate. The tool has won several awards for performing the best among the AI content detector, plagiarism checkers, and even for the generative AI GRC.
It has got the only enterprise solution that keeps you informed about whether the content was written by a human or generated by AI, including ChatGPT4. It has got the best award-winning plagiarism detection tool that helps you identify potential plagiarism, detect AI-generated content, and more. Get started for free today, or explore their LMS and API integrations.
Feature of the Copyleaks
The pricing for the copyleaks is totally dependent on the pages you scan. It starts with 1200 pages, where you have to pay $9.16 per month annually. The max you can go is 120,000 pages where you have to pay $566.66 per month annually. For more than 120,000 pages you have to opt for a custom plan.
---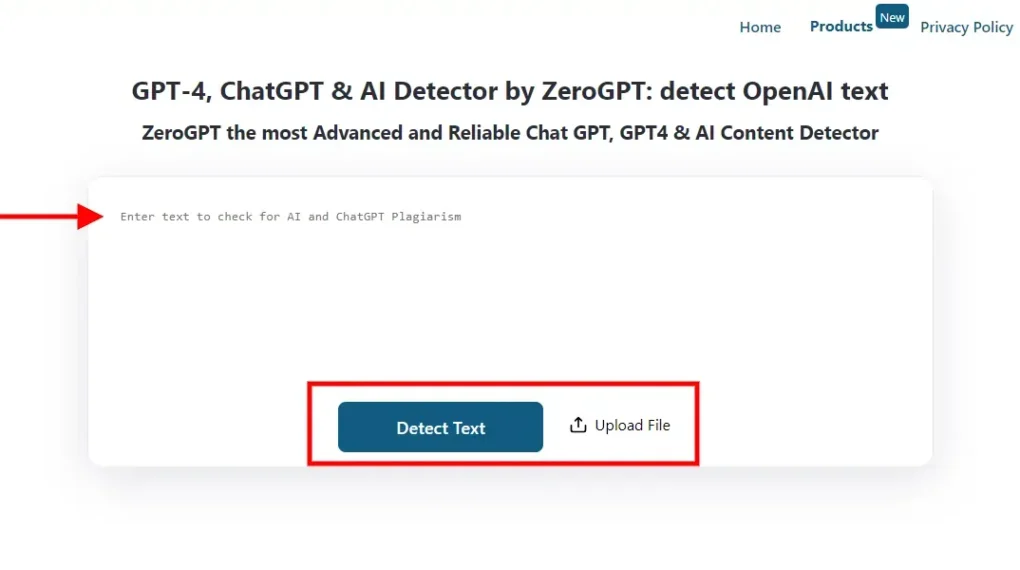 ZeroGPT is a free AI detection service that stands out for its ability to accurately detect AI-generated text. It's a valuable tool for anyone needing to distinguish between human-written and AI-generated content, particularly in an era where AI-generated content is becoming increasingly sophisticated and prevalent.
One of the key features of ZeroGPT is its detailed results. The tool provides a percentage bar that tells the accuracy of human and AI written pieces.
The percentage of AI/GPT plagiarized text by Zero GPT gives users a clear and quantifiable measure of the extent to which the content they're analyzing has been generated by an AI.
It has got high accuracy rate of up to 98% and is surely something to keep in mind when looking for an AI detection tool.
Features of Zero GPT
---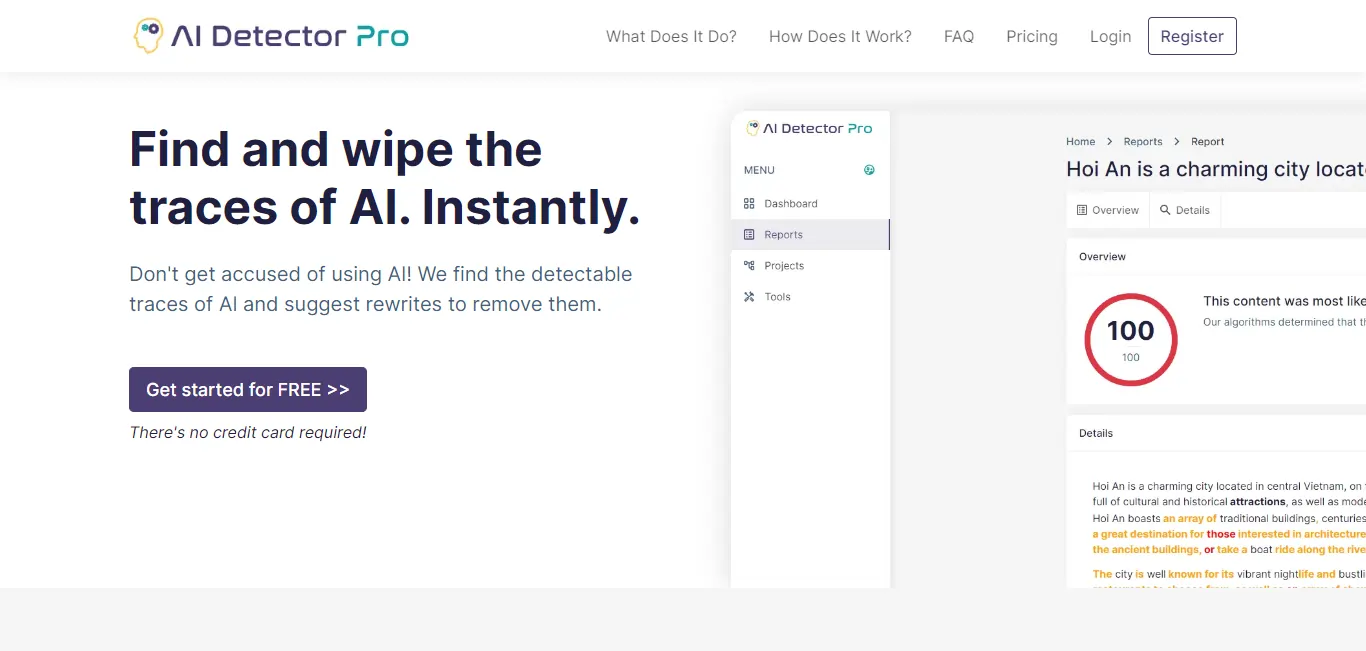 Tools like AI Detector Pro have emerged as a critical resource for ensuring content authenticity. AI Detector Pro is a comprehensive tool designed to detect if a piece of content is written by AI, specifically those generated by GPT-3 based algorithms.
To get started with AI Detector Pro, users can simply register for free on their platform and enter the content that needs to be checked. The tool then generates a detailed analysis and report of the content, highlighting the text that may be generated by AI.
This AI detector tool is great at checking the latest outputs from ChatGPT, GPT 3, GPT 4, and BARD even with each and every constant.
This tool is particularly useful for writers, educators, and content creators who want to ensure the originality of their work.
The tool also offers a few additional tools and utilities to enhance its toolbox. These include sentence-level details, confidence levels indicating the likelihood of text being AI-generated, the ability to check documents or websites by pasting content or entering a URL, and advanced reports that show the probability of content being AI-generated.
Standout features of AI Detector Pro
In terms of pricing, AI Detector Pro offers a free trial for users to test out its features. The Unlimited Plan is available for $249.99, yearly. On the other hand, the Basic plan is for $139.99 if billed annually.
---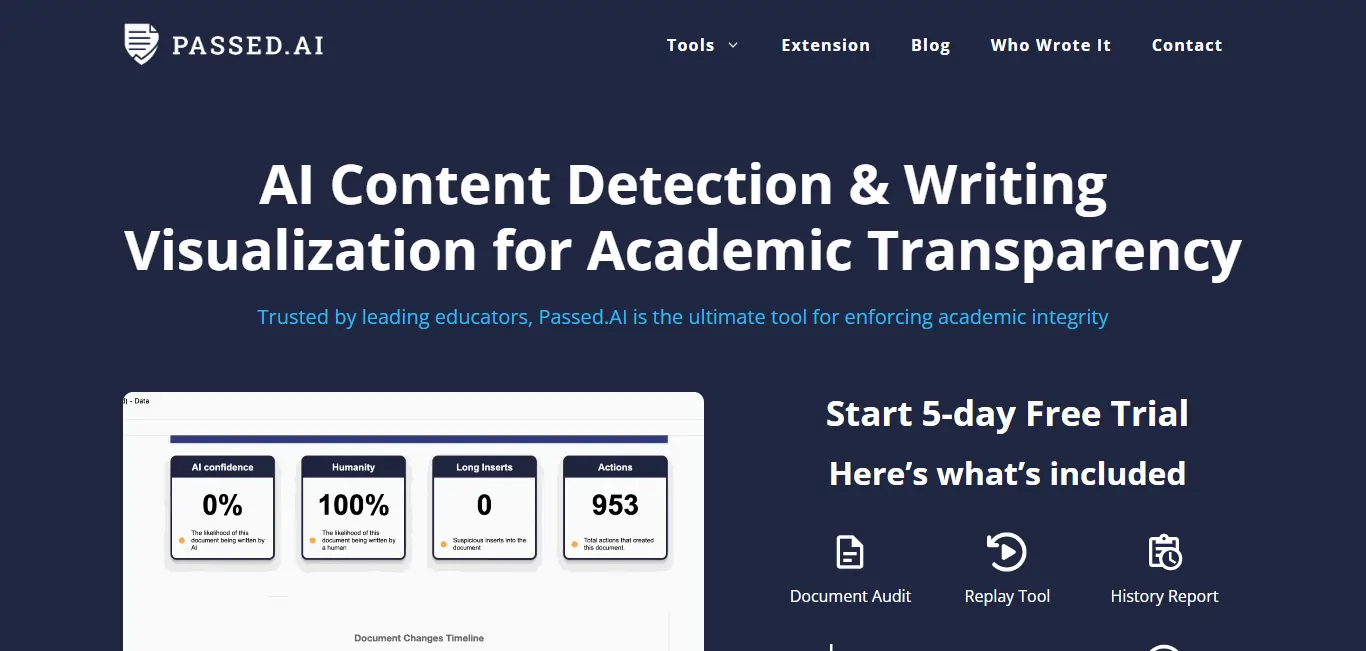 This advanced AI detector tool is designed to detect AI-generated content, with a reliable solution for maintaining the integrity of their work.
Passed.AI is a web-based tool that uses GPT-3-based algorithms to detect AI-generated content. To use the tool, users have to register on the Passed.AI platform and enter the content they wish to check. Passed AI is great at generating a detailed report of the content.
You can also document the work, with all the important stats provided by the tool. And check the history of who has contributed to the creation process. This tool basically lets you keep an eye on the document while it is being written. With all of that, it has even got a replay tool and a minimal false negative rate.
Features of Passed.AI
Users can start with a 14-day free trial to test out the tool's features. Then the tool has even got a Standard plan that is for $9.99 per month that gives you Unlimited scans. Additionally, it has got an Institutional Plan that is customizable.
---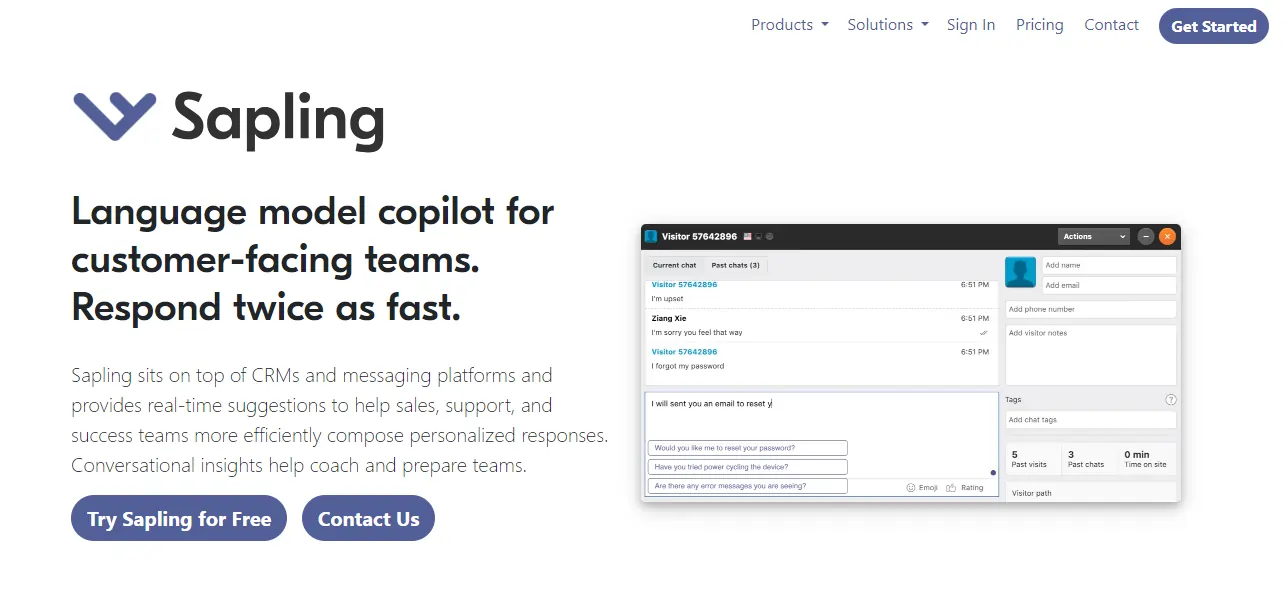 Sapling is another web-based AI Detector tool that detects AI-generated content.
It is actually a Language model copilot for customer-facing teams, with which you can respond twice as fast. It's a CRM and messaging platform that provides real-time suggestions that help sales work more effectively.
It is great at providing an output with the probability that a piece of content was AI-generated by a model such as GPT-3.5 or ChatGPT. You can use this tool as a free AI Detector. With all of that, it has even got its own Chrome Extension and an AI detector API.
You can paste the content or you can paste the link that you want to be checked and the tool will give you the best results and output. In terms of pricing, Sapling AI Detector is a free-to-use AI detector tool.
Feature of Sapling
---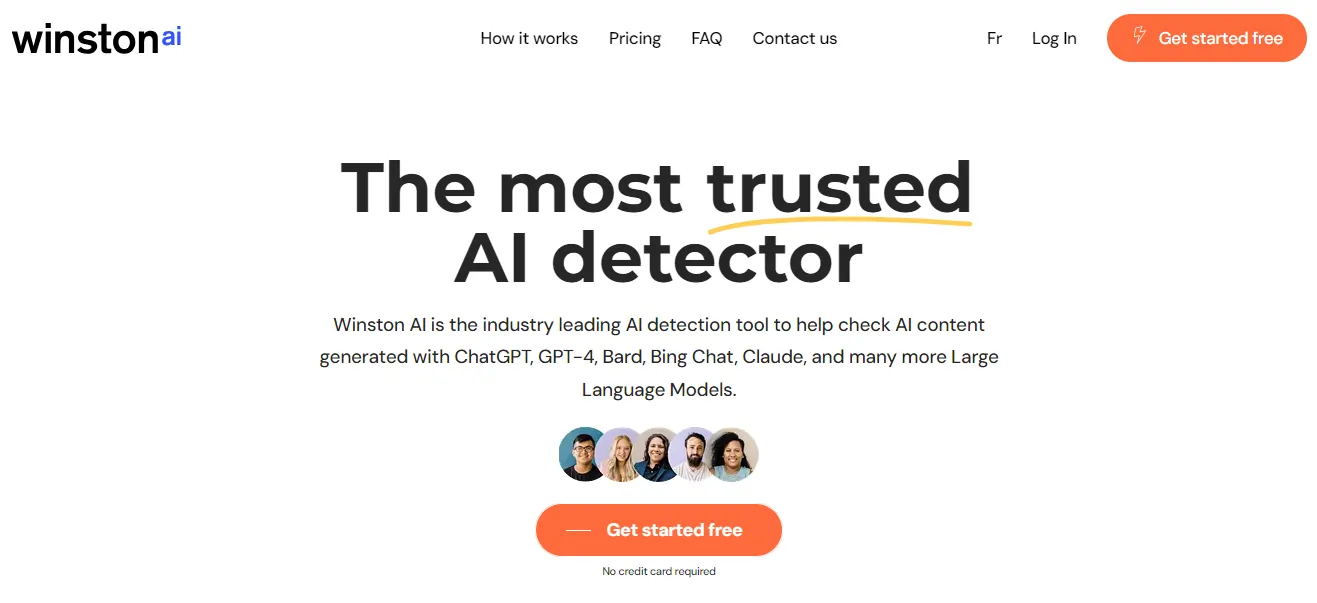 Winston AI is particularly effective at identifying content generated by leading AI models including ChatGPT, Jasper, Copy.ai, Writesonic, and more. Plus it has got its own community for education and publishing purposes. You can start for free without any requirement for a credit card.
The tool is best for content creators, for education, and for web publishers. All you have to do is create a project in Winston by organizing and categorizing your documents and files. Label them and start with checking the AI detection. It is as simple as that.
Features of Winston AI
In terms of pricing, Winston AI offers a 7-day, 2000 words free trial. Essential plan that is available for $12 per month, annually and it lets you scan up to 8000 words. Then it even has got a custom plan that lets you have anything and everything you want in your plan, all you have to do is contact them through the website.
---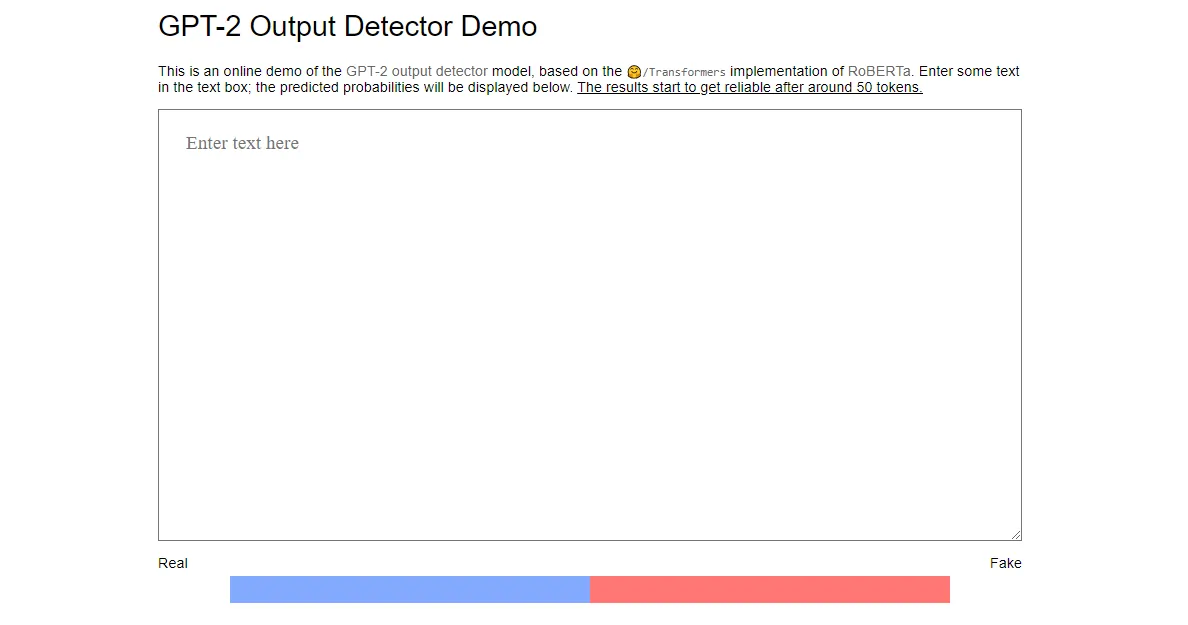 It is still a beta version meaning it's still in its demo phase. This is an online demo of the GPT-2 output detector model, based on the Transformers implementation of RoBERTa.
All you have to do is enter some text in the text box and that's it. The predicted probabilities will be displayed below. It gives out the best reports in terms of percentage and shows you the AI-generated content or the real content in the form of a scale.
And the best thing about this AI detector tool is that it is totally free to use. You can scan your content for free here.
Features of GPT 2 AI detector
---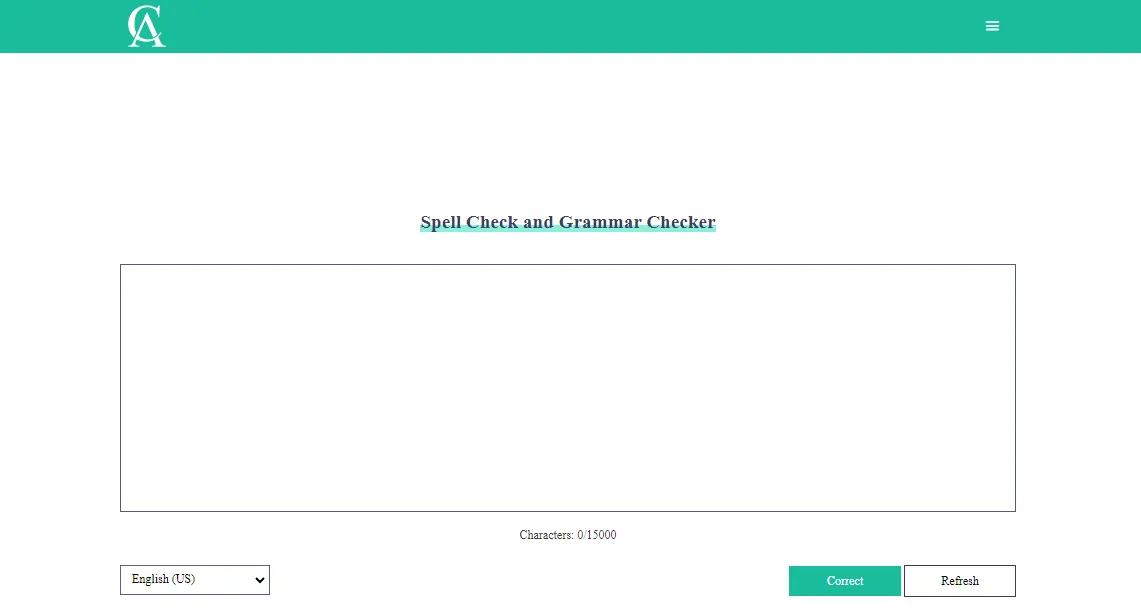 Corrector AI Detection Tool is a free-to-use app. This is also a web-based tool that is great at multiple things. The Corrector App is originally an AI writing assistant with also having a feature of AI detection.
It gives out the best results and shows the percentage that might be AI-generated. You can scan up to 800 words per scan for free. This tool particularly ensures that any human written text has not been copied or partially copied any of the already existing content.
And that's not it, this tool even lets you spot the fraud content within a text. This is a perfect tool to have by your side while creating high-quality content. As for the pricing, the AI detector tool by Corrector App is totally free to use.
Feature of Corrector App
---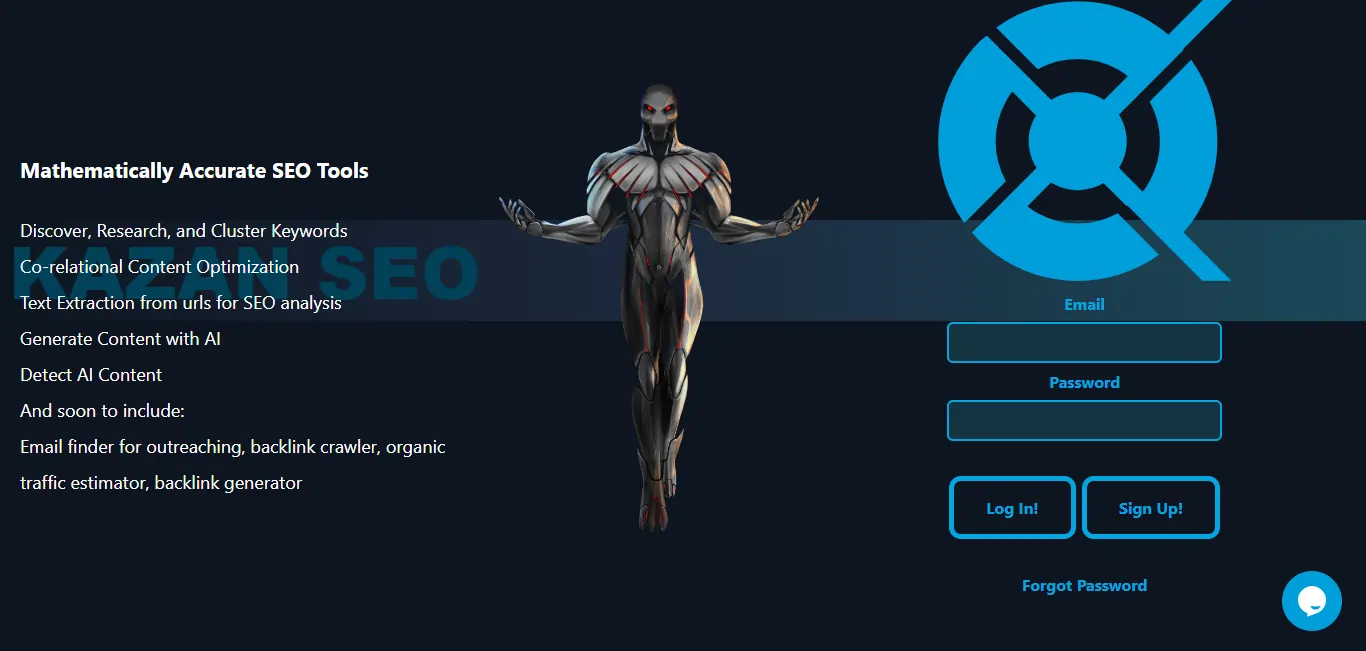 Kazan SEO and AI Detector tool is something very unique. It has got a bulk mode that lets you check the content in lot. It is originally a content optimizer tool that has got a number of features revolving around the content.
Along with being the best AI detector tool, its also an Email snipper tool, content optimizer, KW clusterin tool, SERP overlap tool, KW sharing tool, and also has got features like Textron GPT, text extractor, and has also got its own community.
KazanSEO Detector also provides advanced reports that show the probability of content being AI-generated. These reports provide users with a clear and detailed understanding of the authenticity of their content, allowing them to make informed decisions about its use.
It is also great at keeping your old logs of AI-detected contents. As for the pricing the tool is again free to use.
Features of Kazan
---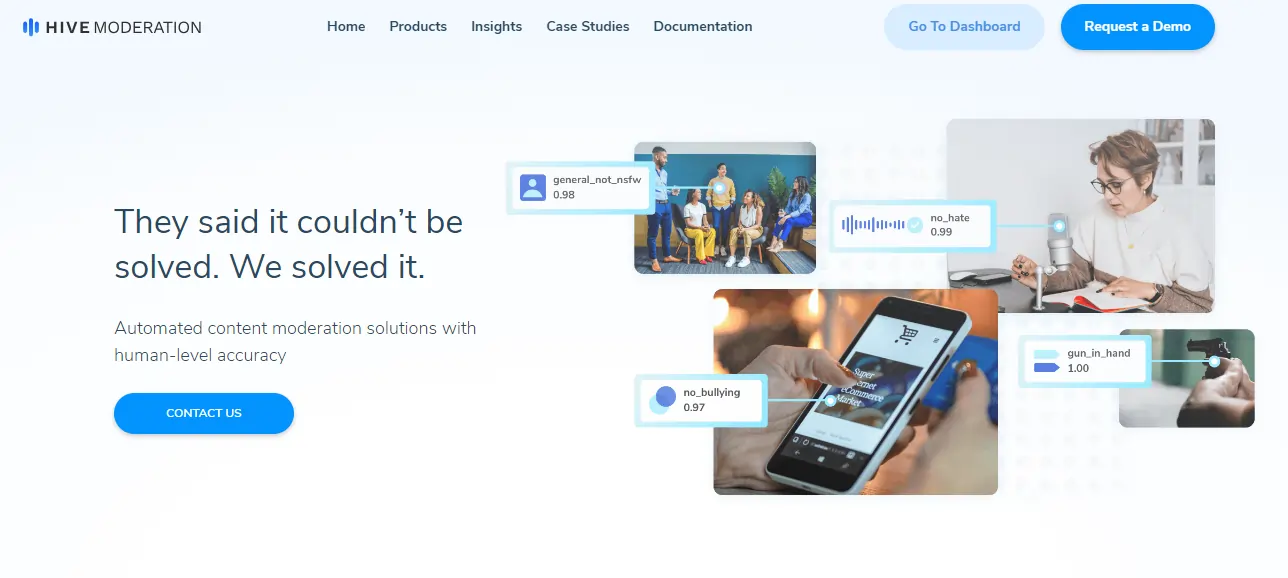 Hive Moderation is more than just a moderation tool; it's a comprehensive solution for managing and understanding content. Hive Moderation uses pre-trained AI models for content detection and intelligent search capabilities.
These models can analyze vast amounts of data in real time, identifying and categorizing content based on a wide range of criteria. This allows Hive Moderation to provide detailed insights of AI-generated content into your content.
Along with being the best content detector, this tool can also detect AI generated images. It can detect images created using popular tools like DALL-E, Midjourney, and even Stable Diffusion.
It is a free-to-use tool, and gives you results instantly, it even shows you the percentage and the parts where the content has been generated by an AI.
Features of Hive Moderation
In terms of pricing, Hive Moderation is a free-to-use AI detector tool that lets you detect around 8000 words per scan.
---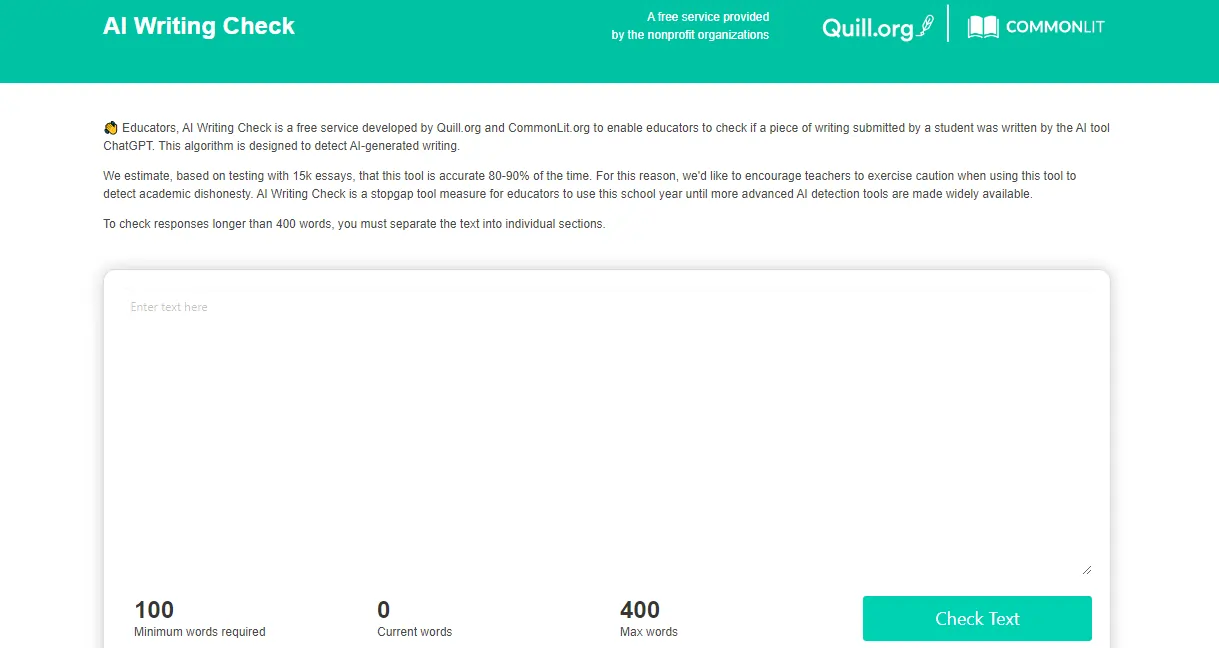 AI Writing Check is an AI content detection tool by Quill.org that lets Educators, use their free service to check if a piece of writing submitted by a student was written by the AI tool ChatGPT.
Along with Quill.org, this tool is also developed by CommonLit.org. The tool has an accuracy of 80-90% to give the best output about the AI-generated content.
It has been specially made to encourage teachers to exercise caution when using this tool to detect academic dishonesty. AI Writing Check is a stopgap tool measure for educators to use this school tool until more advanced AI detection tools are made widely available.
At a time the tool lets you detect around 400 words. To check responses longer than 400 words, you will have to separate the text into individual sections.
You can use this tool for free which will even give you some tips on how to track the content next time and what all points should you be aware of.
Features of AI Writing Check
---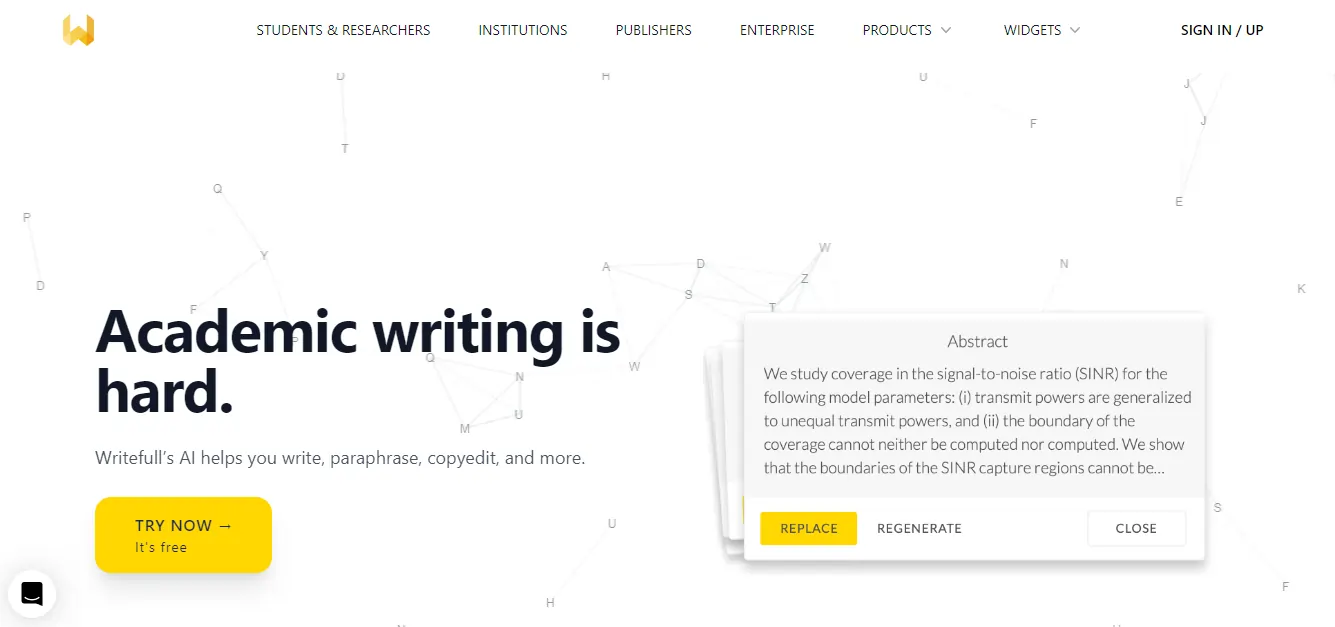 Writefull is another free AI Detection Tool on our list to see if your text is original or AI-generated. All you have to do is simply paste the content and click on check. That is it, you will get the best results and reports in detail.
It gives you the exact probability score, which will let you know the details of a text that has been generated by GPT. Also, when you input your data into this tool, it gives you the assurance to have your text saved and secured. Your data is basically encrypted and not shared with anyone as it is not stored.
Then the best thing about this tool is that you even get an API access to the GPT Detector on request. The tool is again free to use. You can either create an account on it or you can use the AI detector by Writefull for free.
Besides being a great tool for AI detection it is even an AI writer tool. You can use these copies to edit, and generate abstracts, and paraphrase texts. You can even make your sentences more academic with the help of Writefull for Word.
Feature of Writefull
---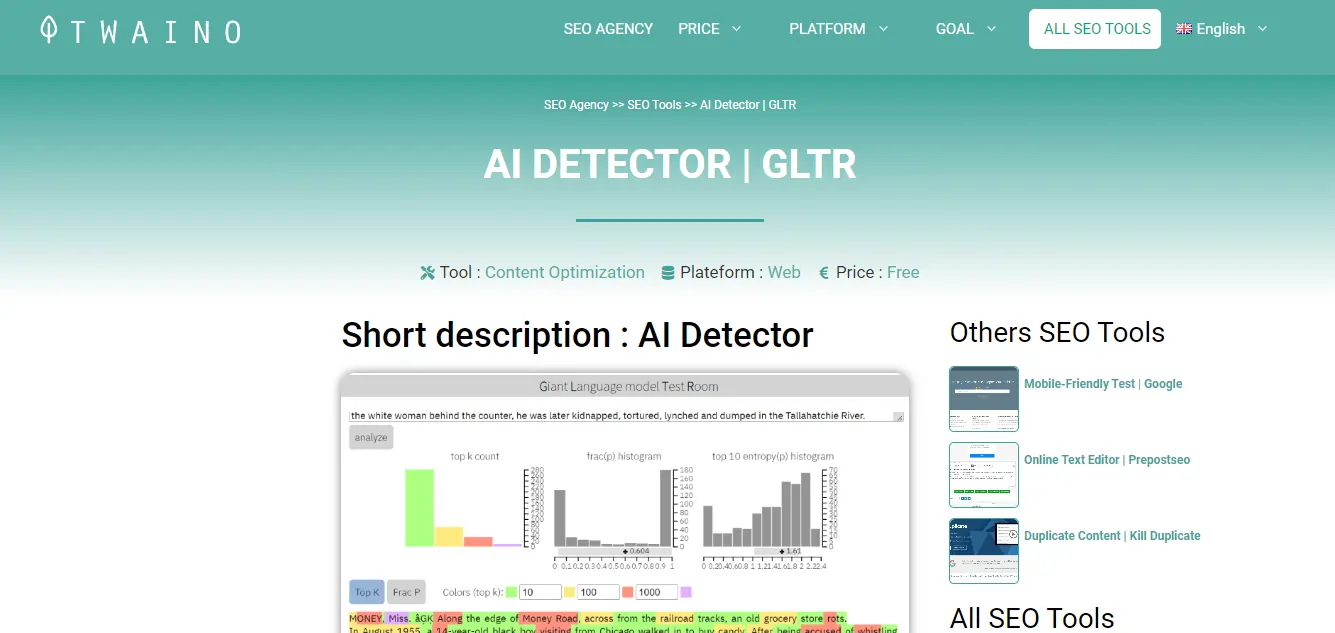 GLTR AI by Twaino is an AI-generated content detector. It is perfect for short description AI detection. And the best part is it is free. gltr.io is an excellent software that is able to detect texts generated by tools based on artificial intelligence.
You can even use the long description AI detector by GLTR that will give you reports of content that have been generated by GPT.
It solves all your queries of the content generated by artificial intelligence that is associated with poor SEO practices. gltr.io has been created to give you the best results of the words that make up your content. GLTR by Twaino is free to use AI detector that will give some real an in depth details of your content.
Feature of GLTR
---
Turnitin is a renowned tool in the academic world, designed to promote integrity and originality in writing. It's a cloud-based service that checks for potential plagiarism by comparing submitted papers to several databases.
Turnitin's primary function is to detect unoriginal content in submitted papers. It does this by comparing the content against its extensive database of academic papers, articles, and other online content.
When a paper is submitted, Turnitin generates a similarity report, highlighting any sections of the text that match sources in its database. This allows educators to easily identify instances of potential plagiarism.
The tool does not have the pricing on their website. If you wish to get a price, you must contact a salesperson to receive a quote.
Features of Turnitin
---
Which AI detector tool is the best?
Originality AI has to be the best among all of our listed AI detector tools. And trust us because we are writing this with our personal experience.
The tool's proficiency in detecting content generated by advanced AI models like ChatGPT and GPT 4 sets it apart from other detection tools. It's not just about identifying plagiarism; it's about ensuring the authenticity of the content, which is crucial in today's content-driven world.
Originality.AI is designed with the needs of serious web publishers and content marketing teams in mind. Its ability to perform bulk site scanning and enhance a website's ranking on Google makes it a valuable tool for maintaining a strong online presence.
Originality.AI has advanced features, a user-friendly interface, and a commitment to promoting original content making it a valuable resource for anyone involved in content creation or education.
What market would profit more from this tool?
Whether you're a content creator striving for originality, an educator promoting academic integrity, or a business aiming to enhance your online presence, Originality.AI provides a reliable, efficient, and effective solution.
This tool is great for the educational sector and even for those who are into website selling business. As this tool can scan a number of websites in bulk you can take a lot of advantage of this AI detector tool while scanning for AI-generated texts.
Common FAQs Related to AI Detection Tools
How accurate are AI detection tools?
Most AI detection tools have almost 68% accuracy. If you go for the premium tools they can get you up to 84% of accuracy.
How do AI detection tools work?
AI detectors usually look for specific characteristics in the text. They look for low levels of writing and randomness in word choice as well as sentence length.
Can AI writers also work as AI detectors?
Yes, some of the AI writers have a feature for detecting AI-generated texts.
How are AI detection models trained?
The AI is fed with analytics of trillions of pages of crawled content and user-sourced content. This is to train the models to understand the text and pick out the content created by other AI.
Conclusion
We are in an era where information is readily available at our fingertips. This has made the maintenance of the integrity of academic and professional writing more challenging. These AI detector tools have become essential in promoting originality and discouraging plagiarism.
The advanced features that these tools have got, such as an extensive database for comparison, integration with classroom management systems, and some more additional tools make them a comprehensive solution for educators and institutions.
Their ability to generate detailed similarity reports allows for easy identification of potential plagiarism, ensuring the authenticity of students' work.
Moreover, these tools are great at offering various pricing plans making them accessible for different institutions based on their specific needs. Most of the time they have a user-friendly interface that simplifies the process of submission, checking, and grading of assignments, making it a preferred choice for many educators worldwide.
In the broader context, these tools are sometimes not just plagiarism detection tools.
They encourage original thinking and authentic writing. AI detection tools serve as a deterrent against plagiarism, fostering a culture of honesty and integrity in the academic world.