The adult entertainment industry is booming, with more people than ever searching for adult content online. However, finding a reliable and secure adult web host can be tricky. That's why we've researched and reviewed the 7 best adult hosting providers for 2023.
Our top picks offer fast servers, robust security features, and generous bandwidth to support high-traffic adult sites.
Whether you're launching a new adult website, adult tube site, or cam site, these hosts have you covered.
From budget-friendly options like Vicetemple to premium picks like LiquidWeb, this list has a top-rated adult web host for every need. We break down the key features, pricing, and pros and cons of each host to help you make the right choice.
Read on to discover the 7 best adult hosting services for a reliable, high-performance platform to host your adult content in 2023.
With the right web host, you can stop worrying about downtime and focus on growing your viewership.
Things to Consider Before Choosing an Adult Web Hosting Service
Terms of Service & DMCA Policy
Not all hosting companies allow posting adult content. It is crucial to look for providers that are DMCA-ignored. This means that they will not remove your content even if they receive a DMCA takedown notice.
Domain Privacy and Performance
Go for a hosting company that offers domain privacy services to protect your personal details from being accessible via the WHOIS database.
Flexibility
Choose a scalable hosting solution to accommodate spikes in traffic and an increase in demand without any interruption.
Account Limitations
Every hosting company comes with a set of terms of engagement whole violation results in extra charges or discontinuation of your hosting service.
Bandwidth and Storage Capacity
Choose a host that can accommodate the amount of traffic and data you expect your site to generate.
Top Adult Web Hosting Providers
Exploring the top adult web hosting provider is important because it handles high traffic volumes, provides robust security measures, and ensures legal compliance. Choosing the right adult web hosting provider is not just about the features they offer, but also about the understanding of the legal and ethical implications of hosting adult content.
Here's a quick overview of top adult web hosting providers:
1. DreamHost
DreamHost is a popular name in the web hosting industry. It offers robust features, exceptional guarantees, and dedicated support. As a top adult web hosting provider, it also offers an in-depth suite of services catered to meet the unique needs of adult content websites.
DreamHost Key Features
DreamHost Pricing
| DreamHost Plan | Price per Month |
| --- | --- |
| Shared Hosting | $2.59 |
| VPS Hosting | $10 |
| WordPress Hosting | $2.59 |
| Website Builder | $2.59 |
| Dedicated Hosting | $169 |
Pros
Affordable hosting services.
Offers professional website and marketing services.
Easy one-click WordPress installs.
Provides free inbound spam filtering.
Offers 24/7 uptime monitoring.
Cons
Premium WordPress hosting requires additional costs.
Live chat support wait times can be long.
---
2. TMDHosting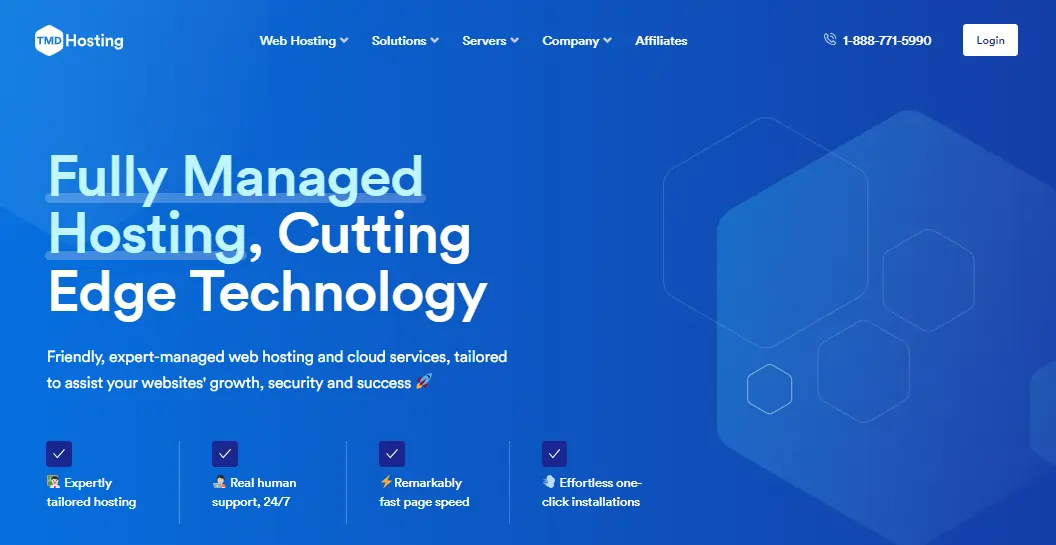 TMDHosting is another adult web hosting provider available in the market. It has emerged as a trusted provider for adult web hosting. It offers great services from WordPress hosting to VPS hosting and dedicated servers to serve the diverse needs of adult content creators and website owners.
Liquid Web Key Features
TMDHosting Pricing
| TMDHosting Plan | Price per Month |
| --- | --- |
| Linux Shared Hosting | $2.99 |
| WordPress Hosting | $2.99 |
| Managed Linux VPS Hosting | $24.99 |
| Managed Dedicated Servers | $79.99 |
Pros
Offers fully managed hosting.
Features effortless one-click installations.
Provides rock-solid infrastructure.
Offers great server performance.
Provides unlimited storage for an affordable price.
Cons
Only offers standard CloudFlare package.
Limited resource allocations in basic plans.
---
3. Liquid Web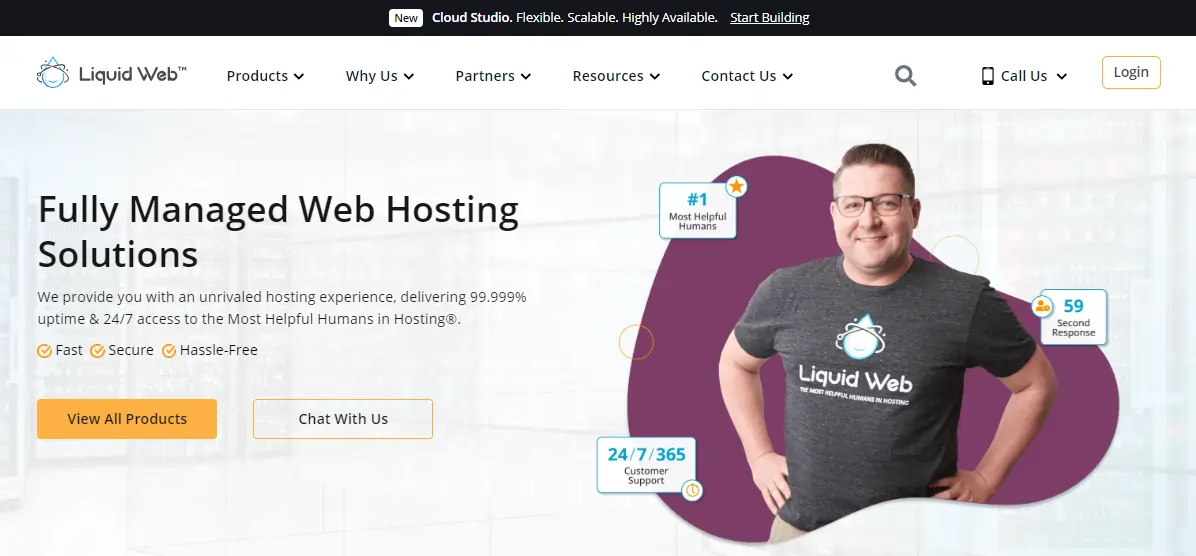 Liquid Web is a premium adult web hosting provider well-known for its range of hosting services created to serve large websites with heavy traffic. It offers dedicated server solutions, VPS cloud hosting, and digital commerce cloud, all designed to ensure maximum uptime and performance.
Liquid Web Key Features
Liquid Web Pricing
| Liquid Web VPS Hosting Plans | Price per Month |
| --- | --- |
| Essential | $59 |
| Advanced | $99 |
| Professional | $139 |
| Elite | $169 |
Pros
Strong brand name and online presence.
Great admin panels and UI.
Multiple control panel choices.
Reliable uptime and performance.
Cons
High cost compared to other providers.
Not suitable for beginners.
---
4. ViceTemple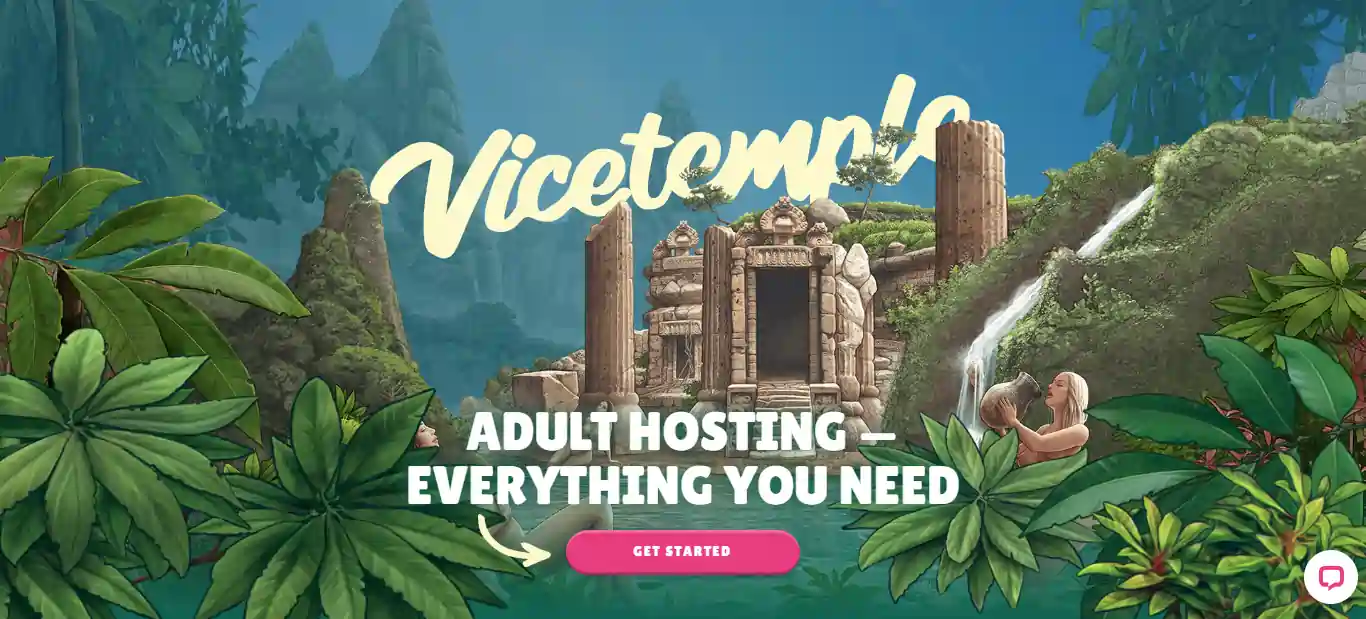 ViceTemple is a popular adult hosting provider that is popular is offering in-depth hosting solutions for adult content businesses. It provides access to adult content, providing high-quality servers equipped with advanced hardware technologies. ViceTemple mainly focuses on adult content businesses which is evident in its liberal content policies allowing for the hosting of vast adult content within legal limitations.
ViceTemple Key Features
ViceTemple Pricing
| ViceTemple Adult Web Hosting Plans | Price per Month |
| --- | --- |
| Play Bunny | $6 |
| Stallion | $11 |
| Playful Aristocrat | $22 |
| Reverent Saint | $44 |
Pros
Offers full data privacy.
Provides a one-click upgrading feature.
Includes one-click application installer.
Handles technical problems for users.
No restrictions on posting content.
Cons
No free trial is available.
Only deals with adult industry customers.
---
5. HostArmada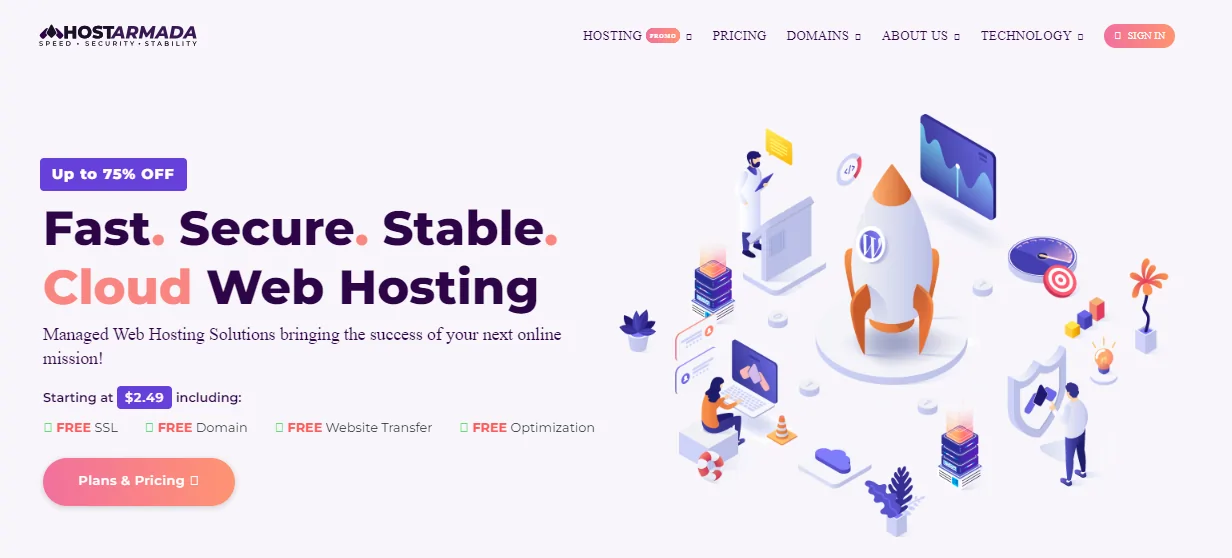 HostArmada is a leading web hosting service provider that offers numerous services including shared hosting, WordPress hosting, and open-source application hosting. The platform is designed to offer an exceptional user experience with a client area that allows easy navigation and efficient management of information, payments, services, and internal communication.
HostArmada Features
HostArmada Pricing
| HostArmada Plan | Price per Month |
| --- | --- |
| Start Dock | $12.95 |
| Web Wrap | $19.75 |
| Speed Reaper | $23.05 |
| Web Shuttle | $29.95 |
| Web Voyager | $35.73 |
| Web Raider | $46.73 |
| Site Carrier | $74.23 |
Pros
Maintains a low number of clients per server.
Pricing affordability.
Provides free website migration for up to five sites.
Offers speed-optimized servers.
Cons
Initial rates for plans are lower, but renewals are costlier.
Storage space is restricted in all plans.
---
6. Hostinger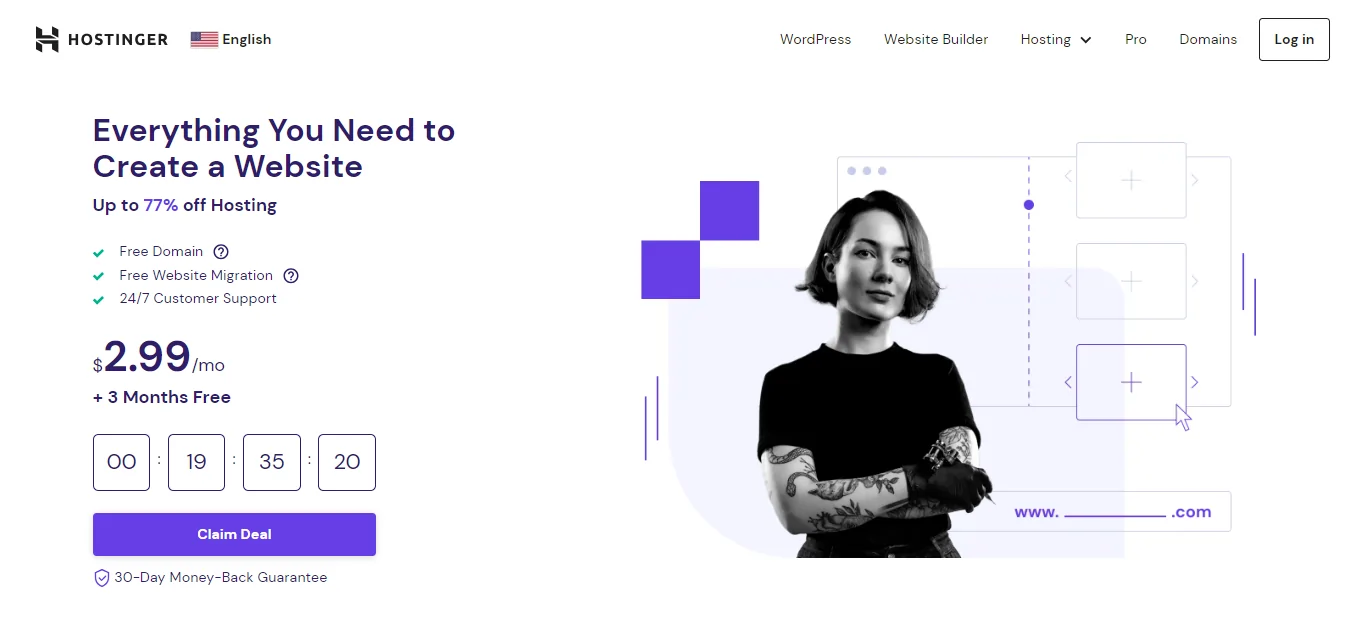 Hostinger is a reliable and cost-effective hosting provider that offers a balance of affordability, security, and user-friendly features. It offers various hosting services including shared hosting, VPS hosting, and cloud hosting giving its users a range of affordable pricings.
Hostinger Key Features
Hostinger Web Hosting Pricing
| Hostinger WPlan | Price per Month |
| --- | --- |
| Single | $1.99 |
| Premium | $2.99 |
| Business | $3.99 |
| Cloud Startup | $8.99 |
Pros
Affordable pricing.
Fast page load speed.
30-day money-back guarantee.
24/7 live chat support.
Free website builder and domain registration.
Cons
Uses hPanel instead of cPanel.
Extra security features are charged separately.
---
7. Qloud Host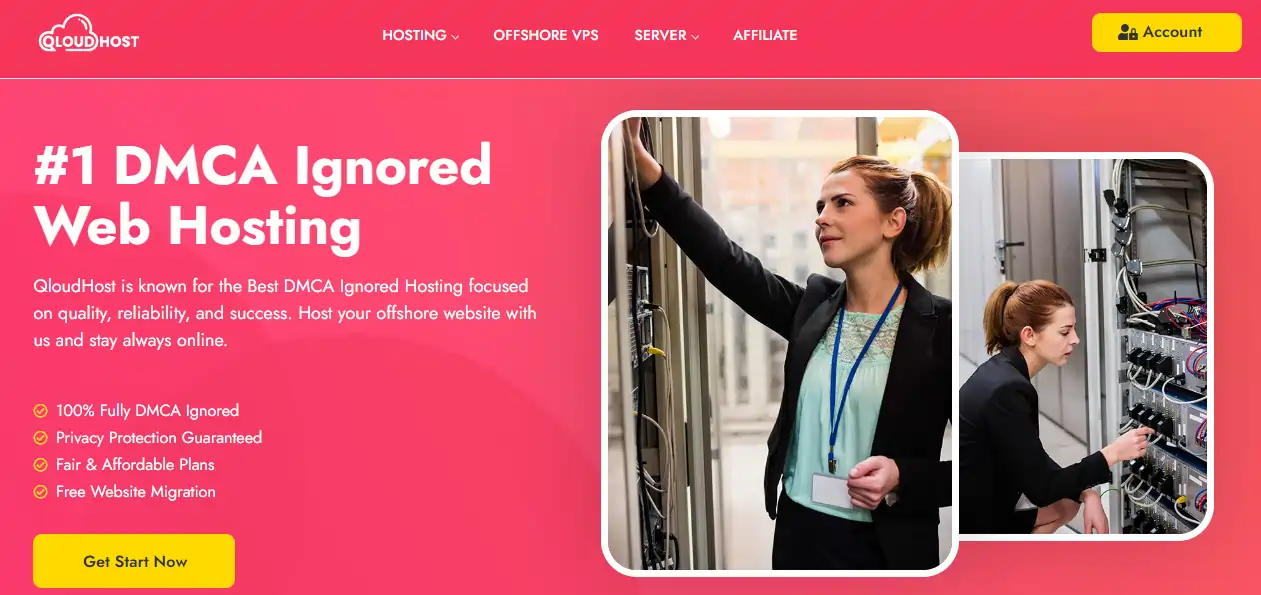 Qloud Host is a reliable and secure adult web hosting provider. It is popular for its quality and success. It offers DMCA Ignored Hosting which allows for the hosting of content without fear of legal consequences. This makes it an ideal choice for adult content websites that require improved privacy and security.
Qloud Host Key Features
Qloud Host Pricing
| Plans | Price per Month |
| --- | --- |
| OFFSHORE SHARED | $3.50 |
| OFFSHORE VPS | $18.99 |
| OFFSHORE DEDICATED | $139 |
Pros
Offers DMCA Ignored Hosting.
Ensures 99.9% uptime.
Offers free website migration.
Provides a variety of hosting plans.
Accepts Bitcoin and Ethereum as payment options.
Offers a 30-day money-back guarantee.
Cons
Requires internet connection for cloud hosting.
Potential for downtime if the internet connection fails.
---
Are Adult Web Hosting Providers Trustworthy?
Adult web hosting providers have proven to be reliable and efficient for adult website owners. Best adult web hosting services include Hostinger and HostArmada, both of which allow mature content hosting on their platforms. These platforms offer features that resonate within the adult industry such as high bandwidth and storage space for housing and rapidly loading images and videos.
Many providers like ViceTemple specialize in adult content and offer shared VPS and dedicated servers, Their offshore location allows them to offer unlimited bandwidth and upload nearly any content without the fear of violating DMCA restrictions.
Overall, adult web hosting providers are reliable but it is crucial for website owners to carefully review the terms and conditions of these services to ensure they meet their specific needs and comply with all legal requirements.
FAQs on Adult Web Hosting Providers
What is adult web hosting?
Adult web hosting is a hosting service that allows websites with content meant for mature audience. This content can range from adult entertainment and more. The hosting service ensures that the website is accessible to users while complying with various state, federal, and international laws.
Are adult web hosting providers reliable?
Yes, adult web hosting providers can be reliable. They offer features such as high uptime guarantees, robust security measures, and ample storage and bandwidth to handle the specific needs of adult content websites.
What features should I look for in an adult web hosting provider?
While choosing an adult web hosting provider, you should consider various factors such as uptime, server response speed, security measures, and storage and bandwidth capacities.
Is adult web hosting legal?
Yes, adult web hosting is legal as long as the content hosted is legal and does not promote illegal activities. However, the laws regulating adult content vary by country and region. Thus, it is crucial to ensure that your content complies with all the relevant laws. 
Over to You!
We've explored the "7 Best Adult Web Hosting Providers of 2023", including DreamHost, TMDHosting, Liquid Web, ViceTemple, HostArmada, Hostinger, and Qloud Host.
We have seen the unique offerings of each platform from commitment to offering robust, secure, and specialized services for adult content businesses. From high-quality servers equipped with advanced hardware technologies to liberal content policies and excellent customer support. These providers have shown their ability to serve the unique needs of the adult industry.
Overall, it is up to you which tool you choose considering your needs and preferences along with your budget. We suggest you go for the one that fulfills all your requirements without being harsh on your pockets.