In this article, we delve into the remarkable journey of Sean Astin, a talented and versatile American Actor who has captured the hearts of millions with his exceptional performances on the silver screen. From his early beginnings to his current status as one of Hollywood's most beloved actors, we explore the key factors that have contributed to his success and the substantial net worth he has amassed over the years.
Sean Astin Net Worth & Personal Life
Full Name
Sean Patrick Astin
Date of Birth
February 25, 1971
Place of Birth
Santa Monica, California, United States
Parents
Patty Duke, John Astin (Adoptive Father)
Spouse
Christine Harrell
Children
3
Education
Crossroads High School
UCLA
Notable Films
The Goonies, Rudy, The Lord of the Rings trilogy, 50 First Dates, Stranger Things and many more…
Estimated Net Worth
$10 million
Source of Wealth
Acting, Entrepreneurship, Philanthropy, Public Speaking and Other Ventures
Social Media
Instagram- @seanastin
Twitter- @SeanAstin
Early Life and Background
Sean Patrick Astin was born on February 25, 1971, in Santa Monica, California. His mother, the talented American Actress Patty Duke, had been involved in relationships with both Desi Arnaz Jr. and Michael Tell during that period and was uncertain about Astin's biological father. While pregnant, Michael Tell proposed to marry her to avoid any potential scandal. However, their marriage only lasted for 13 days, and they separated before Sean Astin was born.
In 1972, Patty Duke married actor John Astin, who then adopted Sean Astin. The couple remained married until 1985, and Sean considers John Astin to be his father, acknowledging the strong bond they share. After her divorce from John Astin, Patty Duke went on to marry Mike Pearce in 1986.
During his mid-20s, Sean Astin, still grappling with uncertainty about his biological father, decided to undergo genetic testing. The test results revealed that Michael Tell was indeed his biological father. Interestingly, Sean had also formed a close relationship with Desi Arnaz Jr. during his young adult life, and he maintains a positive connection with Michael Tell, Desi Arnaz Jr., John Astin, and Mike Pearce, considering all four of them to be influential father figures in his life.
Despite the complexities of his parentage, Sean Astin values the love and support he has received from each of these important figures in his life journey. His upbringing in a family of artists exposed him to the world of acting from a young age. Sean's early experiences in the film industry played a pivotal role in shaping his passion and dedication to his craft.
Sean Astin's Journey to Stardom
Starting from his early days as a child actor to the exciting adventures in 'The Goonies' and the amazing 'Lord of the Rings' Trilogy, let's explore Sean Astin's journey to becoming a star.
Breakthrough Role: The Goonies
Sean Astin debuted as a child actor in a television movie in 1981 titled "Please Don't Hit Me, Mom," with his mother, Patty Duke, Later, in 1985, Sean Astin's career took a significant leap forward when he made a film debut with the role of Mikey Walsh in the adventure-comedy film "The Goonies." Directed by Richard Donner, the film became an instant classic, drawing a massive audience and catapulting Astin into the spotlight. His endearing portrayal of the adventurous and optimistic Mikey earned him widespread acclaim and opened doors to numerous opportunities in Hollywood.
The Iconic Role of Samwise Gamgee
While "The Goonies" laid the foundation for his career, his portrayal of Samwise Gamgee in the "Lord of the Rings" film trilogy solidified Sean Astin's status as a versatile actor with extraordinary talent. The epic fantasy film series, directed by Peter Jackson, captured the imagination of audiences worldwide. Astin's performance as Frodo Baggins' loyal and courageous companion earned him critical acclaim, including several award nominations.
Diversifying His Career
Beyond his role as Samwise Gamgee, the talented actor continued to explore diverse characters across various genres, showcasing his adaptability as an actor. He demonstrated his comedic prowess in "50 First Dates" (2004) alongside Adam Sandler and Drew Barrymore. Additionally, he showcased his dramatic talent in "Rudy" (1993), a sports biopic that touched the hearts of many.
Television Success: "Stranger Things"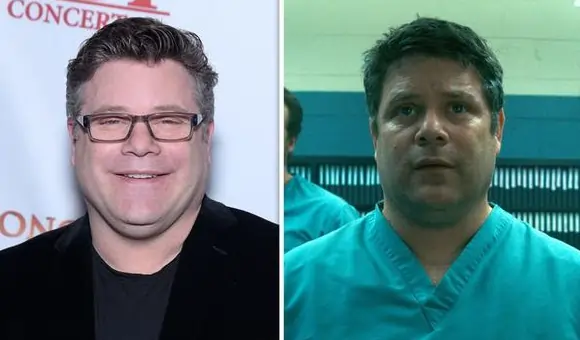 In recent years, the famous actor has successfully transitioned to the small screen, making a memorable appearance in the acclaimed Netflix series "Stranger Things." His portrayal of Bob Newby, a kind-hearted and heroic character, resonated with viewers and added another feather to his cap of diverse roles.
Other Interesting Ventures
Apart from his acting achievements, the American-Born Actor has ventured into various other endeavors, showcasing his entrepreneurial spirit. He has been a voice actor, lending his voice to animated characters in popular TV shows and movies. Additionally, Astin has directed and produced projects, which include the 1994 short film titled "Kangaroo Court." further establishing his presence behind the camera.
The film was co-produced with his wife Christine Astin which received critical acclaim and earned an Academy Award nomination in the category of Best Live-Action Short Film. Furthermore, Sean Astin is actively involved in philanthropic work and advocacy for various causes. His commitment to making a positive impact on society has earned him respect and admiration from both fans and fellow celebrities.
Triumphs and Philanthropic Passion
Beyond his successful acting career, Sean Astin has delved into diverse entrepreneurial endeavors. He has actively participated in philanthropic activities and supports various notable organizations. He is also engaged in public speaking engagements, using his words of wisdom and experiences in the entertainment industry to inspire others.
Sean's commitment to making a positive impact extends beyond the spotlight, making him a true advocate for meaningful causes. In addition to his endeavors in the entertainment business, Sean Astin is a highly accomplished athlete. He has achieved the remarkable feat of completing multiple marathons and even showcased his endurance by participating in the prestigious Ironman World Championship triathlon held in Hawaii in 2015.
Sean Astin Net Worth
With a flourishing career spanning decades, Sean Astin has accumulated substantial wealth. His net worth stands at an astounding $10 million, firmly placing him among one of the most financially successful actors in the entertainment industry. His illustrious career, smart financial choices, and business ventures have contributed to his impressive wealth.
Personal Life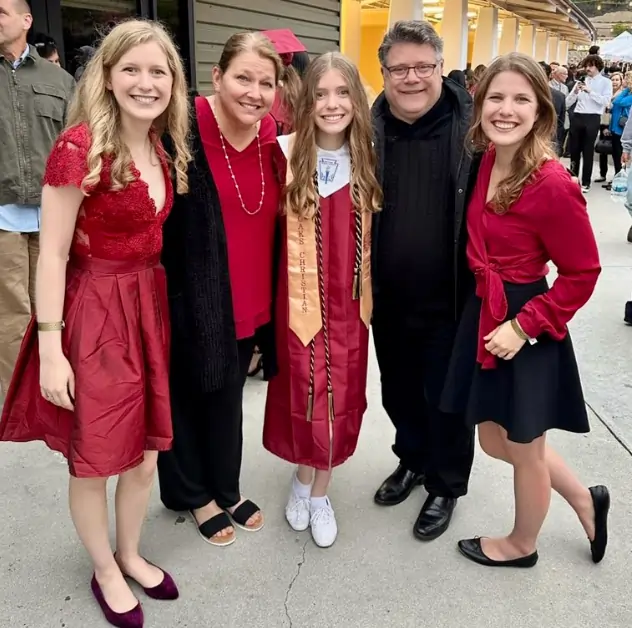 Astin married Christine Harrell on July 11, 1992. They were blessed with three daughters named, Alexandra Louise Astin (1996), Elizabeth Louise Astin (2002), and Isabella.Louise Astin (2005). Christine, Astin's wife, held the title of Miss Indiana Teen USA in 1984.
FAQs on Sean Astin Net Worth
What is Sean Astin's marital status?
Sean Astin has been happily married to Christine Harrell since 1992 and resides together in Los Angeles, CA, with their three daughters.
What made Sean Astin famous?
Sean Astin is best known for portraying Mikey in the beloved adventure film "The Goonies" (1985) and Samwise Gamgee in Peter Jackson's epic "The Lord of the Rings" trilogy, comprising "The Fellowship of the Ring" (2001), "The Two Towers" (2002), and "The Return of the King" (2003).
What's Sean Astin net worth in 2023?
In 2023, Sean Astin accumulated approximately $10 million net worth. This considerable wealth is a result of his thriving acting career and his contributions to directing, producing, and voice acting.
Has Sean Astin directed any films?
Yes, Sean Astin has showcased his talent behind the camera as well. He has directed and produced several projects, demonstrating his versatility as an artist. One of his notable directorial works is the short film "Kangaroo Court" (1994).
Conclusion
Sean Astin's journey in Hollywood has been nothing short of extraordinary. From his beginnings in a family of actors to becoming a renowned and beloved figure in the industry, his story serves as an inspiration to aspiring actors and enthusiasts alike. Through his exceptional talent, versatility, and resilience, Sean Astin has carved a lasting legacy in Hollywood that will continue to shine brightly for generations to come.
Disclaimer: This article is based on public data and is for informational purposes only. While we strive for accuracy, we cannot guarantee it. Always seek professional advice for accurate information.
Quick Links: