Want to get started with Canva for all your graphics-related stuff, whether it is presentations, images, or anything else, Canva takes care of all. But in order to be sure about Canva is your right companion, Canva Free trial can be of great value.
In this article, I have listed the steps through which you can access this free trial along with several tools and features offered. It is worth mentioning that Canva offers 3 different plans including the free plan, the pro plan, and the team plan.
Before you get started with the free trial, remember that Canva also offers a free plan that can also be used by users but with limited features. If you are looking to upscale your editing game with premium features, the 30-day free trial is the right path to move ahead with.
Now, let's take a deeper dive into this blog post on the Canva Free trial.
How to Start Canva Free Trial?
Starting your Canva Free trial is really a simple process and involves 3 to 4 simple steps, these basically include: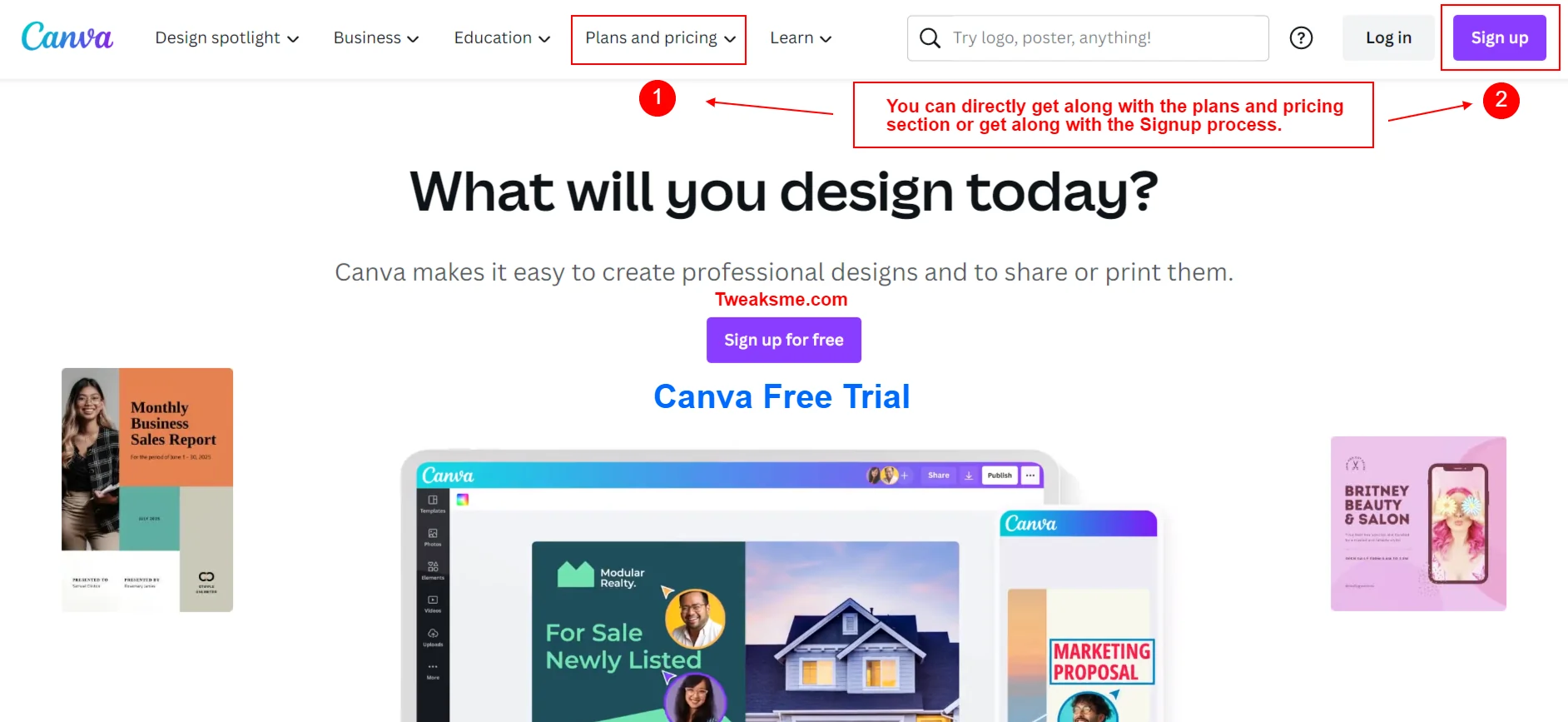 You can select to start off with your Canva Free trial with 2 different steps, one includes going to the plans and pricing section and the other one is you can directly signup for the process.
Once you have successfully signed up for Canva, you can explore the pricing plans and select the start your Canva free trial option for the plans you find appropriate for yourself.
Now once you have got along with the starting steps, select to start your free trial and you'll be directed to the signup page.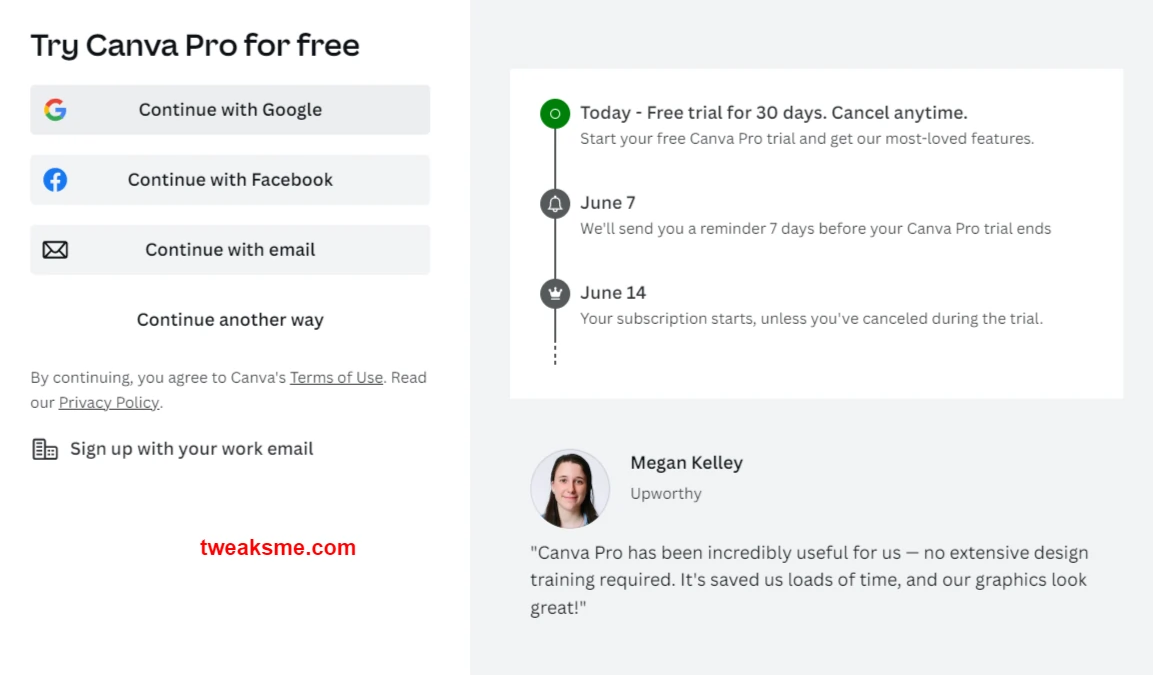 Signup across different options and choose which one suits you the best. Canva will also remind you about the free trial being ended, the reminder is sent 7 days prior to the expiration period.
Now, fill in the credit card details and you are all set to get started with creating beautiful designs.
What is Canva?
Canva is a graphic design tool that offers multiple premade templates along with designing from scratch as well. Canva offers various designs, templates, and advanced tools that can help in making things better for designing your social media posts, presentations, invitations, and much more.
One of the key features that make Canva an excellent choice among users is the drag-and-drop option, not only Canva is limited to editing and designing for the images but also to video editing operations as well.
Since, Canva has been an excellent resort for graphic designers globally, where most of the designers have to spend a lot of time across high-end tools and software like Adobe Photoshop, Illustrator, etc.; Canva's drag-and-drop option makes things better overall to generate top-tier visual content.
Now, let's have an overview of the aspect of who can use Canva and how things should be done.
Who can use Canva? Can anyone access Canva free trial?
Anyone can use Canva for image designing, video editing, presentations, and much more. Whether you are a full-fledged designer or someone who just to create an appealing post for your social media, Canva has got you covered.
In addition to that, it is worth mentioning that anyone can get started with the Canva Free trial, all you need is a credit card and an email ID to get started with. Just select the plan, and you can start with Canva Pro free trial or the Canva Team free trial, whichever suits your preference.
Let's now have a deeper analysis of the features offered by Canva and which features can be used for what aspects.
Features offered by Canva
Canva offers several features that can be utilized in order to deliver the best outcome possible. In order to have a better understanding of the features, let's divide them across different parameters, these parameters include PDF editor, video editing, photo editing, etc. Let's have a better analysis around these parameters and understand which feature can help in a so-and-so manner.
Photo Editing using Canva
Photo editing can be considered as one of the most used features offered by Canva. Just in case, you are wondering whether the design is similar to the photo editing, well they are different. The photo editing feature focuses on editing a pre-existing image while working across things like contrast, brightness, highlights, etc. The auto-enhance feature by Canva also is an excellent feature to look forward to.
Play with Style
Well, Canva is known for delivering the best result for designing images using different elements, features, etc. Canva enables you to play with animated text (different styles), design and photo grids, and icons as well. All of these features combined can help in delivering better output for professional-looking designs.
Millions of Images and Templates
Since Canva offers images and templates that can help in making things better for your editing operations on the go. Canva offers access to more than 1 million stock images along with hundreds of thousands of premade templates to edit. So basically, no more mind block on the designing part since you have already got thousands of pre-designed templates to get inspiration from.
Canva for Offices and Businesses
Canva can be quite a helpful tool for businesses and offices, as you can get professional designs made on the go without getting stuck anywhere around. Canva offers options to generate presentations, websites, business cards, invitations, and much more; so if you are a business owner or a marketing agency owner who has moderate use of design-related stuff, Canva is quite an excellent choice to look forward to.
Now that we have covered all the important features to look forward to, let now get started with the Canva pricing plans and have an overview of them.
Canva Pricing Plan: Which Canva plan is best for me?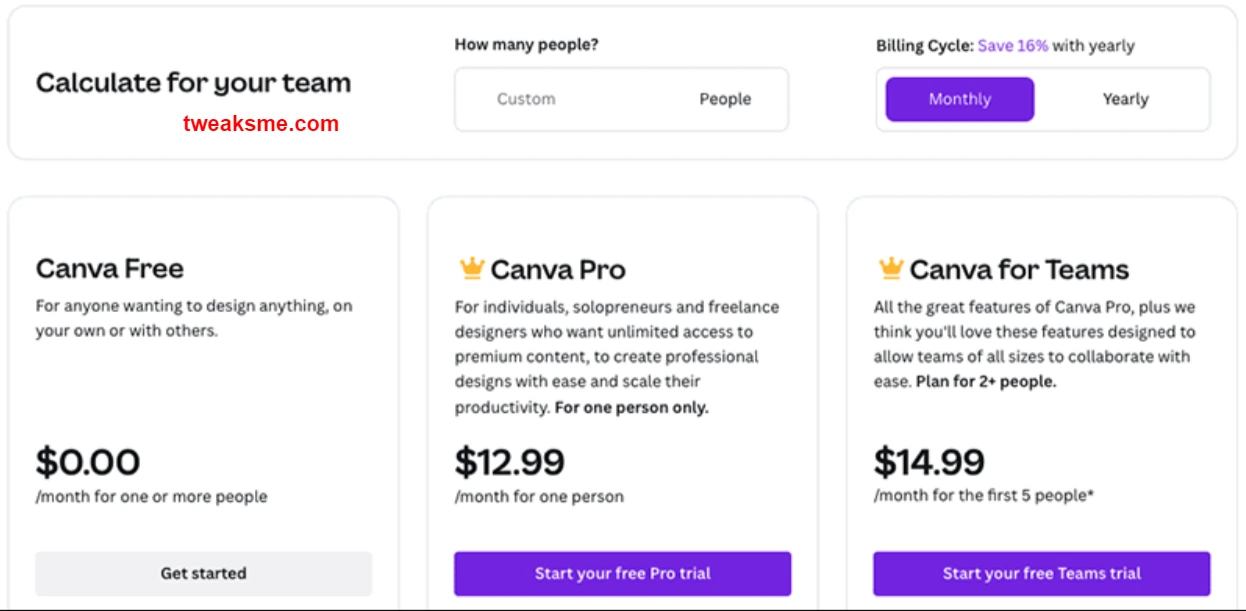 Canva offers 3 different plans including Canva Free, Canva Pro, and Canva Teams. These plans are tailored in such a way that you can choose among these plans on the basis of the features that it offers. Let's have a look at these plans along with what features do they offer:
Canva Free Plan
Canva offers a free plan that is quite an excellent plan to move on with, whether you are new or an experienced person in these operations, Canva free plan is indeed an excellent choice to move on with.
The Canva free plan offers access to multiple templates, millions of photos, and almost every key feature on the go. If you are looking forward to exploring the key features, templates, and basic tools offered by Canva, getting along with the Canva free plan can be an excellent choice to move on with.
Canva Pro Plan
Canva Pro plan is the best suitable for business owners, solopreneurs, and professionals that seek to get the most out of Canva. The pro plan costs around $12.99/month and can be availed at a much lower price point if you opt for Canva pro plan in the annual plan. The premium features included in the Canva Pro plan include a brand kit, background remover, magic resize, and content planner.
Canva for Team Plan
Canva also offers a team plan that can be of great value to businesses with multiple members along with marketing agencies that have quite a team that can manage things overall. The Canva for team plan costs around $14.99/month for the first 5 members overall. Whereas it is worth mentioning that Canva for team plan includes all the plans included in the pro plan.
Canva free trial is available for both the pro plan and the team plan. Both of these plans have a trial period of 30 days and give access to all the features that are offered in the plan if bought separately
FAQs on Canva Free Trial 2023
Does Canva offer any free trial?
Yes, Canva offers a free trial which is available for both the pro plan and Canva for team plan.
Is Canva free for Nonprofits and students?
Yes, Canva is free for Nonprofits and students, even though there are eligibility guidelines that one needs to look forward to.
How many team members and teams can I have under the non-profit organizations?
Canva for Nonprofits basically gives you access to having a single team with up to 50 members.
How long is the Canva Free trial active for?
Canva's free trial for both pro plans and for teams is active for a time period of 30 days.
Do I need to give my credit card details to activate the free trial?
Yes, you need to give your credit card details in order to activate your free trial, whereas Canva will start sending you a notification 7 days prior to the ending of the free trial.
Conclusion on Canva Free Trial
Canva is indeed one of the best tools in terms of graphic designing, upscaling your design skills, and much more. The 30-day free trial by Canva is available for both the Pro plan and the team plan, the free trial will give access to millions of stock images, and hundreds and thousands of templates, and much more.
In addition to all this, if you are a student or have a non-profit organization you can get access to Canva for free. The non-profit org can have a single team with up to 50 members.
Overall, Canva offers a free trial that can be an excellent choice to look forward to, as a period of 30 days is more than enough to explore the features and premium templates offered by it.