Steven Yeun, a renowned American actor, has captivated audiences worldwide with his exceptional talent and versatile performances. Best known for his ground breaking role as Glenn Rhee in the critically acclaimed television series "The Walking Dead," Yeun has since continued to leave an indelible mark on both the small and big screens, earning widespread acclaim and adoration for his compelling portrayals.
As of 2023, it is estimated that this acclaimed actor and producer has earned a substantial net worth of $5 million. In this article, we will uncover the fascinating aspects of Steven Yeun's career, achievements, and his net worth.
Steven Yeun Net Worth & Personal Life
Full Name
Yeun Sang-yeop
Birthdate
December 21, 1983
Birthplace
Seoul, South Korea
Sibling
Brian (Brother)
Nationality
American
Immigration
Immigrated to the US as a child, settled in Michigan
Marital Status
Married
Spouse
Joana Pak
Children
2 (sons)
Social Media
Instagram- @steveyeun
Twitter- @steveyeun
Net Worth 2023
$5 million (Estimated)
Steven Yeun Early Life and Background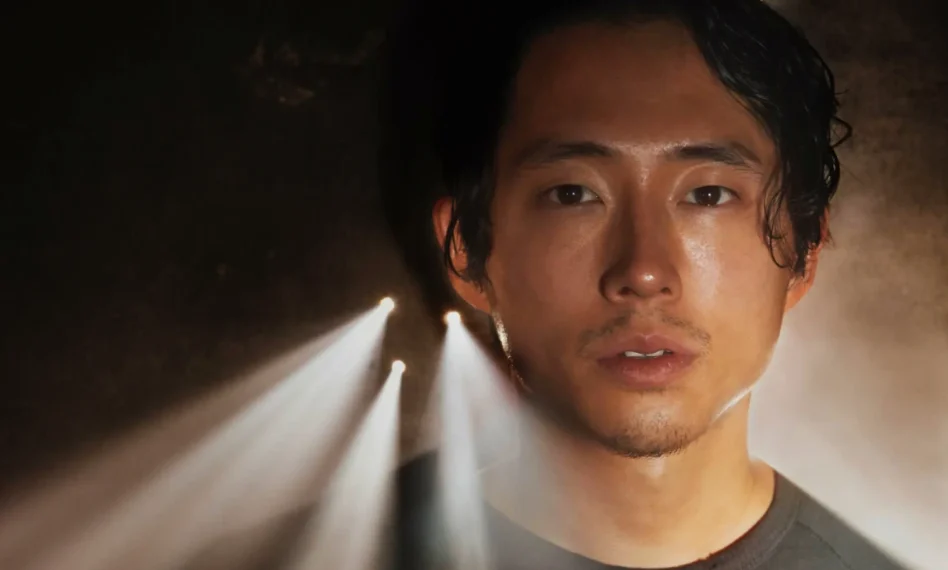 Steven Yeun, the South Korean-American-Actor, was born on December 21, 1983, in Seoul, South Korea, to mother Je and architect father June Yeun. At the young age of 5, their family moved to Canada. During his time in Regina, where they lived, Steven attended Ruth M. Buck Elementary School.
Later, the family made another move to the United States and settled in Michigan, where Steven spent his formative years and graduated from Troy High School in 2001. Despite facing language barriers and cultural adjustments, Steven displayed exceptional talent and determination from a young age.
Steven Yeun's Acting Career: Rising to Prominence
Steven Yeun's journey in the entertainment industry began with his passion for acting during his college years at Kalamazoo College, where he pursued a degree in psychology with a concentration in Neuroscience. Initially, Steven Yeun's parents were unhappy with his decision not to enroll in medical school and pursue a career in acting. Despite this, they eventually supported him and gave him a two-year timeframe to explore his passion for acting.
Yeun was brought up in a Christian household where Korean was the primary language spoken. Following his graduation from Chicago, he became a part of Stir Friday Night!, an Asian American sketch comedy troupe based in Chicago. Later, in October 2009, he ultimately made the decision to move to Los Angeles to chase his dreams in the entertainment industry.
Breakthrough Role in "The Walking Dead"
In 2010, Steven Yeun's breakout role came when he secured the role of Glenn Rhee in the critically acclaimed TV series "The Walking Dead." The popular TV series is based on the comic book series of the same name. His portrayal of Glenn, a resourceful and resilient survivor in a post-apocalyptic world, garnered immense praise from both audiences and critics alike. The character quickly became a fan favorite, propelling Steven to stardom
Expanding Horizons: Film and Beyond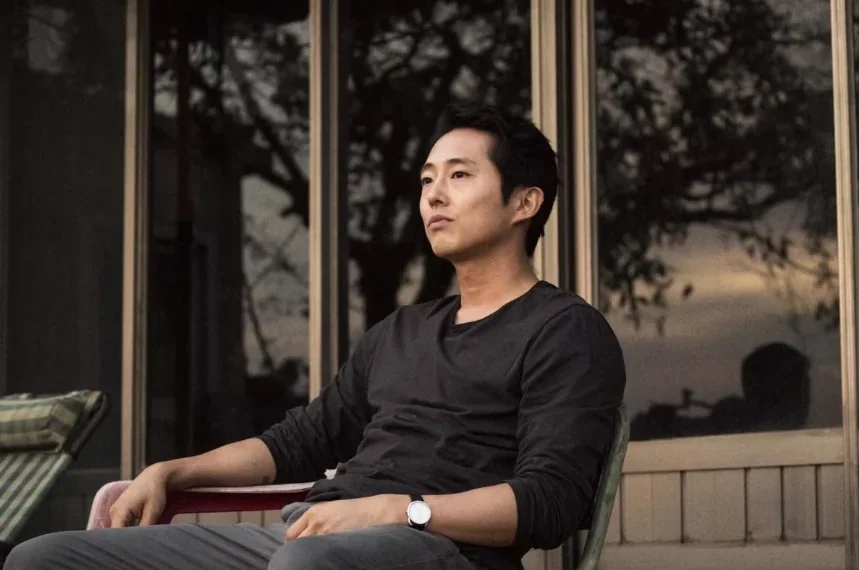 With his popularity soaring, Steven Yeun ventured into the world of film and appeared in several notable projects. In March 2016, American actor Steven Yeun landed a significant role in Joe Lynch's action horror film titled "Mayhem." Further, he showcased his versatility as an actor in movies like Bong Joon-ho's "Okja" and Lee Chang-dong's "Burning," which received widespread acclaim for his nuanced performances. His ability to convey complex emotions with subtlety and depth earned him accolades within the industry.
Steven Yeun Net Worth: The Business Side
As an actor with a flourishing career, Steven Yeun has made significant financial strides throughout the years. His earnings from acting projects, brand endorsements, and other business ventures have contributed to his impressive net worth.
While specific figures may vary, Steven Yeun's net worth is estimated to be around $5 million. His talent, dedication, and business acumen have positioned him as one of the highest-earning actors in the entertainment industry.
Steven Yeun's Notable Achievements
In 2020, Steven Yeun starred in and also helped produce an immigrant drama called "Minari," directed by Lee Isaac Chung. The film is based on the life of Korean immigrants. Steven drew from his own experiences as an immigrant to act in the movie. "Minari" had its first showing at the Sundance Film Festival in January 2020, where it won two top awards.
Because of his outstanding performance, Steven got nominated for an Academy Award for Best Actor for his role in the movie. He also made history by becoming the first Asian-American actor to be nominated for Outstanding Performance by a Male Actor in a Leading Role at the Screen Actors Guild. To date, Steven has got 20 wins & 60 nominations to his name.
In 2021, this South Korean-Born-American-Actor achieved a remarkable milestone when he was named one of Time's 100 most influential people in the world. This prestigious recognition acknowledges his significant impact and contribution to the global entertainment industry and beyond.
Steven Yeun Personal Life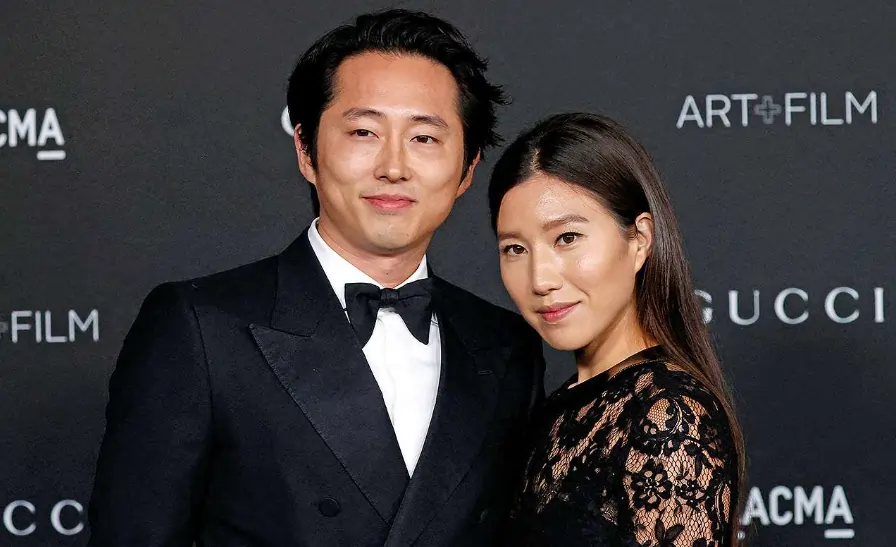 On December 3, 2016, Steven Yeun tied the knot with photographer Joana Pak, marking a beautiful union between the two. They now call Los Angeles their home and have been blessed with two children, cherishing the joys of parenthood together.
In addition to his successful acting career, Steven Yeun has a deep love for sports and his connection to the city of Detroit. He is particularly a devoted fan of the Detroit Pistons and Detroit Red Wings. Furthermore, he openly endorsed Andrew Yang as a candidate for the 2020 U.S. Presidential election, showing his active engagement in political matters.
Famous Quotes by Steven Yeun
"At the end of the day, if you can't say a line right, it does not matter who your contacts are."
"I believe that we are still hovering around the realm of Asians playing all types of Asians. I do not see that changing any time soon just because there is a limited pool of Asian actors."
"I'm stupidly curious. I will go and touch anything until I find out that it's very harmful."
"I'm good at keeping secrets, but if it's not something super serious I usually tell people not to tell me because I'll tell someone else."
FAQs on Steven Yeun Net Worth
How did Steven Yeun become famous?
Steven Yeun's breakthrough role as Glenn Rhee in the highly acclaimed TV series "The Walking Dead" catapulted him to fame, establishing him as a prominent and recognized figure in the entertainment industry.
What is Steven Yeun's nationality?
Steven Yeun is of Korean descent but is an American citizen.
Has Steven Yeun been nominated for any awards?
Yes, Yeun has received multiple award nominations for his exceptional performances. He was nominated for an Academy Award for Best Actor for his role in the movie "Minari."
How did Steven Yeun start acting?
While studying at Kalamazoo, Steven Yeun became friends with Jordan Klepper's sister, who invited him to watch Klepper's improv show. This experience inspired him to take his first acting class and eventually led him to follow Klepper to Chicago, where they both joined The Second City.
Conclusion
In conclusion, Steven Yeun's journey from a young Korean immigrant to a Hollywood A-lister is nothing short of inspiring. His talent, hard work, and determination have carved a path to success in the fiercely competitive entertainment industry.
Through this article, we tried to provide an overview of Steven Yeun net worth and acting career, showcasing his rise to stardom, his significant contributions to the film industry, and his commitment to making a positive difference in the entertainment world.
Disclaimer: This article is based on public data and is for informational purposes only. While we strive for accuracy, we cannot guarantee it. Always seek professional advice for accurate information.
Quick Links: