Hello friends after a long time Tweaksme is back with something exciting and beneficial for our readers. Here you can get Rs.500 free in your bank account by just registering on Instamojo.
Instamojo is a free payment gateway company based in India. The best thing is [junkie-hightlights color="green"]you don't have to pay any charges for registering account with Instamojo[/junkie-hightlights]. Its completely free.
Instamojo signup promo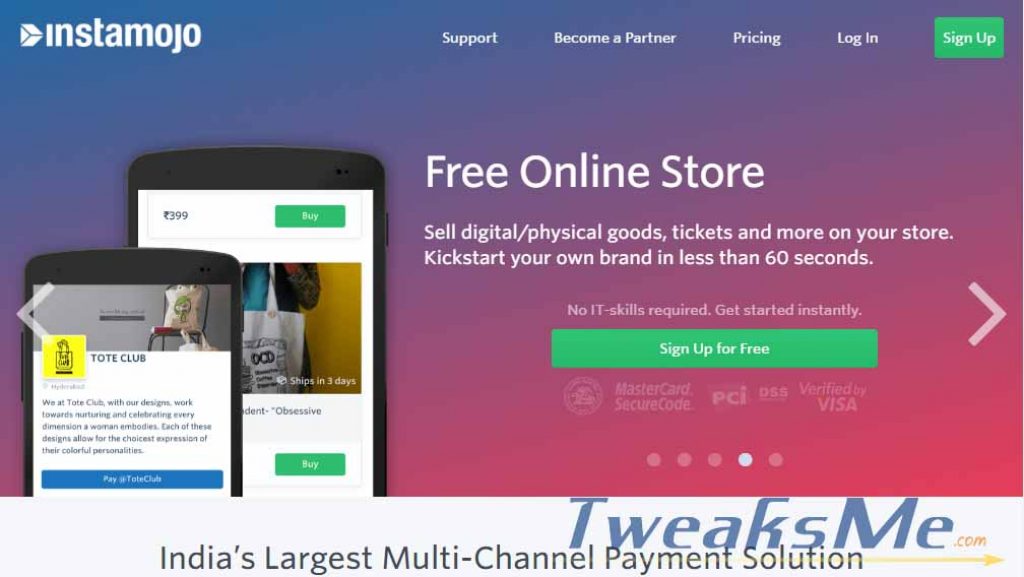 Instamojo is running a special promo where it is Win-win situation for both the persons. you will only get Rs.500 if you signup through my special referral link in which a special coupon is enabled.
So after your signup is successful we both will get Rs.500 in bank account.
[junkie-alert style="red"] All you need to do is create an account  through the special button below and signup completely and activate your account. After this your will get Rs.500 referral bonus in your bank account in less than  30 days. [/junkie-alert]
Instamojo features at a glance;
Do you know, Instamojo is biggest multi channel payment gateway in India. With innovative features like free online store, ability to collect payments via credit/debit cards, collect payments via whatsapp and just with username , It is getting highly popular in short span of time as they have lowest pricing.
[junkie-alert style="yellow"] instamojo lets you to Collect payments on WhatsApp, Instagram, FB and more. Just share Instamojo payment link and get done. It's magic! [/junkie-alert]
Completely free payment gateway
You heard right, You don't need to spend single penny for registering here. You can register your shop, business, personal store or any profession and collects payments from your clients online by sharing your link through multiple platforms.
[junkie-alert style="green"] Your customers can pay you via debit cards, credit cards, net banking and wallets so you don't need to share your bank account details to your customers. [/junkie-alert]
Instamojo charges very little fees on each transfer Check out their commission structure here.
Payments via @username
now you can setup sharing your sensitive bank details with everyone as you can collect payments by just sharing your Instamojo username and anyone can pay you by entering payments remarks. No technical skills are required to setup your payment gateway account
Free online store
If you want to sell any products or services online, may be its an eBook or your service or some physical products you can start selling without even creating an e-commerce website.
With instamojo online store feature, you are all set to create your unique store and upload products &  services with own branding in less than 60  seconds.
Built for developers
Instamojo provides simple payment  API which can be interrogated with major eCommerce platforms like WordPress (Woo-commerce), PHP, magneto and much more. With this API feature you can accept  credit/debit cards payments in your website without any setup costs.
No technical skills required
Bank level 128 bit SSL encryption security
Instant setup in 7 minutes, No physical documents required
honest & transparent 2% pricing.
How to get Rs.500 bonus from Instamojo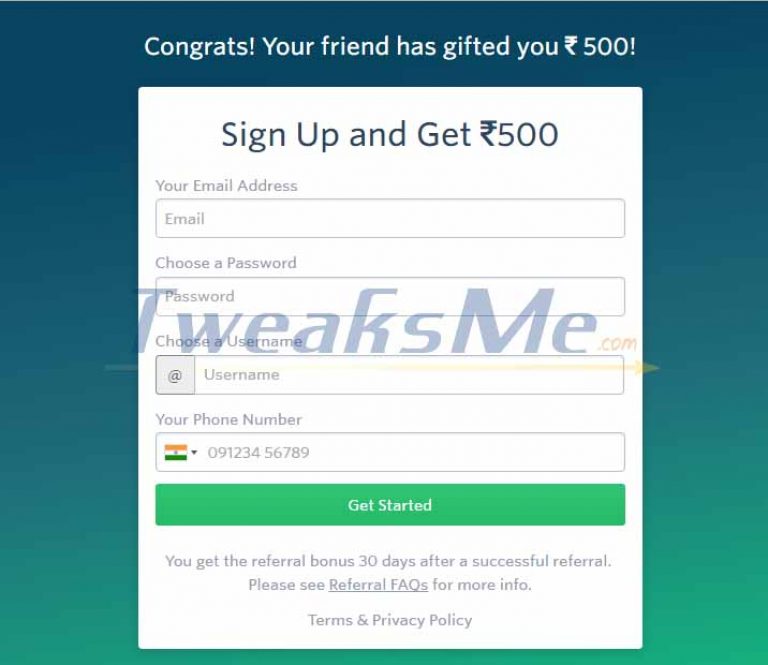 At first you need to click on special refreel link where you have to register with your details. Click on the offer button below to proceed
[junkie-button url="http://bit.ly/1TNoLLu" style="red" size="medium" type="round" target="_blank"] Sign Up on InstaMojo [/junkie-button]
Now you will be landed to special landing page and you can see the offer details.
Fill out the form with your username, email, mobile number.
confirm your email address & mobile number by verifying otp.
Fill out more details about your business.
Complete your profile by adding your bank account number, IFSC, pan card to activate your account.
Once thee account is activated, Do any minimum transaction of Rs.1 or anything to get Rs.500 bonus
[junkie-alert style="red"] IMP: After your account is activated you have to do any single transaction (minimum ₹1) to fully activate your account and get Signup bonus [/junkie-alert]
[junkie-button url="http://bit.ly/1TNoLLu" style="purple" size="medium" type="round" target="_blank"] Redeem ₹500 Instamojo Deal [/junkie-button]
Your turn
Its always better to have an payment gateway for doing business online in this age of internet. Instamojo is best choice for startups, bloggers, online marketers to receive payments online with an ease.
[junkie-alert style="grey"] Its a win-win situation as you are also getting free ₹500 in your bank account. So guys get your account registered and thank me later when you get the free bonus. [/junkie-alert]
Having any doubts on your mind? Ask us in comments section below and share this post wit your friends so they can also be benefited.