With heavy rainfall, the sea is filling up quite fast, but nothing can restrict us from providing best reviews about best-hosting providers 24/7/365. This time we have found a hidden pearl beneath the sea.
Don't be surprised as we are talking about ResellerClub Hosting that we scrutinized mainly. When we explored about Reseller Club, we got a positive feeling about its hosting services and was blissful.
[junkie-alert style="green"] After going through different hosting providers, we came across Reseller Club and was amazed to see hosting plans and features offered by them.[/junkie-alert]
If you are a blogger, web designer, or internet marketer and have to cater multiple users, then Reseller Club is the best choice for you. Some might require less space while others might require extensive. With Resellerclub hosting services one can handle the requirements of the user by providing them the exact hosting that they need.
ResellerClub Review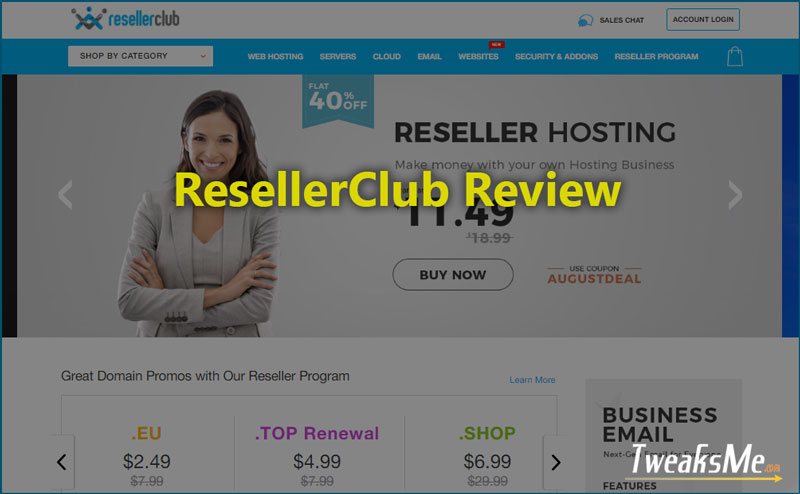 As the name suggest, they mainly offer cost effective web hosting solutions, VPS, Dblueoedicated servers, cloud solutions to re-sellers across the globe. Though if you are not into reselling and just wanna buy a single plan, You can easily get that in very budget friendly prices.
I have been into Blogging since 5 years and have tried over dozens of hosting providers. The reason i am posting this ResellerClub review is because of their super hosting services with best support. They have powerful servers which is managed by EIG group. (The same company which owns hostgator, bluehost, BigRock, etc..)
About the company
ResellerClub was established in 2006 and is headquartered in Mumbai, India. It was jointly founded by Bhavin Turakhia and Divyank Turakhia. Its parent organization is Endurance International Group. Currently, it is known to have over 2, 00,000+ re-sellers worldwide. More than 5 million domains have been registered under their account. It has expanded its business in over 150+ countries with a dedicated staff of more than 250+ experts always ready to assist you day and night 365 days a year.
Why choose ResellerClub?
With large hosting providers all around the world, it is a tedious job to look for the best one. But here are some of the reasons that make ResellerClub a preferable choice for novice and pros.
---
The provider supports multiple apps and have hundreds of services to meet all web hosting requirements. It is one of the largest place for wholesale domain reseller programs in India and abroad.
They offer competitive pricing with coupons & promos which enables one to avail heave disocunts.
Re-sellers can offer ready made eCommerce store front to their clients and they have easy setup wtih HTTP API integration.
Dedicates support round the clock via phone, emails & live chat. They have their website in 8 different countries/languages.
Resellerclub features at a glance
800+ apps to support any web design and development needs.
Expertise in Domain reseller programs
Cheap and affordable price compared to other hosting providers in the market.
Easy to manage control panel for billing and management
50+ readymade content to increase your SEO score
Customizable templates that suits your business
Available in 8 different international languages
SSL certificate to keep your private data protected
30 day money back guarantee*
Expert Gurus available 24/7 via phone, chat, email and ticket.
Different products and serveries offered by ResellerClub:
Domain Registration, reselling and transfer
Shared web hosting (Linux/Windows)
Reseller Hosting for all platforms
Managed WordPress Hosting with dedicated resources.
VPS Servers and dedicated servers
Cloud Hosting and managed cloud hosting
Email solutions like G-Suite, Professional Business Emails, Office 365, etc
Premium Website builder and security tools.
There are different hosting plans that Reseller Club offers. Lets take a look at all the plans.
---
1. Shared Hosting:
When starting a new website, people mostly choose shared hosting as it is cheaper and is sufficient to run a site with less traffic. Reseller Club offers three different types of hosting. They are Personal hosting, Business hosting, and Pro hosting.
Personal Hosting: This is the basic shared hosting plan and costs only $2.19/mo with additional discount. This plan includes unlimited data transfer, unlimited email accounts, unlimited disc storage space but only single domain can be registered.
Business hosting: This plan costs $2.49/mo and includes unlimited data transfer, unlimited email accounts, unlimited disk storage space and you can host up to 3 domains.
Pro hosting: This plan costs $3.29/mo and includes unlimited data transfer, unlimited email accounts, unlimited storage and you can host unlimited domains. This plan is for professionals. For newbie's personal hosting is recommended.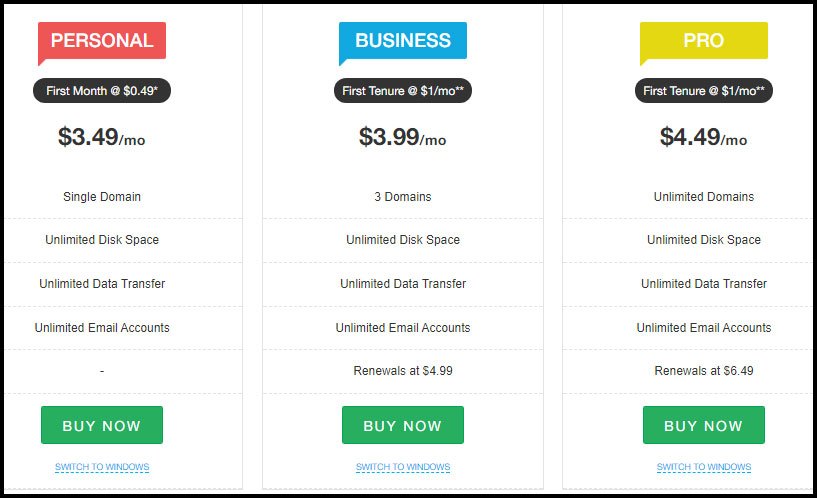 Features:
Dual 2.40GHz Xeon Processor
24GB RAM with 250GB RAID 1 OS Drive
Apache 2.2x, Ruby on Rails & MySQL 5
Infrastructure built on DELL servers
cPanel & WHM to manage hosting accounts easily
POP3 and IMAP to manage unlimited email accounts
1 click installs for Multiple languages like PHP, Perl and 300 + apps & scripts like WordPress, Joomla, Drupal and Magneto
24/7 customer support round the clock.
---
2. Reseller Hosting:
The Reseller hosting comes in 4 different plans starting from $10.99/mo with additional discount using coupons.
R1: This hosting plan will cost you $10.99/mo and is the first and foremost reseller hosting plan. The plan provides you unlimited websites with 40 GB disc space and up to 800 GB data transfer is allowed.
R2: The price of this plan is $12.99/mo and includes 50 GB storage, up to 1000 GB data transfer and unlimited websites and also a free WHMCS billing.
R3: The price of this plan is $16.99/mo and includes 100 GB storage, up to 2000 GB data transfer and unlimited websites and also a free WHMCS billing.
R4: The price of this plan is $25.49/mo and includes 200 GB disk space, up to 4000 GB data transfer and unlimited websites and also a free WHMCS billing.
Reseller hosting features:
• Dual E5530 2.40GHz Xeon servers with 24GB RAM
• 250GB RAID 1 OS Drive
• Apache 2.2xRuby on Rails and MySQL 5
• Free WHMCS and WHM
• Robust infrastructure with Zend optimizer and engine
• 30 day money back guarantee and  99.9% uptime guaranteed.
---
3. Dedicated Servers:
Reseller Club Dedicated Servers offer cutting edge technology with the latest Intel dual core processor and a minimum of 4GB of RAM, 1000 GB HDD in RAID 1 and minimum of 5TB bandwidth plus you get 2 free IPs. You can additionally get a cPanel and WHMCS installation for high end support.
They have four different plans on Dedicated servers. All plans come with instant provisioning, full ROOT access, ClamAV protection and 30 days funds back assurance.
Dedicated servers Features:
Intel Dual core and quad core processors
Minimum 4GB RAM, maximum 16GB RAM
1000GB HDD RAID 1
5TB to 15TB bandwidth
2 free IPs in every plan
cPanel & WHM for server management.
Blade Micro servers and Grade 1 data centers
Facilities like security, cooling and two independent 400KW power station ensures that your server won't face any downtime
HVAC protection at all levels
24/7 customer support round the clock.
---
4. WordPress Hosting:
Resellerclub WordPress hosting comes with simple, powerful tweaked servers to manage WordPress websites efficiently.
All WordPress plans comes with one click WordPress installer, Automated backup on cloud, advanced anti-malware and firewall system & full managed services. WordPress plans starts from $3.99/Mo.
Managed WordPress hosting comes with Pre-installed WordPress with automatic WordPress core updates for better security. Their servers are equipped with daily malware scanning and complete managed services like traffic scaling, CPU & RAM scaling, etc.
WordPress hosting plans:
They have dedicated intuitive dashboard for WordPress which lets you control your websites and blogs from one place. Their control panel comes with third party tools integrations such as Codeguard for backup and Sitelock security for protection.
---
5. Managed Servers
Reseller Club Managed hosting comes in four different packages. These are:
MS1: This is the basic managed server plan and costs $150/mo. This plan offers 4GB RAM, 1000 GB HDD in RAID 1, up to 5 TB bandwidth and 2 free IPs. The processor used is Intel 2.3 GHz dual core.
MS2: This plan costs $170/mo. This plan offers 4GB RAM, 1000 GB HDD in RAID 1, up to 5 TB bandwidth and 2 free IPs. The processor used is Intel 2.5 GHz dual core.
MS3: This plan costs $190/mo. This plan offers 8GB RAM, 1000 GB HDD in RAID 1, up to 10 TB bandwidth and 2 free IPs. The processor used is Intel 2.5 GHz dual core.
MS4: This plan costs $210/mo. This plan offers 16GB RAM, 1000 GB HDD in RAID 1, up to 5 TB bandwidth and 2 free IPs. The processor used is Intel 3.2 GHz dual core.
On all the plans you get 15% off. Purchasing this plan enables you to control the server and use any software you want to. Additional cPanel is relief which provides more options to manage your server effectively.
---
Features:
Intel Xeon Hyper Threaded processors & DDR3 RAM.
SATA drives 7200RPM with RAID with 1Gbps speed.
17 Fiber optic providers.
Super Micro Blade Chassis servers which reduces .power consumption.
Firewall and Antivirus & Malware Scan.
MySQL and CMS optimization
Supports all third party applications & tools.
30 day money back guarantee.
---
6. VPS:
ResellerClub offers VPS Hosting packages that runs in minutes and offers full root access. This plan also includes WHM and CENTOS and UBUNTU. The price of this plan is $9.49/mo and offers 30 day money back guarantee. You also get free CPanel to manage your VPS server with dozens of tools and apps. VPS hosting is powered with SSD drives and multiple data centers to power your website with fastest loading speed.
Features:
2GB-8GB DDR3 RAM with Dedicated IP
1TB-3TB bandwidths with SSD storage.
Multiple languages supported includes PHP, Perl, Python and Ruby on Rails, Apache and MySQL
By using KVM multiple operating systems can run on single hardware
More power and flexibility as it is built on Cloud technology
No delay, instant server setup up and running without wasting any time.
24/7/365 customer support.
[junkie-button url="https://www.resellerclub.com" style="green" size="medium" type="square" target="_blank"]  Visit Resellerclub[/junkie-button]
---
ResellerClub Customer care:
When it comes to after sales support, maximum of the online service providers fail to satisfy their customer needs. ResellerClub is the brand of EIG and no doubt they are committed to provide you with top quality support from highly trained professionals round the clock.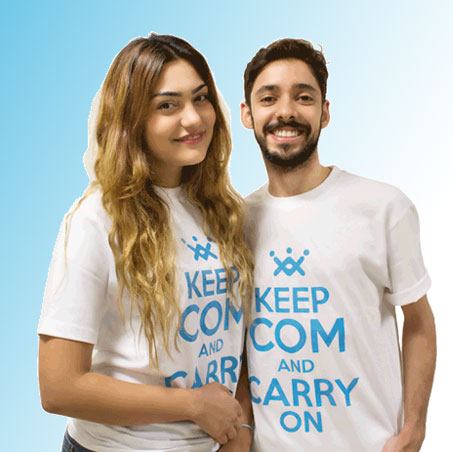 Their support staff is available 24/7 over the call, Live chat and emails. They have trained top notch technical professionals to solve even your toughest web hosting issues in quick span of time. You may visit their live support page to get in touch.
Conclusion:
In this review, I haven't covered all the hosting plans that ResellerClub offers, so you don't get confused. You can check all plans on Resellerclub official website.
The state of the art architecture with robust performance and cutting technology from Intel and Dell doesn't allow downtime and your server is up and running. The prices are also affordable, and most importantly the customer support is fantastic. It provides a large platform for those who want to sell hosting space to their clients and earn huge profit.
A 30-day money back guarantee ensures that you will get your money back if not satisfied with the service. This makes ResellerClub the perfect choice for many. it is again is the best market place for reseller hosting to gain huge profits.