Wandering around the question of whether Earn2Trade is the right companion for you? In this Earn2Trade review, I'll be trying to clear out most of the common queries that traders come along with. In simple words, it can be said that Earn2Trade is more of a learning course, which offers the assessment phase for traders, and once they are done with all this, Earn2Trade offers funded traders to the Traders who have successfully passed the Earn2Trade test. In the trading world, companies that offer such services are usually called Prop firms (Proprietary Trading Firms).
Upscaling your trading career with a Prop firm can be helpful on so many levels; a lot of traders develop the skills needed overtime but are not able to make their way around to earning more out of trading, and one of the main reasons is due to less capital, even though they are now a profitable trader, scooping out more out as professional traders is not something every trader can do on its own.
| | |
| --- | --- |
| Founded in | 2016 |
| Based in | United States |
| Services Offered | Funded Accounts & Education (Future Trading) |
| Subscription Module | 20 to 45% |
| Visit Offers & Deals | https://www.earn2trade.com/ |
Why Should I Get a Funded Account?
One of the main reasons why you should get a funded account is due to the trading capital that you get; since you have more capital to perform trades, the profitability ratio also increases.
Overall profitable side is towards you; in this case, let's consider Earn2Trade Gauntlet Mini, which costs around $150 and offers a funded account of $25000. Well, I don't need to make you understand how much profit you can get if things go right for your $25000 trading account.
The evaluation process takes you to the next level, one of the main reasons why not a lot of traders like prop firms is due to the set of rules that one has to follow. If we compare the other similar trading firms and funded account providers, the Earn2Trade drawdown ratio to the Profit goal is pretty good and competitive.
Since every prop firm has a set of rules, you need to follow them in order to get along with passing the assessment. These evaluations basically help in delivering more in terms of evolving you and delivering the right type of risk management, which is needed in the trading business.
Why Choose Earn2Trade for Trader Funding Program?
Earn2Trade funding program is pretty simple, and this is one of the most important things for traders. Here are some of the features that make Earn2Trade a popular choice:
Fast-track evaluation of just 15 days, one of the shortest completion times.
Transparent Rules for Trading Progam.
Full access to Earn2Trade's educational resources.
Free NinjaTrader license offered.
Free 60 days access to Journalytix ($78).
Great Customer Support.
Earn2Trade Review – The Trading Career Path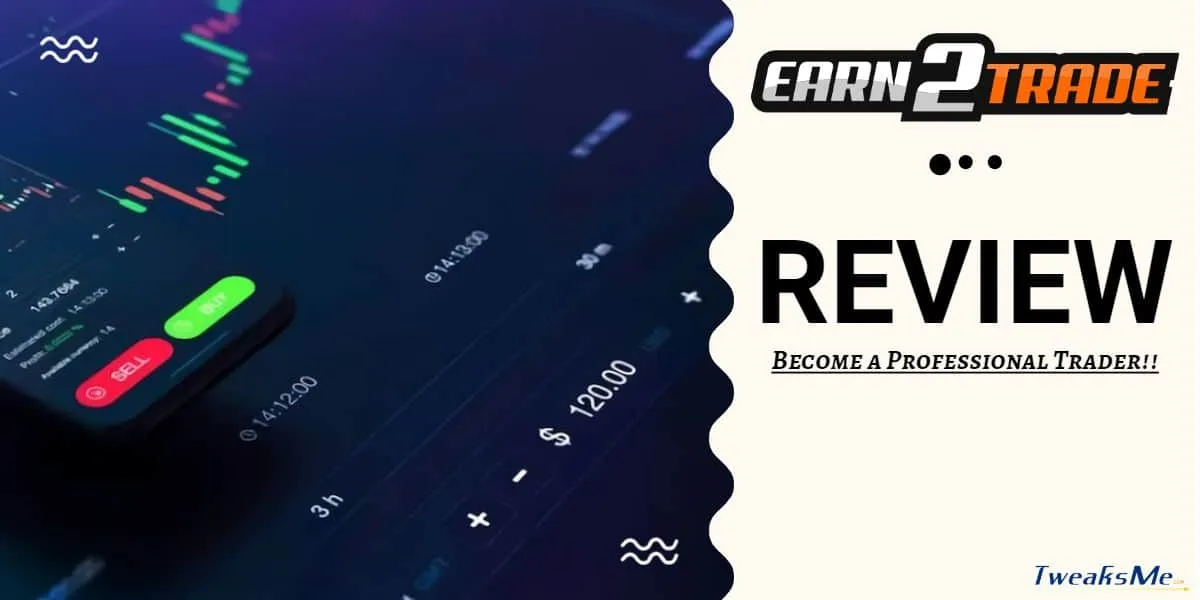 Earn2Trade provides educational resources and services for traders, helping them to learn how to trade. In addition to working as a trading prop firm, they also operate as a recruitment firm for proprietary trading firms, identifying the finest traders and letting them trade funded accounts worth up to $200,000. The company was originally founded by two registered commodity trading advisors along with a former uni professor. Well, as of now, the original founders are no more in business, and the company is run by enthusiastic traders and educators who have a strong love for trading.
The Gauntlet tries to maintain a close replication of real-world trading by putting traders through a 60-day challenge in which they can prove their trading prowess and earn an offer from a proprietary trading company. In addition to all this, Gauntlet also offers this excellent option to make their way around the overnight position holding.
Earn2Trade funded program provides maximum flexibility to traders with a 10% profit target and 10% maximum drawdown, which is pretty excellent in terms of trading operations. You can choose between Gauntlet Mini or the Trader Career Path, both of which distribute 80% of profits and are similar programs.
Now, let's take a look around the Earn2Trade review and understand what makes Earn2Trade a good choice or even is a good choice. Let's find out!!
Here are some of the features offered by Earn2Trade, you can look into; these features include:
Charts by Earn2Trade
Charts with other indicators: No doubt that Charts are going to be an important thing to look after when trading; well, Earn2Trade has its own platform; similar to most of the trusted platforms, Earn2Trade also offers a number of indicators, including:
Mass Index
Detrended Price Oscillator
Envelopes
Hull Moving Average
Keltner Channels
Mass Index
Bollinger Bands
Chaikin Oscillator
Accumulation/Distribution Line
Ichimoku and much more.
In addition to all the features and indicators, you can also look forward to some other important factors as well, including important calendar dates such as CPI reports, FED meetings, etc., that can impact the type of instrument you are trading on. You can also get access to some other factors as well including the widgets; all you need to do is click on the top bar. All these small but needed features can help in a lot of ways.

You can also choose around the series types as well; this basically includes candlesticks, volume, range, etc. You can choose the series size, along with the orders & positions showing the active positions and active orders.
Trading Journal by Journalytix
As a trader, having a trading journal can be considered among some of the basic but most required things for better execution and analysis. The traders getting along with the Earn2Trade test can use the Journalytix for the time being in the test.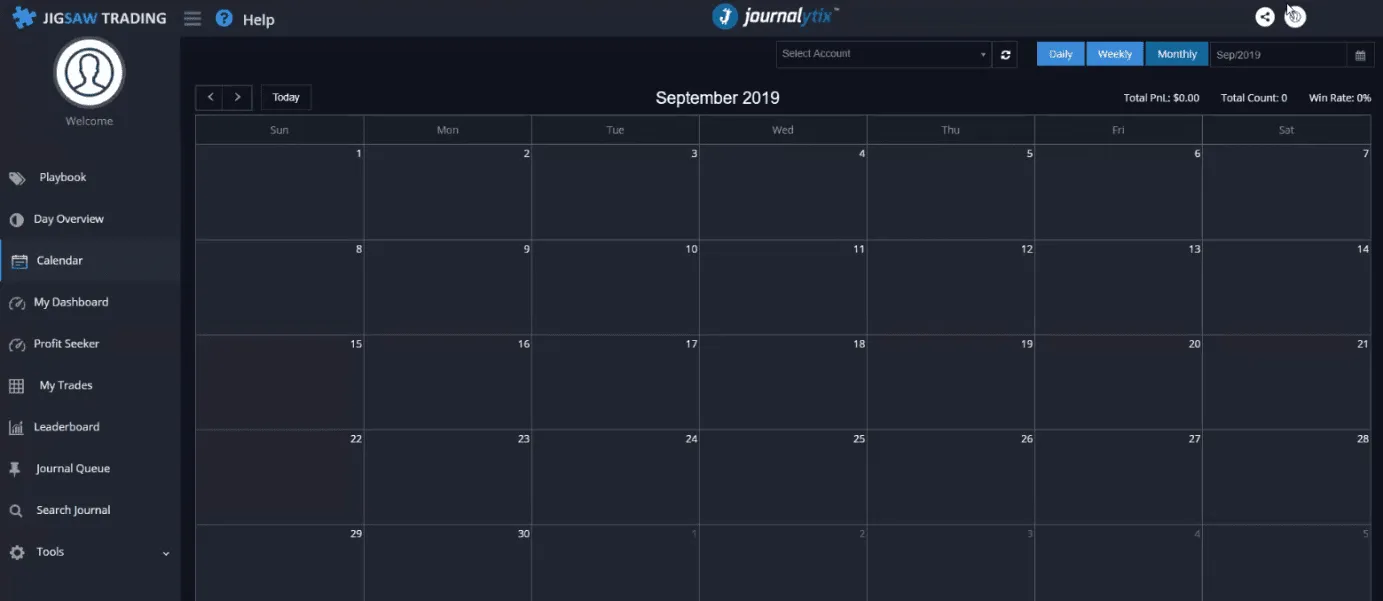 The journal can be an excellent way of making your way around the process of categorizing trades on the basis of strategies, trading style, etc. So, a win-win situation for traders who seek growth.
Order Types in Earn2Trade
Who doesn't like one-click trades, but the Earn2Trade can offer some excellent features in terms of order-ticket, whether you are looking forward to trading in a simple way or in the advanced order type.
For example, you can use the simple mode to get along with details and options such as Account type, Symbol, BID, Last Price, ASK, Quantity, Flags, Order type, Stop Loss, Take Profit, required margin, and commission charged.
Widgets in Earn2Trade
Widgets can be an excellent way to make your way around multiple operations in an easy-to-go manner; well, that's what widgets are for, right? If we consider the widgets offered by Earn2Trade, you can choose around charts, accounts, reconstructed tape, Time and Sales, Notifications, Positions, Orders, My Favorites, Date & Time, along with Depth of Market.
Now that I have just mentioned that Earn2Trade also has this feature for Depth of Market, it offers level 2 data, as you can check this; below mentioned is a snap so that you can have a better understanding of the depth of market.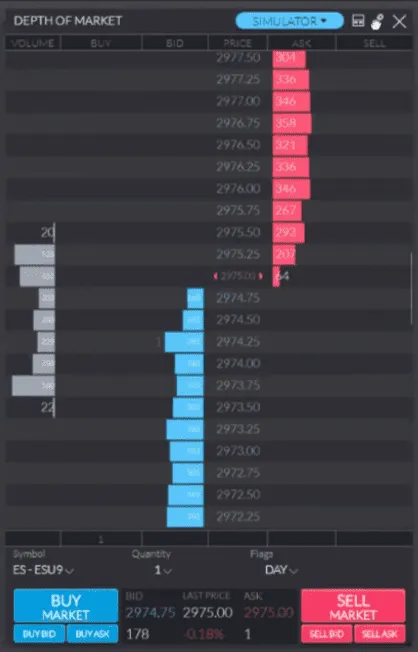 Steps to Get Gauntlet Mini Funded Account
Unlike most of the prop firms, the Gauntlet Mini funded account by Earn2Trade is basically a 3-step process. The steps are as follows:
Choose your Account Size: You can choose an account size ranging from $25,000 to $150,000 account option. The rules are somewhat the same, i.e., the drawdown percentage along with profit % is somewhat equal.
Trade for a period of 15 days. Well, most of the funded account/prop firms usually offer somewhat similar options in terms of the time period.
Once you are done with the funded test, you can move along with the Gauntlet Mini if you have passed the test while complying with all the rules and regulations. Once you have passed, you are all set to get your funded account ranging from $25,000 to $150,000.
The rules that you need to follow while enrolling for the Gauntlet Mini:
Trades are to be performed only during approved times.
Following the Progression Ladder.
Avoid reaching or dipping below the daily loss (EOD drawdown)
Progression Ladder in Earn2Trade
The Contracts and Virtual Account types are mentioned below. The image mentioned below can give you a better overview of all the terms and contracts.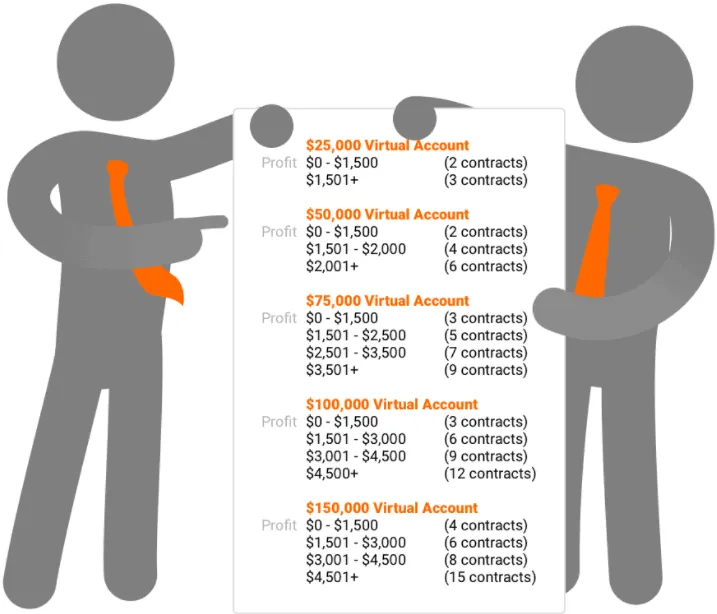 Trading Platforms Recommended by Earn2Trade
Eaen2Trade basically recommend 2 trading platform for Futures trading; the platforms are as follow:
NinjaTrader Trading Platform
One of the reputable retail trading platforms and have award-winning technology.
Modable to a great extent with over 1,000 third-party apps & add-ons.
Free historical market data replay is available.
Compatible with Windows.
Finamark Systems
Offers a web-based platform, basically offering the perk of logging in from any place irrespective of any install or download needed.
Does not require any high-end computer/system.
Custom layout available for modification.
Compatible with Mac, Windows, and Linux.
In addition to all this, NinjaTrader and Finamark Systems below mentioned are below some of the other trading platforms that can be used for funded trading:
| | |
| --- | --- |
| Inside Edge Trader | Investor RT |
| QScalp | Motion Wave |
| MultiCharts | ScalpTool |
| ATAS Order Flow Trading | Bookmap and many more. |
FAQs on Earn2Trade Review
What is the end-of-day drawdown?
The End of Day drawdown refers to the loss that you can have in a single day; some of the prop firms offer a 10% drawdown, whereas only a few of them offer a 15% drawdown option. These EOD drawdowns are helpful in keeping the capital safe, as the traders are not allowed to surpass a certain amount.
How much subscription fee does Earn2Trade take?
The subscription fees for the Earn2Trade funded program vary from plan to plan; these subscription fees are not applied to the funded traders, for non-funded traders or traders under the test have a trading cycle of 30 days and are charged accordingly.
What does the education course in Earn2Trade offer?
The education course gives access to traders to get along with a complete bundle of 62 lessons; this overall education course time is of 50+ hours compiling different webinars, lessons and trading topics.
What type of funded trading accounts are offered by Earn2Trade?
Earn2Trade offers funded trading accounts under 2 categories; the LiveSim Account and Live Accounts. The LiveSim is basically a paper account (Demo Account), and the original live-funded account offers successful assessment/passing the assessment test.
Conclusion: Earn2Trade Review – Does Earn2Trade offer good funded trading programs overall?
Yes, Earn2Trade is an excellent choice for traders seeking to upscale their trading program, and one of the main reasons Earn2Trade is a good-to-go choice is its funded trader program varying from an account size of $25,000 to $200,000. As Earn2Trade offers multiple products, it can be an excellent way to make yourself counted among skilled traders with time and experience.
The prices may vary under the subscription period and takes monthly fees, which can be a downside for many traders, but the features, educational products, and simple, transparent rules make it break even for all the subscription fees that they take every month.
So, getting along with Earn2Trade can be an excellent choice overall as it offers maximum trader flexibility, excellent features, and much more under the right price point.
Don't forget to use our above-mentioned offers to get some extra discount!