Teenagers and students love shopping and buying their needed stuff and services. credit cards are the best way to shop online, Buy Air tickets, watch movies and buy millions of services online by using a bank given credit limit and then pay later. In simple term Credit cards can be defined as "Shop now, pay later". Here we are with the Top 4 Credit Cards for Students for 2023 which doesn't have so many restrictions to get accepted and can be easily availed online for free.
Credit Cards for Students 2023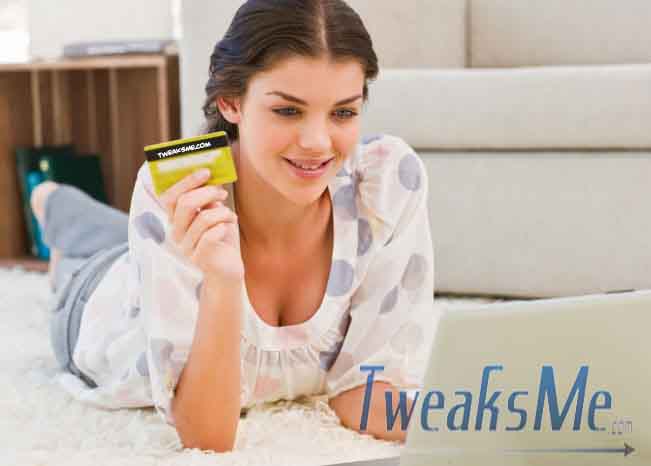 Credit cards can help students to teach money management and they will also help students to establish their credit so when if they need to get home on rent or buy a car so the credit established with the bank will be most useful.
We have researched a lot and came up with the Best 4 Credit Cards for Students 2016. One can apply it online for free and get accepted easily. Also, some of the cards waive first-year annual card fee which is an extra bonus for you.
[box type="info" align="aligncenter" class="" width=""]You will get a dozen of free rewards voucher and movie tickets also while applying for these below mentioned students credit cards and they are exclusively made for teenagers.[/box]
[highlight color="yellow"]Credit cards can be applied after the age of 18 and 21 in some banks.[/highlight]
Below is the list of Top 4 Credit Cards for students with a link to apply them online.
1: SBI Student Plus Advantage Card
SBI (State bank of India) the most trusted and the only bank in India which reaches millions of villages and remote areas too. State Bank of India is the biggest bank in India. Almost everyone from professional to businessman, from self-employed to house wife's everyone has their account in SBI as gives the best banking experience.
SBI Student Advantage Plus Credit card features & eligibility
free Credit period for 50 days and extended credit facility with low-interest rate of 2.25% p.m
Withdraw cash from over 1 million VISA/MasterCard ATMs
Convenient Application Procedure
Book railway tickets online and get it delivered to your doorstep
Balance Transfer, Flexi-pay, Easy money facility and many more
[box type="note" align="aligncenter" class="" width=""]Compared to other Banks SBI have the widest range of Credit cards for various needs including Students too. SBI offers Student Plus Advantage Credit card. The features of Student plus advantage cards is specially designed for students and teenagers. The card is exclusively for education loan customers of SBI and other students can avail against a fixed deposit.[/box]
2: ICICI bank credit Card
The biggest Credit card providing private sector bank in India, ICICI offers numerous exciting offers for credit cards which can't be compared with any other bank. [highlight color="green"]ICICI bank offers free Prorogue watch worth Rs.2,499 while applying online for ICICI Credit cards. [/highlight]
For Students, ICICI may offer various cards depending on the eligibility criteria. I an not tell you the exact credit card which will be eligible for, that can be only known on the ICICI bank Credit card site by entering your details including your Age and little more details.
Do you know ICICI offers the only NFC enabled credit card in India, so while shopping from your smartphone you do not need to enter the credit card number, just touch the card with NFC on your phone and payment is done in one tap. This is more secure and simple technology. Other banks are still behind in implementing with this future technology.
Apply online for Platinum Credit Card at 0 joining fee from ICICI, and get free rewards points on purchases and a free watch worth Rs.2499. So just grab this super cool credit card deal from ICICI before they change their offers.
[button color="red" size="medium" link="http://is.gd/applyicicicard" icon="" target="true"]Apply for Free ICICI Bank Platinum credit card (FREE Rewards)[/button]
3: CITI Thankyou® card for Students
Citibank which is international very reputed bank having its operations in numerous countries. In India, Citibank is offering Student Credit Cards based on lifestyle. No matter if you are a college student or other, You may apply online.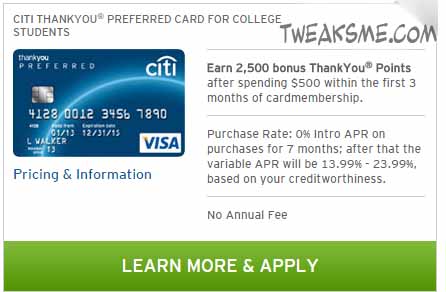 The preferred thankyou card is one the best credit cards for college students as it is easy to avail and one can manage it also. one also ears 2,500 bonus Thank-you points and can redeem it with products or cash.
4: Kotak urbane Gold card
To be honest this card is not exclusively made for students but not limited too. I love the Urbane Gold international chip-based card and I am owning it personally. it is easy to avail and one can get it with minimum limits. Kotak will provide you this card on two bases. One if the transaction is good on your Kotak account or on ITR and basis of other bank credit card or you may also avail this card against fixed deposit in Kotak Mahindra bank.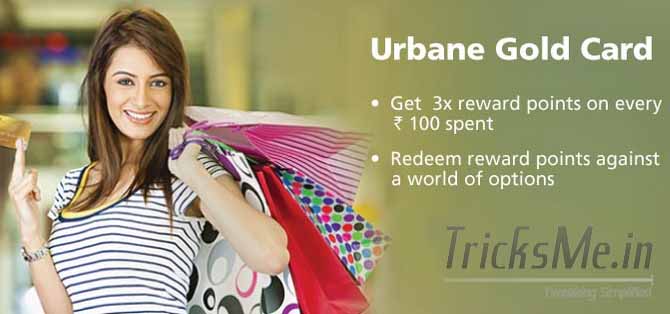 [box type="note" align="aligncenter" class="" width=""]On Kotak urbane gold Card,Get 3x reward points on every Rs. 100/- spent, and redeem reward points against any of your purchase with your Urbane Gold Credit Card. There are tons of features which will make you feel excited to apply for Kotak credit card. This is the best Credit Card for students 2019.[/box]
[divider style="normal" top="15″ bottom="15″]
This was all about the Top 4 Credit Cards for Students in 2016. There are many more cards from various of the bank but as per the reviews and case study out team found the above four mentioned cards perfect for students and teenagers.
Do you think Credit card plays a very important role in Online Shopping and can also teach us money management? Do let us know your views to support this segment. Share the article with your other student's friends via social networks below so they can also be benefited.