In this growing technology era in India, Almost every freelancers and web developers are turning into bloggers. Every Tech Geek is initiating his Blog/ Website to gain popularity or earn a passive monthly Income. May be its a Blog or a Website the main Backbone is Web Hosting.  On this highly competitive market there are thousands of Web Hosting Companies scattered over the web providing web hosting space from low to high budget. Choosing the best WordPress Hosting is very necessary as your Blog's traffic, Speed and page load time depends on your Web Hosting Server. Here is the Ethical Bluehost India Review for the Indian Bloggers with detailed in depth analysis and comparison andBluehost WordPress Hosting Discount Coupon
Bluehost Web Hosting India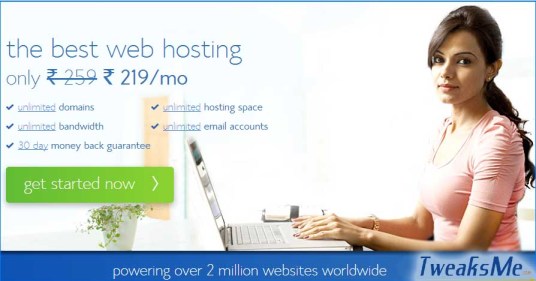 Bluehost.com is the most popular and widely used Web Hosting company having its clients globally. The Bluehost.com have standard international payment method of Credit card and PayPal, Hence many Indian Bloggers were not able to purchase bluehost as they didn't have credit card but now the Exclusive Bluehost India Websites allows User to buy Cost Effective Bluehost Web Hosting through Debit cards/Credit cards, Net banking and also have Offline Deposit payment method. Isn't it cool!!!
Why Choose Bluehost for WordPress Hosting
As compared to the Bloggers on global Levels, many few of the Indian bloggers have achieved Success. This is because of the lack of  knowledge and choosing the right product. To be honest when i started Blogging on WordPress platform some 15 months ago, I selected a cheap web hosting provider Dotdomains.in which was just 20$ per year. For the initial three months my blog worked fine but when it become popular and traffic got increased the Web server got down several times a day due to load and finally they suspended my account because of high bandwidth usage on Shared hosting and form that I learned to always select a Web Hosting by thinking 10 times or to choose what other Pro Bloggers have chosen and from their i started  researching and checking name server  details of many high traffic blogs of every niche and I found that 90% of them have the Bluehost Name Servers. Means they were hosted on Bluehost!
Popularity lies in its simplicity
Many and many web hosting have different different features and to be honest most the Hosting companies offer different plans with same features but by misleading titles which confuses the buyer and later the buyer regrets. Instead of confusing with numerous of plans, Bluehsot have been committed to quality Web Hosting since 1196 by just designing one plan with everything unlimited. yeah i have seen bluehost have been updating its plan with different new features such as cloud flare, etc on timely basis but they have never confused any user by attractive offers or coupons. This simplicity and effective technology have kept Bluehost on the Top always.
 Unlimited Everything
I know nowadays many of the new web hosting providers are offering unlimited plans and allowing one to Host Unlimited domains but I have good knowledge and I know their Unlimited plans cost more then what of Bluehost. I love Exploring and reviewing on Web Hosting and SEO niche and do have different blogs for that. I have experienced Godaddy, iPage, Hostgator and some other web hosting companies. All are good with their point of view but when it comes to your personal experience then there are lot of minor benefits which are only available on Bluehost.

For Example, Initially I recommended HostGator hosting to a friend for his new blog and I also want to earn its commission via the Affiliate program and everything was well.
After three months he experienced a lot of issues and he said his Account has been suspended by Hostgator because of High CPU usage and Bandwidth. His WordPress blog was clean with lesser plugins and his daily traffic was approx 2500+ unique visits. and After this incident I purchased a Bluehost Hosting for my another Tech and SEO Domains. I hosted two domains on my Bluehost Web Hosting and now each domains is having approx 3000 page views daily and still working fine on Bluehost. The site has never been down till now. So from this I just Love Bluehost for its Quality and Reliability.
Best Web Hosting Features you will ever find
The best in Class Web Hosting by bluehost is powering more than 2 millions websites globally. In my blogging Journey, I have seen most of the Indian bloggers and many eCommerce website is hosted on Bluehost Servers. So it is better to choose what experts have chosen. At last Quality Matters!!
Click Here to Get Special Discount for Bluehost India Web Hosting
Exclusive Coupon for TweaksMe users:
[junkie-button url="http://tricksme.in/go/bluehost" style="light-blue" size="medium" type="round" target="_blank"] Bluehost 40% OFF Discount [/junkie-button]
These were some of the main features of Bluehost India Web Hosting, You may check complete Bluehost features Here. You may host Multiple domains on single hosting plan without paying a single buck extra, the 24/7 is great they respond within 10-15 minutes and their staff is very tech sounded, They will understand your major issue and solve it as they fixed my serious WordPress database error easily and also repaired it with their professional Tools.
In-House Servers
Rather than outsourcing or depending on any other company servers as like the rest maximum of hosting providers do, Bluehost India have developed their own In-house servers with the best quality hardware and high experienced staff. Your Site data is most important and hence they do regular backups so you do not need to worry. If your website or blogs hosted on any Un- Reliable Hosting provider and suddenly their hard Disk fails and they can;t recover the data then its your loss. Hence it is better to make sure you choose the hosting provider who Does regular backups to their backup Hard Disk so you do not lose your data in any emergency.
Check out complete Bluehost India Features
Your Turn
On the Bluehost Indian Portal, All major Indian Debit.credits cards, Net Banking are accepted, You may also pay offline using bank transfers. At last i just wanna say, Web Hosting is the main backbone of your Website, Instead of spending on SEO make sure you have a Fast, Trusted and reliable Web Hosting for your blog or website. I would highly recommend all Indian Bloggers to Choose Bluehost India Web Hosting. You will love it as most of the heavy weighted popular blogs like Shoutmeloud, Allbloggingtips, etc have always recommended BlueHost WordPress Hosting for professional Blogging.