Everyone is frustrated over continues delay in Jio 4G launch but in the meanwhile many users are enjoying Jio 4G preview offer which gives you unlimited 4G data usage + high quality voice calls free for 90 days when you purchase any LYF smartphone.
I was also among the few lucky users who got invite for JIO preview offer [junkie-hightlights color="yellow"](I registered my interest on JIO.com and got invite after three days with unique code)[/junkie-hightlights] The only thing i didn't like it, I had to purchase any of LYF smartphones to use th preview offer, If JIO SIM is instead in any another smartphone, the unlimited preview offer will not work.
Reliance JIO 4G Review: Speed test
I got the unlimited preview offer from JIO on 7th June 2016 and i have used more than 230 GB data in less than a month. To be honest JiO speed is just awesome as compared to other 4G operators in my city.
[junkie-alert style="yellow"] I have tested Jio 4G data browsing in Pune, Nagpur,(Maharashtra) & Indore while i was in traveling the network was excellent in many remote areas. [/junkie-alert]
Reliance Jio Infocomm is country's only pan-India 4G license holder for 2300MHz band, and currently boasts over 100,000 LTE base stations in India
When will JIo 4G launch Commercially ?
The commercial launch for JIO 4G is very near as lot of tech geeks and heavy down-loaders are eagerly waiting for it. Rumors and many studies indicates that JIO would launch their services for everyone nearly in September 2016 and some studies shows jio would launch commercially in PAN India in December 2016.
However there is no official confirmation about any dates, hence one have to only wait till it is launched commercially.. for now only users who are buying LYF smartphone can get 90 Days JIO preview offer which gives unlimited calling of local and STD in HD Clarity, Unlimited browsing and downloading, Unlimited access to Premium JIO Apps.
JIO 4G Data Plans
JIo data plans might be cheaper but none of its 4G data plans have been officially released by the company as of July 2016. Many websites indicates several plans of JIO but all its rumors and we can't believe till official statement is Out.
JIO 4G Signal Strength & Call Quality
JIO is the only operator in India which support VOLTE calling in PAN India. VOLTE stands for (voice over LTE) which gives you super clear HD call clarity.
With true 4G Support in LYF handsets, Call gets instantly connected when you connect it and they voice quality is just awesome as calls take place over LTE network instead of traditional network.
In some areas the call quality was very bad and voice was not clear, May be the area tower was under upgradation or other technical glitch but in majority time call quality was far more superior.
JIO 4G Speed test
As i said You have to buy LYF handsets to experience JIO 4G now and LYF smartphones are not upto the mark and i personally didn't liked it. Hence for using 4G data i created Wifi Hostpot to use 4G on my all devices including Laptops, iPhone &  smart TV.
JIO 4G ranks the best when it comes to Speed. on IDM the downloading speed is 3-4 mbps constant. It took approx 4-5 minutes to download 1 GB on my laptop using JIO 4G from Wifi hotspot.
[junkie-alert style="green"] In some areas, On fifth floor i got maximum download speed on IDM was 6 MBPS while sometimes the download speed was 1-2 mbps. Surfing was Awesome on 4G without any lags. [/junkie-alert]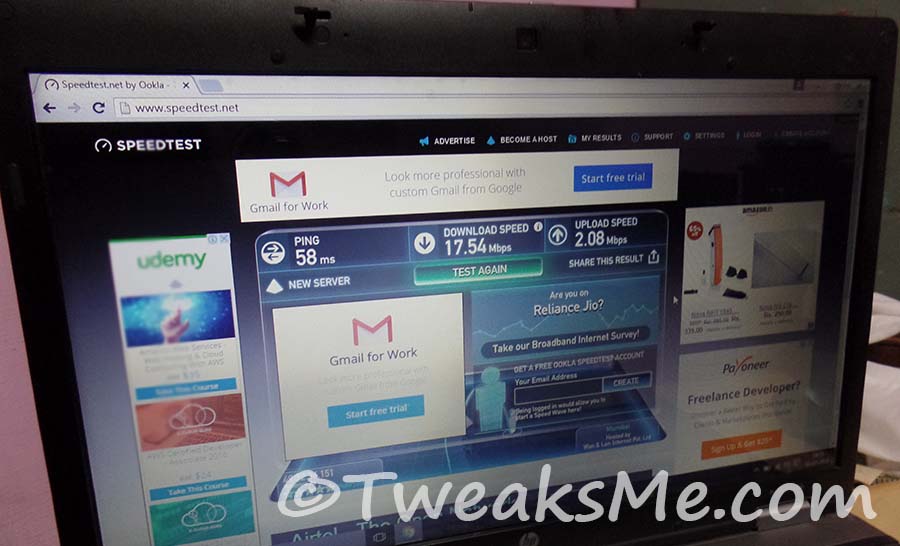 I use to watch videos from YouTube on HD 1080p on my LG Smart TV using JIO 4G and it never buffered for even a second. I am very impressed & watched hundreds of my favorite videos as it is unlimited for 90 days 🙂
Jio Customer care
We can reach JIO customer care by dialing 198 from JIO number and 1800-88-9999 toll free from any other network. The best thing is it connects direect to Customer care agent without wasting any time on IVR.
My experience with JIo Customer care was pleasant and the agent who talked with me was technically sounded.
JIO premium Apps
Reliance Jio have done a great jpb by offering some application which are of daily use for many.
They have created apps for entertainment, chatting, connect, security and even mobile payment wallet. Here are the list of premium Apps offered by JIO.
[junkie-toggle title="JioPlay" state="open"] jio play is a Live TV application which really works. it has all the HD & non HD channels. You can watch Live TV and even watch episodes which you have missed by just easily dragging to preferred date and time. On Jio play, HD channels was superb experience , as it was playing without any buffer and loading, Video quality was superb. Thanks to jio team for crating such a useful app for all. [/junkie-toggle][junkie-toggle title="MyJio" state="open"] Myjio is a app from Jio to mange JIo account. Once you have activated your JIO number, You can login to My Jio portals or app to manage your services, view data usage, account usage, balance, validity and even do recharges. [/junkie-toggle][junkie-toggle title="Jio OnDeamand" state="open"] As the name suggest, It is a video app which allows you to watch music videos and movies on demand without paying any extra charges for now as in preview offer the access for jio apps are unlimited. [/junkie-toggle][junkie-toggle title="JioMags" state="open"] Another Premium App from JIo for readers and book lovers. Read thousands of premium magazines from hundreds of categories which are daily updates. It is your perfect companion for travel, business and leisure. [/junkie-toggle][junkie-toggle title="JIO Drive" state="closed"] your files are one touch away with jio drive as it is cloud storage offered to JIo customers. You can backup your selfies, photos, documents, stories, songs, any type of file with any size on JiO drive with Zero click backup and access your file anytime, anywhere from Smartphone, tablet or PC. It also enables you to share files and folders [/junkie-toggle][junkie-toggle title="JIOMoney" state="open"] Its the wallet type application which is approved by RBI and allows you to store funds in JIO wallet which can be utilized for paying bills, recharges, paying friends, etc.. However personally i didn't like the user interface of this JioMoney app, it seems like some old design which isn't handy for many. Jio needs to update their JioMoney with latest features and design to dominate other players in mobile wallet industry [/junkie-toggle][junkie-toggle title="" state="open"] [/junkie-toggle]
Other apps from Jio are: Jio Xpress news, jio beats, Jio chat, Jio Join & Jio Security.
Conclusion;
jio 4G haven't launched commercially yet but still it has ranked in top 5 mobile operators. Their will be lots of services offered from Jio which an be fiber optic high speed broadband, On Demand TV and video services and more.
Lets keep the fingers crossed and wait for mega commercial launch of Jio 4G. So if you are hungry for 4G data (unlimited) You can visit any LYF store or Reliance digital store in your city to buy LYF smartphone coupled with JIO SIM and Free Unlimited access to JIO services for 90 days.
Have you Tried Jio 4G Speed test? I am curious to know your reviews, So please share it in comments section below. Do share this post with your on social networks to spread the love.