Clash of clans in the mos trending game now in iOS app store and Google play. The awesomely  crafted strategical game is played worldwide by millions. The major gameplay is to build your village to fend off raiders  and battle against millions of players worldwide, and forge a powerful clan with others to destroy enemy clans. This types of multiplier games make you habitat and hence you get affected with it. Let's see how other popular games got suppressed by Clash of Clans.
Clash of Clans dominating play store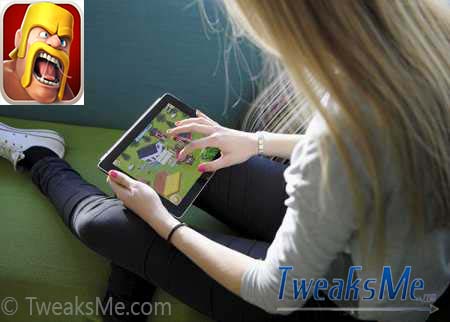 No doubt, the strategical game is loved by everyone, from 14-50 years  all are continuously busy in building their village in clash of clans. This is not the boring and long term strategical gameplay, but short and fast which makes a user get more addicted to the game.
Clash of clans is available in iOS store and play store for free. however some items in the game needs to be purchased with the real money.
For those who are looking for a chance to build their world while destroying someone else's, will find Clash of Clans a very appealing Game with surprisingly deep layers of strategy to dig through.
COC delivers as much bangs for money as you want. The in-game purchasing module is crafted very nicely if you want to continue playing with fast pace, the only way to do this is to use real money. Although the game mechanics are quite simplistic, Clash of Clans gets you on the hook.
Clash of Clans vs Teen Patti
Teen Patti is also very famous virtual poker game by Octro. It is played mostly in India and it was the` top grossing game in Google play in 2014. The trend of teen Patti is no decreasing and users are being diverted to Clash of Clans. The globally played clash of clans game is much exciting and never makes one bore at any point of gaming. Teen Patti has its own uniqueness, but buying chips on every next step in the game make a user gets frustrated at a point and hence he quits playing..
I have seen many of my friends who were 24*7 busy in playing Teen Patti are now even not opening teen Patti for a second in a day. The crowd  is now on clash of clans. Youngsters love to build their world while destroying others  village in this virtual reality game.
When it comes to global game players then Clash of Clans in  much higher played nowadays as compared  with Teen Patti and candy crush saga.
Stay away from Free Stuffs
Sharp thinkers and money make over the net always choose trendy games to make Money by clamming to provide its premium contents and stuffs in free.  I am telling you again these all are fakes.  The highly trending games are already built so securely that it is not possible for one to get the premium  content with any un-ethical practice. These games have total database on the cloud so gems, chips, stars, diamonds can't be modified with  any tools, Unless you are purchasing it with your real money.
Many peoples even you might have been searching the method for getting free stuff in clash of clans game including gems diamonds, etc.. and you must have been landed on many pages which show the tool developed in visual basic with proof images and videos. That all are fake and they will just earn money by sharing the files on content locking sites. Better not to waste precious time here, instead we can buy it officially.
Over to you
So guys the ones who are still getting bored whole day or the ones who are single without GF, can pass their day in a very excited way using this game and I bet you will be addicted towards it. So Teenagers instead of playing with someones feelings, heart, emotions  use your strategical mind in this game and see how much achieve 🙂
Do you think Playing C of Clans is a good habit or one should lessen it? Do share your views with us in the comments section below and  Like TweaksMe on Facebook to get yourself addicted towards latest tweaks.